Winter Holidays Around the World!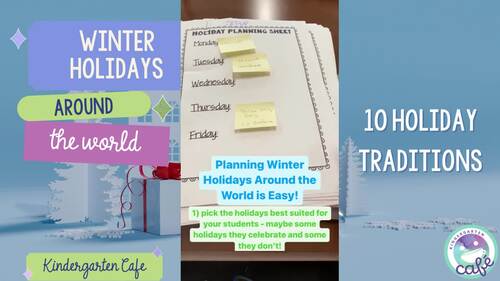 ;
What educators are saying
I have a very diverse group of kiddos this year, and I wanted to study many different holidays in winter! This was a great resource for just that!!
I use part of this resource with my students. We learned about the different holidays celebrated in December in the USA. I used the Hanukkah emergent reader and the build a Menorah activity.
Description
This product is perfect for Pre-K, Kindergarten, and 1st grade students learning about some different winter holidays around the world! There are 10 different holiday traditions from different countries! Pick and choose which holidays to study or do them all! Each holiday has plans that include read aloud suggestions, low prep literacy, math, and craft activities. There are extension activities included for every holiday, as well as for the whole product! There are 176 pages of activities!!!! This product also contains a 38 slide informational powerpoint with facts, pictures, and videos for each holiday!
Read more about my Holidays around the world this blog post!
Winter Holidays Around the World Included:
Hanukkah (Israel) (TRY OUT THIS PRODUCT FOR FREE!)
Las Posadas (Mexico)
St. Lucia's Day (Sweden)
Christmas (Russia)
Christmas (Brazil)
Three Kings Day (Puerto Rico)
Winter Solstice (England)
La Befana (Italy)
Christmas (US)
Kwanzaa (US)
Literacy Skills Addressed:
Students will practice writing responses and drawing a related picture.
Students will practice reading grade-level texts with purpose and understanding.
Students will practice writing their own version.
Math Skills Addressed:
Students will practice subitizing numbers 1-6
Hanukkah Activities Included:
Hanukkah emergent reader
Dreidel activity
Latkes Recipe
Coloring sheets (2 sheets)
Build a Menorah
Roll and Cover (1 die and 2 dice versions)
Roll and Write (2 dice version)
Las Posadas Activities Included:
Poinsettia Image
Poinsettia Activity
Las Posadas emergent reader
Coloring sheets (3 sheets)
Roll and Build (2 dice version)
St. Lucia Day Activities Included:
Make a crown
Make a star hat
St. Lucia emergent reader
Coloring sheets (3 sheets)
St. Lucia Poem
St. Lucia Number Puzzles (10-20, 22-30, 10-90 by tens)
Christmas in Russia Activities Included:
Nesting dolls color and cut
Nesting dolls measurement activity
Coloring sheet
Russia Flag coloring
Writing prompt
Christmas in Brazil Activities Included:
Christmas in Brazil emergent reader
Fireworks coloring sheet
Brazil flag coloring
Christmas in the Summer writing prompt
Christmas in Brazil subitizing math activity
Three Kings Day Activities Included:
Decorate your own King's Cake
Decorate a crown
Number ordering (3 versions)
Winter Solstice Activities Included:
Create a lantern
Coloring pages (10 versions)
Winter writing response (2 versions)
Snowflake counters (3 versions)
Winter Roll and Cover (1 and 2 dice versions)
La Befana Activities Included:
La Befana emergent reader
Draw La Befana
Italian Flag
La Befana bag counting activity
Christmas in the US Activities Included:
Decorate a Christmas Tree
Coloring Pages (2 pages)
Present measuring and comparing
Decorate the Christmas Tree counting activity
Fill the Stocking with Presents counting activity
Kwanzaa Activities Included:
Kwanza candle symbols and colors (2 versions)
Table setting page
Kwanzaa flag coloring
Kwanzaa Roll and Color (1 and 2 dice versions)
Kwanzaa Number Order
Bonus Information Included:
Note to the Teacher
Sample Week-long unit plan
Week planning sheet
Setting the scene information
Family letters (3 versions)
Family Special Traditions poster
Passport (two versions)
World Map
Suitcase
Links to books on Amazon
Holiday Information Sheet with read aloud suggestions, activities, and extensions
Holiday Wants vs. Need Whole Class Sort
Holiday Wants vs. Need Individual Sort
Winter Holiday Bingo (5 versions)
World Holiday Word Search (answer key included)
Resources You May Also Love:
Follow me on Teachers Pay Teachers to be first to know when I post new products!
⭐️⭐️ Did you know that leaving reviews can earn you FREE credits to apply to future Teachers Pay Teachers products?! Click here to get started! ⭐️⭐️
This product is licensed for personal classroom use unless multiple licenses are purchased.
Copyright Kindergarten Cafe
Report this resource to TPT