Winter Rhythm Card Videos: Music Activities: Winter Rhythm Music Theory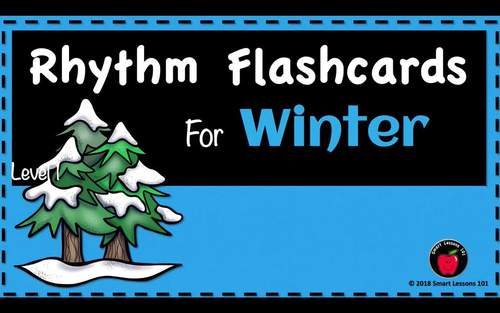 ;
Description
Looking for a fun winter music activity to practice Winter music rhythm cards in January? This ready to use Winter Rhythm Flashcard 7-Video Set is perfect for your elementary music or band lesson! Use the videos to introduce 72 different rhythms, reinforce learning or for a quick and efficient review. They work well as an assessment activity or a quick sub plan. Add it to your sub tub or set up as a music center. This product is perfect for independent study, small group work or large class engagement and will reinforce musical skills needed for reading, singing and performing music as well as completing assignments or worksheets.
· Seven Winter Rhythm Flashcard videos (.mp4 format)
Level 1 - Quarter & eighth notes & rests
Level 2 - Quarter, eighth and half notes & rests
Level 3 – Sixteenth notes
Level 4 – Eighth-Sixteenth note combinations
Level 5 – Syncopation
Level 6 – Triplets
Level 7 – Dotted eighth – sixteenth combinations
· Teacher's Guide
OPTIONS FOR USE:
1) MUSIC CLASS
• Rhythm Instruments – distribute hand percussion or percussion tubes for practice.
• Movement – choose a different action to do on each different note symbol (Clap on quarter note, stomp twice on eighth notes, etc.)
2) BAND CLASS
• Beginners - choose a concert pitch note to play the rhythms in lieu of clapping.
• Experienced students – great for warmups. Play a different note of the scale (for example: Concert Bb major) every time the flashcard advances.
RECOMMENDED FOR USE BY:
♫ General Music Classes for Grades 1-7 students
♫ Band Classes
♫ Music Specialists
♫ Perfect for the Substitute/Supply Teacher
♫ Piano and Studio Teachers
♫ Homeschool
♫ Teachers with Minimal Music Background

SALES & FREEBIES
Click HERE to be the first to see new products and FREEBIES and learn about upcoming sales!
FREE STORE CREDITS
Want to get Free store Credits? Click HERE to provide FEEDBACK!
♫ FREEBIES
SMART THEORY NOTE NAME POSTERS
LINES ON THE STAFF Music Theory FREEBIE with Video and Reproducible
Winter Treble Clef Staff Paper FREEBIE
Groundhog Day Color by Rhythm Symbols FREEBIE
Rhythm Symbol Anchor Chart FREEBIE
♫ WINTER PRODUCTS YOU MIGHT LIKE:
Winter Note Reading Clip Cards
Rhythm Symbol Winter Clip Cards
Winter Note Bingo Bundle (Treble and Bass Clef included)
Winter Rhythm Symbol Worksheets
Intermediate Rhythm Assessment
Winter Rhythm Assessment BUNDLE
100th Day of School Counting Beats Game
♫ WINTER BOOM CARDS YOU MIGHT LIKE:
Winter Treble & Bass Clef BOOM Bingo
Winter Lines & Spaces BOOM Bingo
Winter Rhythm Symbol BOOM Bingo
Winter Music Symbol BOOM Bingo
Winter Rhythm Symbol BOOM Cards
Winter Lines and Spaces BOOM Cards
Winter 3 Note Spelling BOOM Cards
Winter I Spy Rhythm Symbol Boom Cards
Winter Instrument Family Boom Cards
Winter Counting Rhythms Boom Cards
♫ SEASONAL RHYTHM BINGO GAMES:

♫ RHYTHM WORKSHEETS YOU MIGHT LIKE:
Rhythm Worksheets for the WHOLE YEAR (185 pp)
Winter RHYTHM ASSESSMENT Bundle
Fall Color by Code
St. Patrick's Day Color by Code
Groundhog Day Color by Rhythm Symbols FREEBIE
♫ RHYTHM GAMES YOU MIGHT LIKE:
100th Day of School Counting Beats to 100 Game
Christmas Cup Passing Games BUNDLE
Pop Play Alongs BUNDLE (YMCA, Cha Cha Slide, Chicken Dance, Mexican Hat Dance, The Locomotion, The Hokey Pokey, Limbo Rock)
Presto Party Music Powerpoint Games BUNDLE (Treble Clef, Dynamics, Rhythm Symbols)
CATEGORIES:
band activities, band lessons, Beginner recorders, beginning band, Beginning band games, beginning band lessons, December Activities, December music, December music activities, December music activities for kids, December music for kids, December music lesson, December Music lessons, December music theory, December rhythm activities, elementary music, Elementary music activities, February music activities, February music lesson, Fun activities, Fun stuff, holiday music activities, holiday music games, holiday rhythm activities, instrumental music, January music activities, January music games, January music lesson, January rhythm activities, music activities, Music assessment, Music Centers, Music ed, Music Education, Music lesson plans K-5, Music Lessons, music lesson for sub, Music note and rests, Music rhythm activities, music rhythm cards, Music rhythm flashcards, Music rhythm lessons, music rhythm reading, Music Rhythms, music rhythms winter, Music sub plans, music sub plans for non music sub, Music Symbols, music theory activities, Music theory assessment, music theory games, music theory lessons, Reading Music, rhythm activities, Rhythm assessment, rhythm assessment elementary, rhythm assessment for music, rhythm centers, Rhythm Flashcards, rhythm lessons, Rhythm Reading, Sub tub, substitute binder, Substitute Lessons, substitute plans, substitute teacher, Substitute teacher activities, teaching band, teaching theory, Winter Activities, winter games, winter music, Winter Music Activities, Winter music centers, winter music games, Winter music class lesson, Winter music for kids, Winter Music Lessons, Winter music plans, Winter music theory, winter rhythm activities, Winter rhythm cards, Winter rhythms
Report this resource to TPT