Winter Vocabulary #4 BOOM CARDS for Adult ESL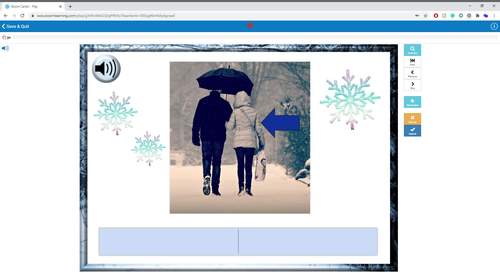 ;
10

th

- 12

th
,
Adult Education
Compatible with Digital Devices
The Teacher-Author has indicated that this resource can be used for device-based learning.
Description
Have some seasonal fun with your adult ESL students! Give them some vocabulary they can later use to talk about the winter season. This 30-card deck was made for them! No cutesy pictures--just real winter-related photos.
This deck is completely holiday-free. It is strictly seasonal.
In this deck, students will label the given winter image. They may opt to click the audio icon to hear the term/phrase if needed.
This deck will NOT appeal to young learners.
Need an easier version?
Winter terms include: snow chains, sweater, snowflakes, snow shovel, snow boots, snowman, gloves, make a snow angel, go ice-skating, ice skates, frost, skid off the road, ice scraper, go skiing, scarf, black ice, go sledding, gingerbread, mittens, snowplow, icicles, hot chocolate, snowdrift, slip and fall, shovel snow, freezing, blizzard, snowball, coat, & hat.
___________________________NOTE______________________________
To use Boom Cards, you must be connected to the Internet. Boom Cards play on modern browsers (Chrome, Safari, Firefox, and Edge). Apps are available for Android, iPads, iPhones, and Kindle Fires. For security and privacy, adults must have a Boom Learning account to use and assign Boom Cards. You will be able to assign the Boom Cards you are buying with "Fast Pins," (play provides instant feedback for self-grading Boom Cards). Fast Play is always a free way for students to engage with Boom Cards decks. For additional assignment options, you'll need a premium account. If you are new to Boom Learning, you will be offered a free trial of our premium account. Read here for details: http://bit.ly/BoomTrial.
_____________________________________________________________________________
The same photos and terms are used in the following:
Report this resource to TPT