Winter or Christmas STEM Challenge Activity - Sled & Slope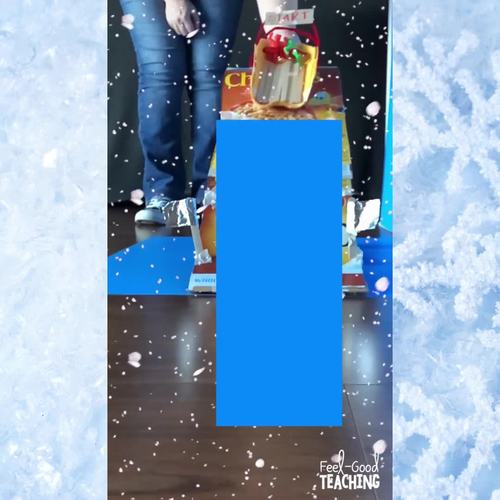 ;
What educators are saying
This lesson was great! I loved the non-Christmas version of everything. All of my STEM students were really engaged in this activity and the video support was very helpful!
We love these STEM challenge! They have a well-organized processing system and it makes it easy for students to gain independence while problem solving.
Also included in
Looking for fun Christmas or winter activities that incorporate science, technology, engineering, and/or math? Christmas-Winter STEM / STEAM Challenges sure to engage with brain-busting work disguised as fun!Christmas and Winter STEM Challenge Activities Overview: Students work in partners or groups

Price $8.98

Original Price $17.50

Save $8.52

Super-charge your STEM class with 52 high-engagement, critical thinking, problem-solving, NGSS-aligned challenges to take you through the entire year! Modifications are included to make these activities engaging and challenging for students in grades 2 - 8. The basic premise: Students work in partne

Price $95.00

Original Price $186.36

Save $91.36

Christmas and Winter STEM Challenges are the perfect activities to engage your students in brain-busting work disguised as fun when they've got the winter crazies! This challenge is perfect for distance learning and social distancing because the materials are incredibly simple! Every one can build t

Price $5.98

Original Price $7.96

Save $1.98

Two Winter STEM activities to engage your students in the 4 C's of engineering - Sled & Slope (or Sleigh & Slope) STEM Challenge and Winter STEM Improv!Winter STEM Activity 1: STEM ImprovA quick STEM activity to work on creativity, mental flexibility & the planning step of the Engineerin

Price $5.50

Original Price $7.00

Save $1.50
Description
Christmas and Winter STEM activities are the perfect way to engage your students in brain-busting work disguised as fun when they've got those winter crazies!
Sled & Slope Winter STEM Challenge Activity Overview:
Working against a criteria/constraints list in partners or groups, students will build a sleigh/sled and ramp designed to transport the people or gifts the greatest possible distance.
Note: there is a "" version for a winter (non-Christmas) activity as well as a "" version for Christmas included.
~~~~~~~~~~~~~~~~~~~~~~~~~~~~~~~~~~~~~~~~~~~~~~~~~~~~~~~~~~~~~~~~~~~~~~~~~~
Note: This is the printable version, though you can upload the editable handouts to Google Slides™ if desired. However, if you are in a 1:1 / paperless classroom, you may prefer the digital option designed specifically for use with GOOGLE SLIDES™ instead.
If you have questions about which version is right for you, please feel free to leave me a question using the product Q&A below.
~~~~~~~~~~~~~~~~~~~~~~~~~~~~~~~~~~~~~~~~~~~~~~~~~~~~~~~~~~~~~~~~~~~~~~~~~~
Resource includes:
NGSS aligned standards, Grades 2 – 8
Teacher Tips
Links to my 5-part video series on getting started with STEM challenges
Materials and timing
Criteria & Constraints (including modifications to increase difficulty for older students)
Measuring results
Universal STEM Challenge Notes & How to Use Student Handouts Post-design extension activities list
Link to a video walk-through of the challenge
Student Handouts (two sets: one for Sleigh & Slope Christmas STEM Activity and one for Sled & Slope Winter STEM Activity)
Criteria & Constraints List (in color and black & white)
Design Analysis Handouts (2-page regular spacing and 4-page expanded spacing for primary students included) (in color and black & white)
Discussion Questions (in color and B&W)
Extension templates
Design an Experiment: Reducing Friction (editable; sample answers included)
Process Flow Map
Math Extension
~~~~~~~~~~~~~~~~~~~~~~~~~~~~~~~~~~~~~~~~~~~~~~~~~~~~~~~~~~~~~~~~~~~~~~~~~~
This is one of five Winter / Christmas STEM Challenge Activities. They can be purchased in a bundle at a discount:
Winter and Christmas STEM Challenge Activities Bundle (2nd – 8th)
This resource is also available in the STEM CHALLENGE YEAR-ROUND MEGA-BUNDLE at an even greater discount!
~~~~~~~~~~~~~~~~~~~~~~~~~~~~~~~~~~~~~~~~~~~~~~~~~~~~~~~~~~~~~~~~~~~~~~~~~~~~~~~~~~~~~~~~~~~~~~~~~~~~~~~~~~~~~
Sample/suggested materials for each student or group:
(Materials you'll need to do the activity are easily modified.)
Cardboard, cardstock, cereal box, or paper plates
Pipe cleaners (5 – 10)
Small bows (2)
Bows are to symbolize gifts; small candies can be substituted (If you're doing the Sled & Slope version, you'll need small people to ride the sleds. Think: little, plastic, green army men. Two riders will work well.)
Popsicle/craft sticks (10 – 15)
Rubber bands (5 – 10)
Foil (12 – 24 in.)
Straws (5 – 10)
Scissors
Tape (12 – 24 in.)
Ruler or measuring tape
Optional:
• Wood scraps
• Paper bags
• Coffee filters
• Plastic cutlery
• Balloons (rocket boosters)
• String
• Cable ties
~~~~~~~~~~~~~~~~~~~~~~~~~~~~~~~~~~~~~~~~~~~~~~~~~~~~~~~~~~~~~~~~~~~~~~~~~~
What do teachers have to say about this resource?
" My classes loved these activities. They were discussing and figuring out ways to improve their projects too. They learned a lot from these."
"My second-graders had a great time with this challenge. It fit in well with our unit on motion, position and force. Thanks!"
"I love these STEM projects. The kids go crazy over them :)"
~~~~~~~~~~~~~~~~~~~~~~~~~~~~~~~~~~~~~~~~~~~~~~~~~~~~~~~~~~~~~~~~~~~~~~~~~~
You might also like these resources:
STEM Challenges & Bundles (grades 2 – 8):
STEM CHALLENGE YEAR-ROUND MEGA-BUNDLE
Winter and Christmas STEM Challenge Activities Bundle (2nd – 8th)
Snow Scoop Winter STEM Activity
Frosted Forest Winter STEM Activity
Thanksgiving STEM Challenge 5-in-1 Bundle
Valentine's Day STEM Challenge 5-in-1 Bundle
Analyze and Interpret Data Unit
Teaching Duration
90 minutes
Report this resource to TPT