Wonder Discussion Cards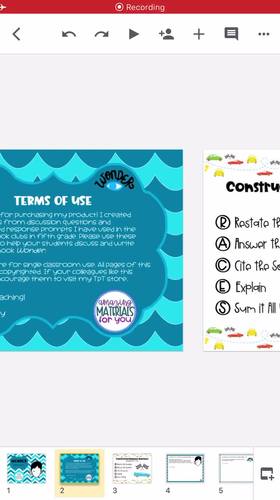 ;
What educators are saying
I used these cards for both discussions as well as written responses. They were a great addition to our novel study of Wonder!
Also included in
I created these Common Core (CCSS) aligned discussion and constructed response questions for The Jacket, Just Juice, Hoot and Wonder when I taught fifth grade. The questions are text dependent and they address a broad range of common core standards for English Language Arts. I divided my students in

Price $12.60

Original Price $18.00

Save $5.40
Description
UPDATED 3/15/20 to include a digital version.
I have used these Common Core (CCSS) aligned discussion and constructed response questions for Wonder by R.J. Palacio successfully for several years with fifth graders.
I decided to make cards for a couple of reasons:
1. I made them to save paper. Once you print and laminate these, you can use them for many years in either a literacy center or in small group instruction.
2. I wanted to make them aesthetically more appealing and colorful.
The set contains 24 discussion questions and 6 constructed response questions. I have also included a R.A.C.E.S. chart to remind students to use R.A.C.E.S. when answering constructed response questions.
Although I am a fourth grade teacher and was a fifth grade teacher for many years, I think these questions could work well with 6th, 7th, and possibly 8th graders.
You might also like these:
Danny, the Champion of the World Question Cards
Subscribe to my newsletter for exclusive monthly freebies and updates.
Report this resource to TPT
Standards
to see state-specific standards (only available in the US).
Quote accurately from a text when explaining what the text says explicitly and when drawing inferences from the text.
Determine a theme of a story, drama, or poem from details in the text, including how characters in a story or drama respond to challenges or how the speaker in a poem reflects upon a topic; summarize the text.
Compare and contrast two or more characters, settings, or events in a story or drama, drawing on specific details in the text (e.g., how characters interact).
Determine the meaning of words and phrases as they are used in a text, including figurative language such as metaphors and similes.
Describe how a narrator's or speaker's point of view influences how events are described.