Word Problem Math Journal for Third Grade *Editable*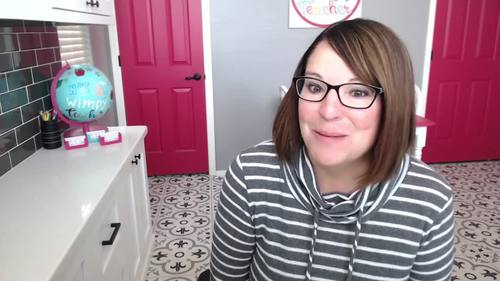 ;
Zip

Google Apps™
Includes Google Apps™
The Teacher-Author indicated this resource includes assets from Google Workspace (e.g. docs, slides, etc.).
What educators are saying
Love to use this resource to incorporate writing in math! My students love solving the problems, too!
Printed and ready to be used during my number talks! This resource will defiantly get my students ready and prepared for state testing! Thank you!!
Description
This journal is so much more than a collection of word problems. These journal prompts ask students to defend their answers, list the steps they took to solve the problem, make their own problems, draw pictures, etc. Writing about their mathematical thinking will help students to prepare for standardized testing and show a true understanding of the math concepts rather than just test if the student gets the right answer.
**************************************
This resource has been updated to include FOUR formats for each prompt, an answer key and editable slides!
1. Full page prompts:
They can be printed on a single sheet of paper and used as an assessment or homework assignment. They can also be glued into a spiral or composition notebook.
2. Strips:
One page includes several copies of the same prompt. This is a paper saver! Students can glue the strip to the top of a sheet of paper or into their math notebook. It's perfect for centers, morning work, fast finisher work, etc.
3. PowerPoint:
This is a no prep option! Just display the desired slide on your board and students can respond to the question in their notebook. It is perfect for bell work, math warm up or an exit ticket at the end of a lesson.
4. Google Slides:
These slides make it easy to assign a prompt in Google Classroom! Students can respond to the prompt directly on the slide.
*******************************
Every single 3rd grade common core math standard is covered!
There are many different ways you could use this product:
Independent center work during math
Group assignment during math
Morning bell work
Math warm-up
Homework
Fast-finisher Activity
Assessments
Exit Tickets
Suggested Uses
Preparation Instructions
Suggestions for implementing and teaching students to write about math
Student journal cover
Check-off sheet to keep track of prompts used
Math Journal Sentence Starters
Grading Rubric
Answer Key
100 full page journal prompts*
100 journal prompt strips*
100 journal prompt PowerPoint slides*
100 journal prompts in Google Slides*
Editable Full Page Template
Editable PowerPoint Template
*The same prompts are in each file. They are just included in three different formats.
To see how I use my math journals in my classroom check my blog post: Write about Math
I also have this product for other grade levels and they will be updates SOON!
Fourth Grade (Edited)
You might also be interested in:
Report this resource to TPT
Standards
to see state-specific standards (only available in the US).
Tell and write time to the nearest minute and measure time intervals in minutes. Solve word problems involving addition and subtraction of time intervals in minutes, e.g., by representing the problem on a number line diagram.
Measure and estimate liquid volumes and masses of objects using standard units of grams (g), kilograms (kg), and liters (l). Add, subtract, multiply, or divide to solve one-step word problems involving masses or volumes that are given in the same units, e.g., by using drawings (such as a beaker with a measurement scale) to represent the problem.
Draw a scaled picture graph and a scaled bar graph to represent a data set with several categories. Solve one- and two-step "how many more" and "how many less" problems using information presented in scaled bar graphs. For example, draw a bar graph in which each square in the bar graph might represent 5 pets.
Generate measurement data by measuring lengths using rulers marked with halves and fourths of an inch. Show the data by making a line plot, where the horizontal scale is marked off in appropriate units-whole numbers, halves, or quarters.
Recognize area as an attribute of plane figures and understand concepts of area measurement.