Word Problems Lessons | Activities and Games for 3rd Grade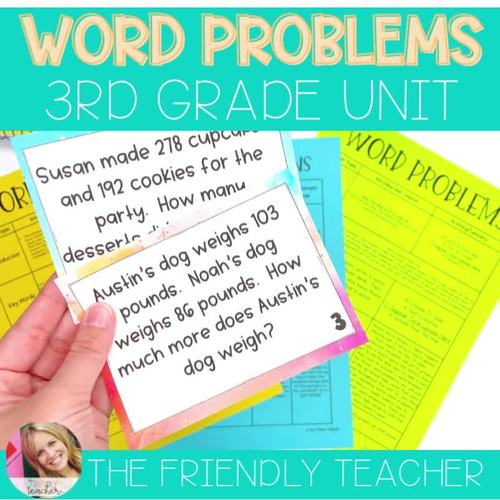 ;
Description
Do you want all of your word problem lessons and activities in one place? This unit has all the word problems worksheets, games, teacher lessons and so much more!
Word Problems are a huge 3rd Grade math skill. It's critical that our students master this skill, and the key to mastering word problems in 3rd grade is through engagement! This unit has dozens of engaging lesson that will grow your 3rd graders, and help them master word problems!
Why will this help your students grow?
Engagement- Fun, exciting games and lessons will get your students excited about word problems!
Rigor- This word problems unit is closely aligned to the 3rd Grade CCSS
Low Prep- All lessons and materials are included! Simply print and begin teaching!
What's Included?
In this unit, you will find everything you need to teach word problems to 3rd graders. This includes all lesson plans and activities. The materials include:
A lesson introducing word problems, whole group
All other lessons are intended to be done in centers and small groups, but they are versatile enough to be used however you need!
Each skill has:
M: An online activity (two Google slides for each day)
A: At your seat (a printable)
T: Teacher Time: There are lesson plans included that teach each topic, as well as offer remediation and enrichment ideas
H: Hands- On Game
Skills Included:
Introducing Word Problems
Finding Key Words
One-Step Word Problems
Two-Step Word Problems
Strategies for Solving (Like the Domination Plan)
Writing Your Own Word Problems
By clicking this link you can follow along with The Friendly Teacher! You will get to know when a new product is posted, which is 50% off for the first 24 hours!
Other AMAZING Products You May Need:
Much Love,
Hannah
The Friendly Teacher
Teaching Duration
2 months
Report this resource to TPT
Standards
to see state-specific standards (only available in the US).
Use multiplication and division within 100 to solve word problems in situations involving equal groups, arrays, and measurement quantities, e.g., by using drawings and equations with a symbol for the unknown number to represent the problem.
Solve two-step word problems using the four operations. Represent these problems using equations with a letter standing for the unknown quantity. Assess the reasonableness of answers using mental computation and estimation strategies including rounding.
Identify arithmetic patterns (including patterns in the addition table or multiplication table), and explain them using properties of operations. For example, observe that 4 times a number is always even, and explain why 4 times a number can be decomposed into two equal addends.
Make sense of problems and persevere in solving them. Mathematically proficient students start by explaining to themselves the meaning of a problem and looking for entry points to its solution. They analyze givens, constraints, relationships, and goals. They make conjectures about the form and meaning of the solution and plan a solution pathway rather than simply jumping into a solution attempt. They consider analogous problems, and try special cases and simpler forms of the original problem in order to gain insight into its solution. They monitor and evaluate their progress and change course if necessary. Older students might, depending on the context of the problem, transform algebraic expressions or change the viewing window on their graphing calculator to get the information they need. Mathematically proficient students can explain correspondences between equations, verbal descriptions, tables, and graphs or draw diagrams of important features and relationships, graph data, and search for regularity or trends. Younger students might rely on using concrete objects or pictures to help conceptualize and solve a problem. Mathematically proficient students check their answers to problems using a different method, and they continually ask themselves, "Does this make sense?" They can understand the approaches of others to solving complex problems and identify correspondences between different approaches.
Reason abstractly and quantitatively. Mathematically proficient students make sense of quantities and their relationships in problem situations. They bring two complementary abilities to bear on problems involving quantitative relationships: the ability to decontextualize-to abstract a given situation and represent it symbolically and manipulate the representing symbols as if they have a life of their own, without necessarily attending to their referents-and the ability to contextualize, to pause as needed during the manipulation process in order to probe into the referents for the symbols involved. Quantitative reasoning entails habits of creating a coherent representation of the problem at hand; considering the units involved; attending to the meaning of quantities, not just how to compute them; and knowing and flexibly using different properties of operations and objects.