Word Work Activities - Morning Work & Spelling Center with Spring Worksheets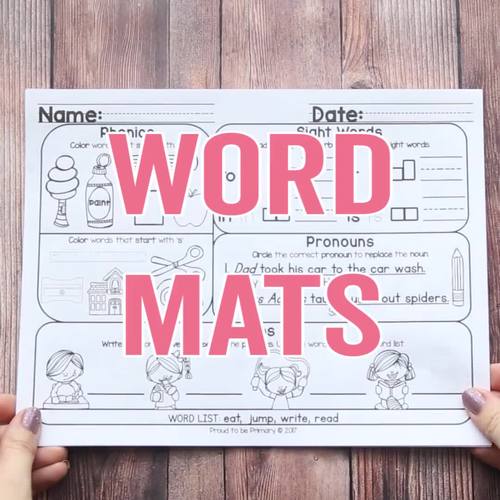 ;
Zip

Google Apps™
200+ printable pages & digital Google Slides
Includes Google Apps™
This bundle contains one or more resources with Google apps (e.g. docs, slides, etc.).
What educators are saying
This is a great continual resource to use as seat work during guided reading or to use to teach during a guided reading group. The students really enjoy these sheets.
I love these mats! They are simple and engaging. Students can do them during morning work or during catch up time. Perfect for a daily review!
Products in this Bundle (11)
showing 1-5 of 11 products
Description
Word Mats BUNDLE ~ Daily Language Practice and Language Review for the Whole Year include 20 printable and digital ELA worksheets for 10 months of the school year. Great for small group instruction, literacy centers, homework, and morning work. These activities cover different language arts skills and standards for students to practice and review.
This resource is comprehensive and provides spiral ELA practice each month. Questions and activities to review phonics, sentences, punctuation, rhyming words, sight words, printing, grammar, vocabulary, nouns, verbs, adjectives, and more!
Buy this bundle and SAVE! This COMPLETE BUNDLE is a collection of 10 monthly Word Mat resources.
View the detailed previews and images included! Watch the video preview to see the printable Word Mats in action!
3 RESOURCES IN 1:
PDF or PPT - Just open the PDF file and print!
GOOGLE SLIDES - Assign each activity in Google Slides, which includes interactive pieces to move and text boxes to fill in.
INTERACTIVE POWERPOINT FILE - Use this interactive file securely in Microsoft Teams or on a SMARTboard.
SEESAW - Add an activity to Seesaw with the included images!
4 ways to use Word Mats in your classroom!
1. Print Word Mats on cardstock, laminate, and use with whiteboard markers!
2. Shrink and print Word Mats and use in your interactive notebooks!
3. Copy Word Mats back to back with the cover page to create a booklet!
4. Copy and put into a folder. Use for morning work or fast finishers!
The skills covered in Word Mats include:
Rhyming Words - Word Families
Printing/Handwriting
Nouns
Verbs
Pronouns
Adjectives
Prepositions
Sentences
Capitalization
Punctuation
Commas
Spelling
Phonics
Vocabulary
Sight Words
Opposites
Blends
Digraphs
Vowel Teams
Final -e
Letter Sounds - initial/medial/endings
Vowels (short & long)
Affixes
Root Words
Categories
Compound Words
The activities align with the Common Core standards for first grade. This is ideal for first grade, but could also be used for a challenge in Kindergarten and for extra practice/as review for second grade.
Additional pages are provided for Canadian users which include Canadian spelling.
Related Products
Word Families Short Vowels Activities
Try the SEL program that is needed in ALL classrooms!
mind+heart Social Emotional Learning curriculum for K-2
mind+heart Social Emotional Learning curriculum for 3-5
Popular Bundles by Proud to be Primary:
Mindful Math Kindergarten Curriculum
Mindful Math First Grade Curriculum
Mindful Math Second Grade Curriculum
Non-Fiction & Life Science Year-Long Bundle
Stay connected with Proud to be Primary
♥Click HERE to follow our store and receive notifications of new product releases, sales, and freebies.
♥Join our email list and get weekly teacher tip emails and access to our FREE resource library.
♥Visit our website at Proud to be Primary for tons of engaging ideas for teaching kids in the classroom!
♥Join our Facebook group and connect with thousands PROUD primary teachers like yourself.
Questions, suggestions, and feedback are always welcome.
Just use the "Product Q&A" tab and I will get back to you as fast as I can!
Please ask all questions before purchasing or email me at elyse@proudtobeprimary.com.
Terms of Use: This product is licensed for personal classroom use ONLY unless multiple licenses are purchased. Your purchase grants you a license to use in a secure, password-protected online platform (such as Google Classroom) with your students only. You may not transfer or share with another teacher or use for commercial purposes (Outschool, etc.).
©2013 to Present - Proud to be Primary - Elyse Rycroft
Total Pages
200+ printable pages & digital Google Slides
Report this resource to TPT
Standards
to see state-specific standards (only available in the US).
Recognize the distinguishing features of a sentence (e.g., first word, capitalization, ending punctuation).
Demonstrate understanding of spoken words, syllables, and sounds (phonemes).
Distinguish long from short vowel sounds in spoken single-syllable words.
Orally produce single-syllable words by blending sounds (phonemes), including consonant blends.
Isolate and pronounce initial, medial vowel, and final sounds (phonemes) in spoken single-syllable words.