Word Work Digital Centers Bundle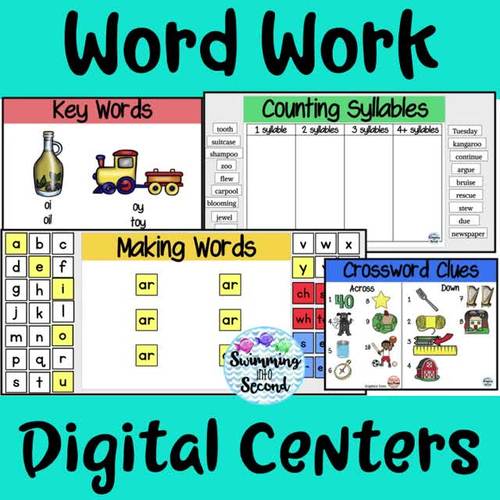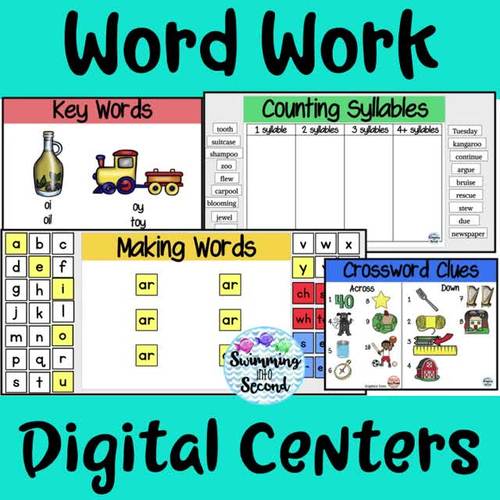 Created By
Swimming into Second
 Digital Resource for Students
The Teacher-Author has indicated that this resource is made for device-based learning.
Product Description

Standards
Word Work Digital Centers will make your center time so easy as you share these centers with students through Google Classroom. Movable pieces work in Google Slides. Perfect for remote learning and home schooling!
This growing bundle will feature 34 different word work centers. Please view the preview file also includes a video showcasing what is included in these centers.
Skills covered include:
- Short vowels (CVC)
- Long vowels (CVCe, Magic e)
- R controlled vowels (ar and or)
- R controlled vowels (er, ir, ur)
- Consonant -le
- Digraphs au and aw
- Consonant patterns (ph, gh, ck, ng)
- Diphthongs (oi and oy)
- Diphthongs (ow and ou)
- Vowel digraphs (oo, ue, ui, ew)
- Vowel digraphs (oo as in book)
- Suffixes (-ly, -ful, -er, -or, -ish)
- Prefixes (un, re, pre, dis)
- Silent consonants (kn, gn, wr, mb)
-Compound words
- Long a (eigh, ea, ei, ie, ey)
- Long a (ai, ay)
- Long e (ea, ee, y)
- Long o (oa, ow, oe, old, ost)
- Long i (igh, ie, y, ild, ind)
- Double consonant endings
- Soft g
- Soft c
- Comparative adjectives (er and est)
- Inflected endings (ed and ing)
- Final syllables (ion, tion, ure, ture)
- Suffixes (ness, less, able, ible)
- Prefixes (mid, mis, non, micro)
- L Blends
- Digraphs (ch, sh, th, wh)
- Trigraphs (tch, dge)
- Plurals
- S blends
- R blends
#workwork #digitalcenters #Googleslides #Googleclassroom #digitallearning #remotelearning #distancelearning #homeschool
to see state-specific standards (only available in the US).
Use knowledge of the meaning of individual words to predict the meaning of compound words (e.g., birdhouse, lighthouse, housefly; bookshelf, notebook, bookmark).
Use a known root word as a clue to the meaning of an unknown word with the same root (e.g., addition, additional).
Determine the meaning of the new word formed when a known prefix is added to a known word (e.g., happy/unhappy, tell/retell).
Generalize learned spelling patterns when writing words (e.g., cage -> badge; boy -> boil).
Produce, expand, and rearrange complete simple and compound sentences (e.g., The boy watched the movie; The little boy watched the movie; The action movie was watched by the little boy).
Report this Resource to TpT