World Geography Vocabulary Matching for Distance Learning & Print BUNDLE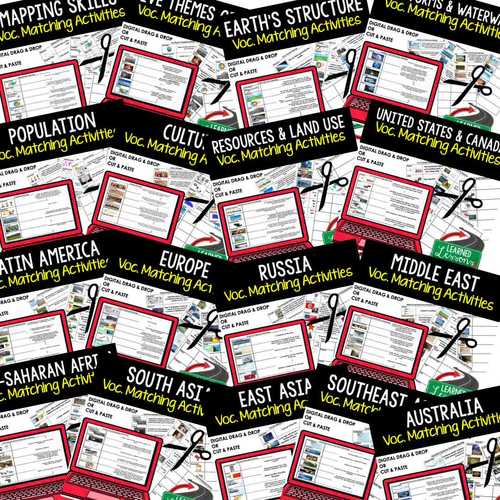 ;
Zip

Google Apps™
Includes Google Apps™
This bundle contains one or more resources with Google apps (e.g. docs, slides, etc.).
Products in this Bundle (18)
showing 1-5 of 18 products
Bonus
Digital Links for Google Classroom & Dropbox
Description
World Geography Vocabulary Matching for Distance Learning & Print, Google Link Geography Activity
These geography vocabulary matching pages are perfect for your visual learners.  Students can digitally drag and drop definitions, vocabulary words, and images.  This activity also has a print version for students to cut and paste matching definitions, images, and words.  This is a great activity for vocabulary review for English as a Second Language Learners, ESL, and ESS students.  This is also part of the World Geography MEGA BUNDLE.
This bundle includes links to engaging resource in Dropbox and Google Format as well as direct PDF downloads.
Sign up for and follow me on for updates.
Included: 
Digital Link for Vocabulary Review
Cut and Paste Template for Print Version
Mapping Skills Vocabulary Matching for Distance Learning & Print, Google Link
Five Themes of Geography Vocabulary Matching for Distance Learning & Print, Google Link
Earth's Structures Vocabulary Matching for Distance Learning & Print, Google Link
Population Vocabulary Matching for Distance Learning & Print, Google Link
Culture Vocabulary Matching for Distance Learning & Print, Google Link
Resources and Land Use Vocabulary Matching for Distance Learning & Print, Google Link
United States and Canada Vocabulary Matching for Distance Learning & Print, Google Link
Latin America Vocabulary Matching for Distance Learning & Print, Google Link
Europe Vocabulary Matching for Distance Learning & Print, Google Link
Russia Vocabulary Matching for Distance Learning & Print, Google Link
Middle East and North Africa Vocabulary Matching for Distance Learning & Print, Google Link
Sub-Saharan Africa Vocabulary Matching for Distance Learning & Print, Google Link
South Asia Vocabulary Matching for Distance Learning & Print, Google Link
East Asia Vocabulary Matching for Distance Learning & Print, Google Link
Southeast Asia Vocabulary Matching for Distance Learning & Print, Google Link
Australia Vocabulary Matching for Distance Learning & Print, Google Link
FOLLOW TO GET UPDATES WHEN NEW RESOURCES ARE ADDED
Links to all MEGA BUNDLES
Other Resources to Check Out:
CIVICS PAGE
US HISTORY PAGE
GENERAL RESOURCE PAGE
ELA & WRITING PAGE
PHYSICAL SCIENCE PAGE
PHYSICAL SCIENCE RESOURCE PAGE
EARTH SCIENCE PAGE
LIFE SCIENCE PAGE
WORLD HISTORY PAGE
GEOGRAPHY PAGE
LOUISIANA HISTORY PAGE
CLIPART RESOURCE PAGE
learnedlessonstpt@gmail.com
Thank you for your support! --Learned Lessons
Leaned Lessons Teaching Material
learnedlessonstpt@gmail.com
#TPTDIGITAL #TPTTECH Google, 1:1, Digital
Teaching Duration
30 minutes
Report this resource to TPT