World History Part 2 Word Wall Pennants BUNDLE Renaissance to Modern Times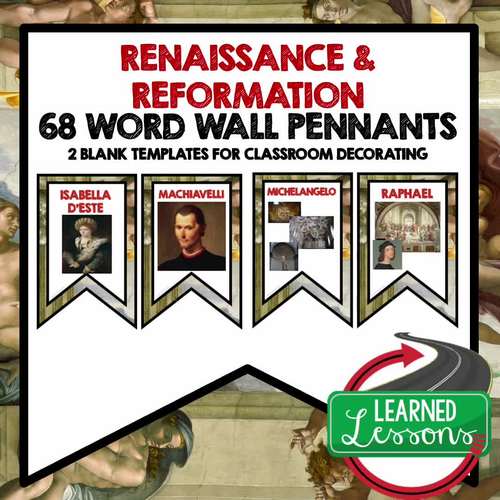 ;
Products in this Bundle (22)
showing 1-5 of 22 products
Bonus
#1 Digital Links for PDF and Google Classroom Version to Make Planning Easy
Description
World History Part 2 Word Wall BUNDLE Renaissance to Modern Times (Over 918 Pennants)
→Click Here to FOLLOW and GET Updates when NEW RESOURCES ARE ADDED
Includes links to engaging resources in Dropbox and Google Format as well as direct PDF downloads.
Sign up for and follow me on .
INCLUDED:
Includes 2 to a page banner pennant word wall.
Print two or four to a page, cut, and decorate your room!
2 blanks for each unit have been included so you can decorate and label your board with the same background theme.
Also, remember that when you purchase a BUNDLE, you will receive any additional items added in the future at NO COST!
Links to all MEGA BUNDLES
Other Resources to Check Out:
CIVICS PAGE
US HISTORY PAGE
GENERAL RESOURCE PAGE
ELA & WRITING PAGE
PHYSICAL SCIENCE PAGE
PHYSICAL SCIENCE RESOURCE PAGE
EARTH SCIENCE PAGE
LIFE SCIENCE PAGE
WORLD HISTORY PAGE
GEOGRAPHY PAGE
LOUISIANA HISTORY PAGE
CLIPART RESOURCE PAGE
learnedlessonstpt@gmail.com
Thank you for your support! --Learned Lessons
Leaned Lessons Teaching Material
learnedlessonstpt@gmail.com
#TPTDIGITAL #TPTTECH Google, 1:1, Digital
Report this resource to TPT