World Language SLO Timed Writing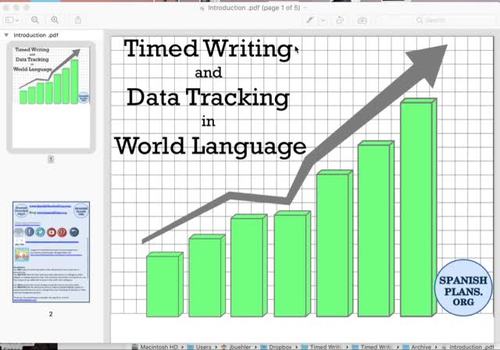 ;
What educators are saying
I appreciate the pre-programmed sheet to track data. I'm not using all of the included resources this year with my upper level students, but may be able to use them in future years.
I am well set up to track my students writing fluency and present the results to administration at the end of the year.
Description
This file includes instructions on how to use Timed Writing as a data collection to show student growth, which can be used for Student Learning Objectives, SLO, also known as Student Growth Objectives, SGO. In addition, it is a great way to communicate growth to students and parents.
Included in the Timed Writing SLO (which can be used for ANY language class)
-a 6 picture sequence prompt for students to write about
-a second 6 picture sequence to use as a writing prompt
-a writing sheet for students to use during the timed writing
-a writing rubric (not necessary to be used for grading, but to show proficiency levels)
-a draft of what to submit to your administrator for your student growth goal for your teacher evaluation
BONUS for Spanish teachers: An additional SLO for Spanish Vocabulary:
-a list of 180 common Spanish words (with translation)
-a file for students to write out the translation of these words (3 pages)
-GOOGLE FORMS quizzes of these words that will automatically grade students
Also included:
-A Google Sheet Doc to track data. This will automatically generate individual reports for each student
-An Excel Spreadsheet to track data
-A template Score Handout to write in the scores of each student (if you use the Excel sheet instead of Google Sheet)
Check out the video preview for details.
Report this resource to TPT