World War 1 Unit Bundle for World History 10 Days Including Exam Print & Google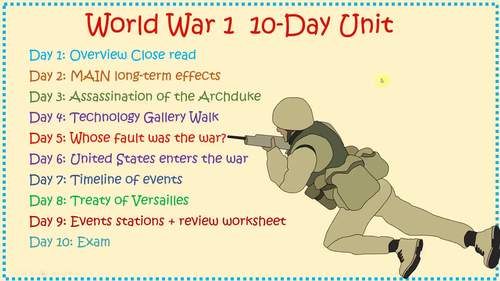 ;
Includes Google Apps™
This bundle contains one or more resources with Google apps (e.g. docs, slides, etc.).
Products in this Bundle (9)
showing 1-5 of 9 products
Bonus
World War 1 Events Stations Activity & Review Worksheet
Description
These lessons cover the key points of the World War 1 -- from the MAIN causes of the war through the Treaty of Versailles, plus a review and exam, in 2 weeks. Every lesson is designed to be prep-free and super easy to use. Everything has a print-friendly AND Google version to fit your needs. The slides are EDITABLE. Grab this World War I unit and lessen the stress; I've done the work so you don't have to!
If you need a break from lesson planning but still want awesome lessons for your students download this bundle and relax for the next 2 weeks:)
Every lesson includes a PowerPoint that is designed to walk you through the lesson from the warm-up to theconclusion. Many include short videos for your visual learners. There is a student activity for each lesson. These include gallery walks, stations, timelines, close reads, gamified activities and even code breaking (of the Zimmerman Telegram)
Day 1: Overview close read lesson
Day 2: M.A.I.N. long-term effects
Day 3: Assassination of Archduke Ferdinand
Day 4: Technology Gallery Walk
Day 5: Whose fault was the war? (Group work; this lesson would require breakout rooms to use remotely)
Day 6: United States enters the war
Day 7: Timeline of events
Day 8: Treaty of Versailles
Day 9: Events stations + review worksheet (BONUS)
Day 10: Stimulus-based multiple-choice and short response exam
LOOK OVER THE PREVIEW AND VIDEO TO SEE MORE DETAILS
THIS IS A GLOBAL/WORLD HISTORY-CENTRIC UNIT AND THEREFORE DOES NOT COVER THE WAR AT HOME, SCHENCK VS. THE U.S. OR OTHER U.S.-CENTRIC LESSONS.
All of the slides are EDITABLE!
Take the ACHE out of teACHEr -- invest a few dollars to save a few hours.
-If you like the quality of my work please follow me to be alerted to new products and sales.
-Don't forget to leave reviews on products you buy -- it PAYS YOU in TpT credits! Simply go to "my purchases" and click on "provide feedback"
Teaching Duration
2 Weeks
Report this resource to TPT
Standards
to see state-specific standards (only available in the US).
Cite specific textual evidence to support analysis of primary and secondary sources, connecting insights gained from specific details to an understanding of the text as a whole.
Determine the central ideas or information of a primary or secondary source; provide an accurate summary that makes clear the relationships among the key details and ideas.
Evaluate various explanations for actions or events and determine which explanation best accords with textual evidence, acknowledging where the text leaves matters uncertain.
Determine the meaning of words and phrases as they are used in a text, including analyzing how an author uses and refines the meaning of a key term over the course of a text (e.g., how Madison defines faction in Federalist No. 10).
Integrate and evaluate multiple sources of information presented in diverse formats and media (e.g., visually, quantitatively, as well as in words) in order to address a question or solve a problem.