Writing Activities Classroom Transformation for Writing DIGITAL and PRINT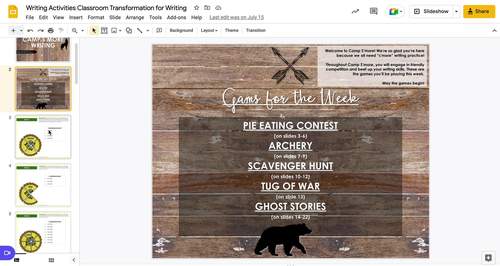 ;
Zip

Google Apps™
Includes Google Apps™
The Teacher-Author indicated this resource includes assets from Google Workspace (e.g. docs, slides, etc.).
Description
What likely comes to your students' minds when they hear the phrase "writing review"? If the answer is something like "worksheets," then you know it's time to add some fresh, fun activities to their learning routine! (While keeping the rigor, of course.) 
The writing activities in this Camp S'more Mini Classroom Transformation Writing Activity are meant to reinforce students' critical writing skills, focusing on drafting a variety of sentences (simple, compound, etc.), creating strong vocabulary options, incorporating figurative language into writing, and expanding sentences. To make the activities more engaging for students, some friendly competition can always be fun! Thus, these activities are centered on a summer camp theme: Camp S'more Writing. These writing activities can be used as a writing boot camp during the year, as a fun way to wrap up your school year, or even as a summer writing course. When you grab this resource, you will also get a digital version, so remote teaching is no problem!
To get even more into the camp spirit, you can even do a mini classroom transformation! Use the extras we've included to add some more fun décor to your classroom. Dress up as a camp counselor and bring "camping" things into your classroom for the week (a lantern, a tent, camping chairs, etc.!
TO GET A BETTER IDEA OF WHAT'S INCLUDED, MAKE SURE TO CHECK OUT THE PREVIEW!
Students will be divided into teams of 3-4 to compete against one another in 5 different camp-themed activities, all focused on essential elements in writing..
THIS CAMP S'MORE WRITING UNIT INCLUDES:
Detailed Instructions for Use

Simple but comprehensive instructions to help you run "Camp S'more" and all its fun games
Camp S'more Decor 

Welcome to Camp S'more Writing Sign
Games for the Week Sign
Team Pennants
Extra Signs to transform your classroom!
Camp Scoring Sheet

Keep score with this fun scoring sheet!
Camp Games (Writing Activities)

1, 2, 3, Look! Activity
Pie Eating Contest: Stronger Word Choice
Archery: Sentence Types: Simple, Compound, Complex, and Compound-Complex
Scavenger Hunt: Figurative Language
Tug of War: Expanding Sentences
Ghost Stories Around the Campfire: Bringing Everything Together
Sandman Activity
Camp S'more Writing Completion Certificates

Camp S'more Writing Individual Awards

EDITABLE Awards Template

Digital Version

A digital version is included, so your remote learners can join in the fun, too!
**PLEASE NOTE: Students will not actually be participating in a Pie Eating Contest or in an Archery competition - these are just the way the writing games are set up. Taking a look at the preview will show you this in more detail.**
Also, make sure to follow us to be notified when we upload new resources! We always do a special discount when we release a new resource, so it pays to follow us!
Teaching Duration
2 Weeks
Report this resource to TPT
Standards
to see state-specific standards (only available in the US).
Write narratives to develop real or imagined experiences or events using effective technique, relevant descriptive details, and well-structured event sequences.
Engage and orient the reader by establishing a context and introducing a narrator and/or characters; organize an event sequence that unfolds naturally and logically.
Use narrative techniques, such as dialogue, pacing, and description, to develop experiences, events, and/or characters.
Use a variety of transition words, phrases, and clauses to convey sequence and signal shifts from one time frame or setting to another.
Use precise words and phrases, relevant descriptive details, and sensory language to convey experiences and events.