Writing Activities Summer Writing Prompts Kindergarten 1st Grade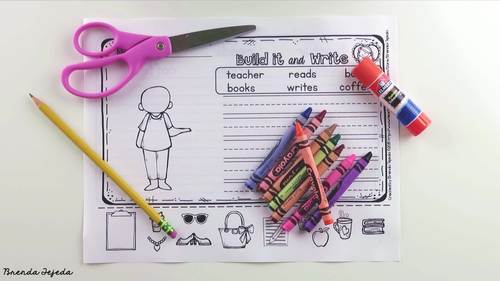 ;
What educators are saying
Wonderful product! Will be using it a lot. This is a very creative product and a real bargain bundle!
This is a great resource to use with a substitute. Students love cutting out their creations and displaying them for comparison with others, allowing for extension activities. Thank you!
Products in this Bundle (8)
showing 1-5 of 8 products
Description
Which kid doesn't love building and creating things?! My students cannot get enough of these Build it & Write activities!
⭐️⭐⭐️⭐️⭐️ "My students absolutely loved writing with this resource. The graphics are cute, my students liked acting out the cut pieces before writing...they wrote soooo much more when using this resource. I also am grateful for the differentiation within this resource as I taught a first & second grade split class this year. Thank you!!!" -Nicole D.
To Use:
Simply print! NO PREP, independent work packet, so it's perfect for centers, morning work, or at-home learning! Students pick the pieces they want to build the picture, color them, cut & paste them on, and write about it! They can also draw more details if they'd like.
2 versions included:
LEVEL I :
*picture word bank
*4 pieces
*dotted lines around most pieces for easier cutting
*sentence prompt to trace
LEVEL II :
*larger word bank
*more pieces
*extra writing paper for 2-sided copying- word bank on both sides!
Just added: Dinosaurs and Pirates!
This bundle currently includes winter, spring, summer, fall sets, PLUS Community Workers and Life Cycles sets, Gingerbread, Holidays around the world (plus the additional sets added below), and will also include any additional printable 'Build it & Write' sets I create.
With each addition, the price of this bundle will go up, so by purchasing now, you will get all additional sets for FREE, so you will get AT LEAST the current 48% discount. Please see preview for more information. Feel free to email me with any questions before purchasing: brenda11717@yahoo.com
ADDITION UPDATES:
**Build-a-cat: EXCLUSIVE to this BUNDLE! Added on 3/2
**Build-a-pizza! Added on 3/29
**Earth Day: Sort the recycling items! Added on 3/29
**Mother's Day: 3 versions- mom, aunt, grandma
**Father's Day: 3 versions- dad, uncle, grandpa
**Build-a-town: EXCLUSIVE
**Build-a-map: with map key! EXCLUSIVE
**Build-a-Carnival/Theme Park: EXCLUSIVE
**Build a Community Worker
**Build-a-Gingerbread Man, House, and Story Scene! 11/8- EXCLUSIVE
**Build-a-Frog (Leap Year)
**Build it- Outer Space-EXCLUSIVE
**Build-a-Dinosaur Scene-EXCLUSIVE
**Build-a-Pirate Scene-EXCLUSIVE
Almost 100 themes included so far:
-CHRISTMAS
-HANUKKAH
-KWANZAA
-ST. LUCIA
-LAS POSADAS
-CHRISTMAS IN AUSTRALIA
-CHRISTMAS IN SPAIN
-CHRISTMAS IN ITALY
-CHRISTMAS IN CANADA
-CHRISTMAS IN GERMANY
-CHRISTMAS IN ENGLAND
--PENGUIN
-PENGUIN LIFE CYCLE
-SNOWMAN (2 versions)
-SNOW GLOBE
-SNOW SCENE
-VALENTINE CUPCAKE
-CHRISTMAS TREE
-HOT COCOA
-SNOW/WINTER BOY
-SNOW/WINTER GIRL
-BUG
-GARDEN
-BUG JAR
-SPRING SCENE
-BUTTERFLY LIFE CYCLE
-PLANT LIFE CYCLE
-FLOWER
-BASEBALL
-EASTER
-ST. PATRICK'S DAY
-POND
-BOY IN SPRING RAIN
-GIRL IN SPRING RAIN
-OCEAN
-FISHBOWL
-POOL
-BEACH
-ICE CREAM
-LUAU
-SUMMER VACATION PHOTOS BOY
-SUMMER VACATION PHOTOS GIRL
-CAMPING
-BARBECUE
-SUMMER BOY
-SUMMER GIRL
-SUMMER VACATION (this is a bonus, also included in the summer pack)
-TEACHER (male and female)
-CLASSROOM
-RECESS
-LUNCH
-BACKPACK/ SCHOOL SUPPLIES
-COMMUNITY WORKER (male and female)
-PUMPKIN LIFE CYCLE
-APPLE LIFE CYCLE
-SCARECROW
-PUMPKINS
-JACK-O-LANTERN
-FRANKENSTEIN
-WITCH'S BREW
-HAUNTED HOUSE SCENE
-TURKEY
-THANKSGIVING TABLE
JUST ADDED:
-ANT
-APPLE
-BAT
-BEE
-BUTTERFLY
-CHICKEN
-FROG
-LADYBUG
-OWL
-PENGUIN
-PLANT
-PUMPKIN
-SEA TURTLE
*Includes answer keys
-BAKER
-BASEBALL PLAYER
-BUSINESS EXECUTIVE
-CONSTRUCTION WORKER
-DENTIST
-DETECTIVE
-FIREFIGHTER
-FISHERMAN
-GARDENER
-MAGICIAN
-POLICE OFFICER
-TEACHER
-VET
-Bonus MULTIPLE OPTION one: Kids pick from 3 professions
*MALE & FEMALE options for each!
-CINDERELLA
-SLEEPING BEAUTY
-SNOW WHITE
-THE PRINCESS AND THE PEA
-RAPUNZEL
-ALICE IN WONDERLAND
-THE LITTLE MERMAID
-THE FROG PRINCE
-THE GINGERBREAD MAN
-THE LITTLE RED HEN
-THE TORTOISE AND THE HARE
-THE 3 BILLY GOATS GRUFF
Want a DIGITAL version of this resource? Grab it here:
*****STAY CONNECTED!*****
Have questions?
Email me at brenda@brendatejeda.com
Want my FREE weekly teaching tips and access to my FREE resource library?
Sign up here: FREE Resource Library
Want to join like-minded teachers to learn and share ideas?
Join my Facebook group here: Tejeda's Tots K-1 Teacher Group
Want to Learn More?
Visit my blog here: Tejeda's Tots
Follow me on Social Media
Report this resource to TPT