Writing Anchor Chart Poster BUNDLE EDITABLE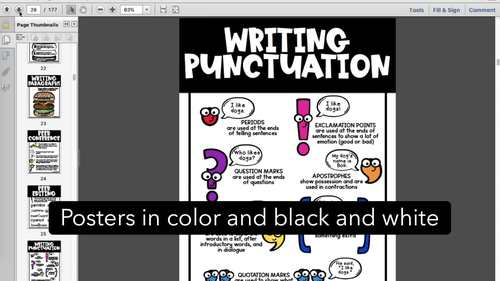 ;
What educators are saying
I absolutely LOVE this resource. I'm homeschooling my little foster girls grades, 1, 2, 3, this summer and this is just amazing!
I am SO EXCITED to print these out as anchor charts! I've always wanted engaging and cute posters, and I finally found it!
Products in this Bundle (28)
showing 1-5 of 28 products
Bonus
ALL IN ONE w/Editable FILE
Description
This huge, time and money-saving bundle includes ALL of my Writing Workshop Anchor Charts. Each Writing Anchor Chart includes an individual student size (8.5x11) page and larger pieces to cut out and glue to large poster paper to create a super easy anchor chart you can reuse over and over. Think of all the TIME you'll save not having to make your own. If you prefer to create yours with your class, just glue down the title/decorative/heading pieces ahead of time and complete the writing portions with your students. I've also included black and white student size versions (which are perfect for students to color).
These are great to use as a kickstarter to introducing a new concept and are a perfect partner to use with this Writing Workshop Resource Bundle. They are also perfect for use in classrooms with ELLs, as they provide the necessary visuals & concise teaching points to reinforce content and academic vocabulary for multiple grade levels, and the individual page can be used as a reference at their desk or in a pull-out situation.
You will receive: Each individual file and 1 EDITABLE Powerpoint version of all of the individual pages as well (this is EXCLUSIVE to the bundle, none of the individually files are editable). This means you can add/delete/edit the text content (the title and graphics are not editable in order to keep the graphics secure).
For a preview of how my anchor charts work, try out this FREE Writing Hooks Anchor Chart.
The following Writing Anchor Chart topics are included:
Adverbs
Author's Purpose
Capitalization
Conclusions
Complete Sentences
Details
Dialogue
Expectations
Friendly Letter
Goals
Hooks
How-to
Ideas
Informative
Onomatopoeia
Opinion
Paragraphs
Peer Conferences
Peer Editing
Punctuation
RACE
Rubric
Similes & Metaphors
Small Moments
Spice Up Writing
Story Structure
Transitions
What Good Writers Do
You can find the coordinating Reading Anchor Chart BUNDLE here.
© Teaching in the Tongass
Report this resource to TPT
Standards
to see state-specific standards (only available in the US).
Write opinion pieces in which they introduce the topic or book they are writing about, state an opinion, supply reasons that support the opinion, use linking words (e.g., because, and, also) to connect opinion and reasons, and provide a concluding statement or section.
Write narratives in which they recount a well-elaborated event or short sequence of events, include details to describe actions, thoughts, and feelings, use temporal words to signal event order, and provide a sense of closure.
Write opinion pieces on topics or texts, supporting a point of view with reasons.
Write informative/explanatory texts to examine a topic and convey ideas and information clearly.
Write narratives to develop real or imagined experiences or events using effective technique, descriptive details, and clear event sequences.