Writing Bundle: Personal Narrative, Informational, Opinion & Fiction 3RD GRADE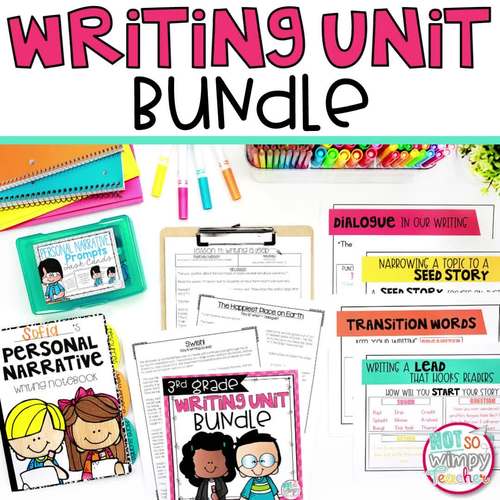 ;
What educators are saying
This is exactly what I need! We use the writing workshop format, but the lessons can be confusing. This resource is so much easier to follow and will make my planning go much quicker. Thank you!
Our FAVORITE writing program. We stopped using our school provided curriculum, and asked our admin to replace it with this instead.
Products in this Bundle (4)
Bonus
Digital Writing Notebooks
Description
"BEST RESOURCE I'VE EVER BOUGHT ON TPT!!!!!!!!! PERFECTION!!!!!!!!!  You get it. You get what I need! You get what writing workshop is REALLY like!  You get that the mini-lessons need to be MINI! You get what a 3rd grader can handle in one lesson.  You get that a teacher doesn't have time to read a 6-page lesson plan in a teacher's edition. THANK YOU, THANK YOU, THANK YOU!!!!!!!" - Kristen K.
If teaching writing has ever made you cry, weep, tear out your hair, question your existence, or binge-watch reality television—because it's just that frustrating and overwhelming—I made this resource for you. 
If your students dread writing time more than meatloaf in the school cafeteria...I made this  resource for them, too. 
We promise you: if any of that sounds like you or your students, you are NOT alone.
Many teachers like you have told me that their district-provided curriculum is too wordy and/or hard to implement. (Or worse, there's no curriculum at all.) But you're still expected to instill the necessary skills into your students so they can perform well on standardized tests! How are you supposed to do it?
Enter: The Not So Wimpy Teacher Writing Bundle: Personal Narrative, Informational, Opinion & Fiction for 3rd Grade. This HUGE BUNDLE is your kit for instructing students in writing for the entire year!
It contains EVERYTHING you need to teach 4 major units of study (Personal Narrative, Informational Reports, Opinion Essays, and Fiction Narratives) writing for 32 weeks— including mentor texts. You do not need to purchase any additional books! (Unless you want to.)
The lesson plans are simple, so all you have to do is print and teach.
Personal Narratives: How to write a small moment story with dialogue, a strong lead, interesting word choice, and paragraphs.
Informational Reports: How to craft a strong lead, choose interesting details, write topic and concluding sentences, and structure paragraphs.
Opinion (Persuasive) Writing: How to use supporting facts and reasons, write topic and concluding sentences, and structure paragraphs.
Fiction Narratives: How to write dialogue, paragraphs, and transitions, and how to create strong characters, a problem, and a solution!
There are digital anchor charts you can just project onto your white board- so you don't have to be Picasso or Renoir to anchor your kids in the lesson.
NEW! Digital Writing Notebooks on Google slides that are perfect if you are teaching writing virtually!
Most importantly? It makes writing fun for your students. The NSWT office has received many reports that students get so excited about these writing units, they moan and groan when writing time is over. Why is that such a big deal? Students who enjoy writing and get lots of practice perform better on standardized testing. 
When I say this bundle has everything you need to teach writing for 3rd grade, I do mean everything. But I've organized all of it for you into multiple folders and files so it's easy for you to find what you need! 
How it Works
Each lesson plan outlines a typical day of writing with these components:
Mini-Lesson: The day kicks off with a mini-lesson to teach a particular skill. The mini-lesson uses mentor text (remember, it's included in the unit) and anchor charts. For the teacher version of the anchor charts, you can project and fill them out with the class, or print and display them in your classroom. The student versions are smaller so they can fill them out and keep them in their writing notebooks for reference.
Work Time: Students will apply the skill they just learned into their writing each day. The included writing tasks make it crystal-clear for your students what to do during independent writing time. By the end of the unit, they will have completed two full masterpieces and many other independent writings. 
Share Time: Students are encouraged to share a piece of their writing with a partner or with the entire class. I recommend mixing it up!
This bundle includes the following units:
What's Inside
Detailed teacher directions and suggestions for simple implementation
7 exclusive videos to help implement and organize the unit
Unit-at-a-glance calendar for each unit
160 days of lesson plans that include guiding questions, materials, mini lessons, student work tasks, student share tasks, intervention, and several extension activities
55 original mentor text passages
10 sets of task cards
50 teacher anchor charts (blank and filled in versions)
57 student anchor charts and printables for writing notebooks
Conference and goal-tracking forms
Writing grades tracking forms
Rubrics for all four genres
List of 40 additional mentor text books (optional)
Variety of writing publishing papers
Student writing notebook covers and dividers
Teacher notebook covers and binder spines
Multiple ideas for author share celebrations
DIGITAL writing notebooks on Google Slides
Personal Narrative Lessons Included:
Setting goals
What is a personal narrative?
Generating story ideas
Narrowing your story idea to a small moment
Rehearsing and drafting
Writing a lead
Adding and punctuating dialogue
Adding details
Word choice
Show, don't tell
Breaking writing into paragraphs
Transition words
Writing an ending
Editing
Publishing
Informational Writing Lessons Included:
Setting goals
What is an informational report?
Generating report ideas
Narrowing your report idea to a seed
Research and note taking
Paraphrasing
Table of contents
Subtopics
Drafting
Writing a lead
Topic and concluding sentences
Word choice- adding vocabulary and definitions
Adding details
Transitions
Writing a conclusion
Text features
Editing
Publishing
Opinion Writing Lessons Included:
Setting goals
What is an opinion essay?
Generating essay ideas
Drafting
Writing strong opinion statements
Writing a lead
Supporting your opinion with reasons
Considering your audience
Consider opposing opinions
Supporting your opinion with examples
Paragraphs
Writing a lead
Topic and concluding sentences
Word choice
Transitions
Writing a conclusion
Editing
Publishing
Generating deeper topics (research-based)
Fiction Narrative Lessons Included:
Setting goals
What is a fiction narrative?
Developing characters
Developing setting (show-don't-tell)
Problem & solution
Author point of view
Writing a lead
Creating suspense
Adding and punctuating dialogue
Word choice (strong verbs)
Paragraphs
Transitions
Writing an ending
Editing
Publishing
Please take a look at the preview to see examples of components included in the bundle. Click HERE to see an example of one of the digital notebooks you'll receive in this bundle.
If you have any questions, don't hesitate to reach out!
*********************************************
Writing Units for Other Grade Levels:
*******
More Mini Writing Units:
Compare and Contrast Nonfiction
*******
Additional Resources You Might Like:
Report this resource to TPT