Writing Center | Printables & Interactive Learning Display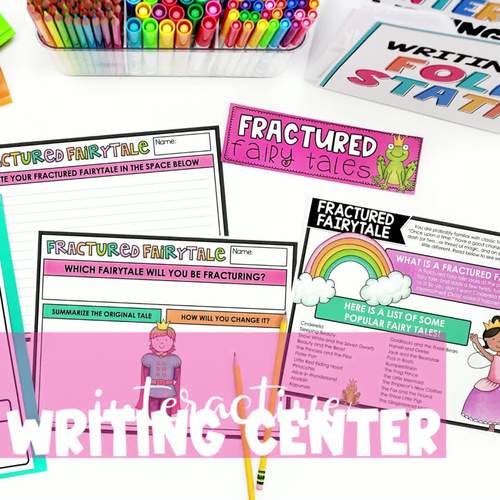 ;
What educators are saying
I just set up my first set of work on writing choices and the kids were very engaged! I love all of the options provided. The quality is great! Thank you so much for creating this awesome resource!
I'm slowly implementing this in my classroom! I love the details that are a part of this. Really helps my third graders be successful!
Description
How do you get your students enjoy writing? This is a question that I asked myself for years! After being in the classroom for 8 years, I had the idea of giving my students a say in what they would be writing. This idea changed it all!
By offering a variety of topics that they could choose to learn and write about, I found that my students weren't just writing, they were asking to write! I filled my bulletin board with a "writing menu." It allowed students to view their options, select something they wanted to work on, and then be instructed through a step-by-step approach. They would test their new writing skills with simple practice pages.
I knew this center had to be interactive and filled with engaging activities that they would look forward to. This Writing Center was created in 2013 to do those very things. It has evolved and grown, and has been a trusted resource used by teachers worldwide for years. I have seen my students look forward to writing because of this classroom tool, and to me, that was a success!
★Here's what teachers have said about this resource:
"I love love love this product! In my district, we use the writer's workshop model, and our common core units of study or soooo long! I was worried my little writers might get discouraged and tired of focusing on personal narratives for such a long time, and so I have set up this interactive writing center to use during Daily 5. Now, as part of our Daily 5 rotations, my kids get a chance to write whatever they want! They love it!!"
- A Happy Teacher
"I'm not even sure where to begin with how wonderful this resource is. I am currently in the process of setting it up and get more and more excited as I prepare. I know my students will enjoy this as well. My favorite part is that EVERYTHING you need is already available with examples provided. All that's needed is the students creativity. Very well done!"
- Another Happy Teacher
"Couldn't say enough good things about this bundle if I had days to type it up! This is colorful and creative thus my students are writing more than ever!"
- And Another Happy Teacher
So what is so special about this resource?
This resource was designed so that your students could have seamless interactions with reading and writing, while using critical thinking skills. It GIVES STUDENTS A CHOICE of what they want to write, as well as DETAILED DIRECTIONS and SAMPLE PAGES that take your students step-by-step through each task!
What does this mean to the teacher?
Being that this center is set up as a learning aid, with all of the tools to guide your students to writing success with its step-by-step instructional pages, you have MORE TIME to spend on other tasks, such as small group activities, once again individualizing instruction! It literally is your co-teacher. I made sure that each page was carefully constructed with instructions that were easy to follow, and examples for students to see exactly what was being asked of them.
With this resource, you will receive:
PLEASE BE SURE TO VIEW THE PREVIEW FOR DETAILS OF THE FOLLOWING!!
40 Interactive Word Wall Headers - I offer these headers a variety of formats for you to choose from. You can choose between two fonts, colored printing, black and white, etc. There are 240 in all to choose from!
40 Sampler Cards: These will accompany your headers on your bulletin board, trifold, or board display. They give your students a brief look at what each task will require them to do. There are 160 in all to choose from!
214 Instructional, Sample, and Student Work Pages: There is a wide range of complexity within the topics. See them below. My goal was so that there were tasks that would be easy for everyone to tasks that took a bit more planning and thought.
Answer Keys: Please note that most of the tasks do not require an answer key. The majority will simply be assessed by you to see whether or not each student truly understands the topic(s) they are working on.
Covers: Covers will be placed on the front of your designated Writing Center bin, the front of your Folder Station, and on student folders. I offer a variety of each, so that you can choose which color and/or format fits you and your classroom best. The cover for the Writing Center bin provides directions on how students should utilize the center.
Student Tracking Forms: It will be critical that students have a place to record when they began a task, when a task ends, teacher signature of approval, and grade given by you. Every time they complete a task, the you will sign off on these forms.
Student/Teacher Discussion Form: This is a great communication tool. When you check student work within their folders, you will check their discussion forms to see if they are struggling with a certain topic. You can leave comments for the student to read, such as a date that you will work to resolve their concerns.
Student Tickets of Concern: Students have the option of turning in a "Ticket of Concern" when something is troubling them. It is yet another option of communication between the student and the teacher.
Center Feedback Tickets: You can choose to give these to your students every time they complete a center or not. I love them, because they are a simple way for your students to say if a task was "too easy," "just right," or "too difficult."
Display Letters for a Bulletin Board: These letters say "Let's Write!" They are available in both backline format and a colored option that matches the colors used in the headers.
Decorative Pencils for Bulletin Board
Printable Tabs for Hanging File Folders
All of the Original Writing Center Files!!
Detailed guidance on how you can use this resource in your classroom. REMEMBER THAT YOU DO NOT NEED A BULLETIN BOARD! You can choose to display a couple of topics to your students a week if you would like. You are in complete control!
An overview of materials included and how to utilize them.
Discussion and pictures of items that I used to set up my center as a bulletin board/Writing Station.
★This center will teach and assess the following topics:
Short Stories
Poetry
Facts
Opinions
News Articles
Summaries
Main Ideas
Book Reviews
Friendly Letters/Emails
Mysteries
Songs
Biographies
Blog Posts
Definitions
How-To Paragraphs
Descriptive Paragraphs
Lists
Compound Sentences
Complex Sentences
Handwriting (upper and lowercase cursive and print) - a blank option is also included
Articles
Similes
Metaphors
Personification
Idioms
Onomatopoeia
Alliteration
Paragraphs
Sequence of Events
Research Papers
Recipes
Greeting Cards
Spelling Words
Quotes
Greek Myths - Myths are not included! You can provide them through a trusted website, printable, or book.
Morning Announcements
Fractured Fairytales
Emoji Talk
Titles
Dialogue
_____________________________________________________________
If you like this resource, you may also want to check out my
★ Interactive Writing Center (Digital)
★ Figurative Language Flip Book
★ Descriptive Writing Monster Exchange
★ Sentence Editing: Proofreading Sentence Rings
★ Writing & Comprehension Learning Bundle (Incredible DEAL!)
★ Craft & Writing for an Entire Year
★ Comma Task Cards, Posters, & Display
_____________________________________________________________
I really hope that you find this product just as useful as I do. A great deal of love and time went into making it. :)
Thank you so much for your interest in this product and I look forward to your feedback in the near future!
Joey
_____________________________________________________________
I'd love to have you join me on my educational journey, so be sure to FOLLOW me on the following accounts to keep up with my latest projects, classroom inspiration, latest FREEBIES, great giveaways, and MORE!
Teachers pay Teachers: Click "Follow" Beneath My Name!
Instagram (MY FAV!!!)
_____________________________________________________________
Due to copyright restrictions, this file is only permitted to be used for personal and/or classroom uses.
**This purchase is good for one user license.
Teaching Duration
Lifelong tool
Report this resource to TPT
Standards
to see state-specific standards (only available in the US).
Refer to parts of stories, dramas, and poems when writing or speaking about a text, using terms such as chapter, scene, and stanza; describe how each successive part builds on earlier sections.
Explain how a series of chapters, scenes, or stanzas fits together to provide the overall structure of a particular story, drama, or poem.
Determine the meaning of words and phrases as they are used in a text, including figurative and connotative meanings; analyze the impact of a specific word choice on meaning and tone.
Determine the main idea of a text; recount the key details and explain how they support the main idea.
Determine the meaning of general academic and domain-specific words and phrases in a text relevant to a grade 3 topic or subject area.