Writing Center l Build-a-story with Creative Writing Picture Prompts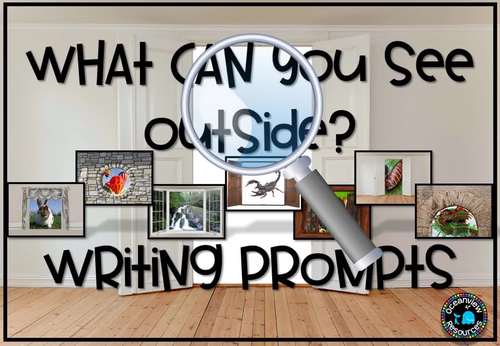 ;
Description
⭐⭐Do you have students who really struggle with creative writing?⭐⭐

☀Do you need activities for your classroom writing station?

☀These creative and fun window images were created for my reluctant writers after we explored the wonderful book "Windows" by Jeannie Baker.

☀My students really loved these images and found these fun and engaging.

☀The templates encourage students to use their senses to add a new dimension to their writing to make it more engaging for their audience.

☀This pack comes with both a PowerPoint and PDF version so that you can use this resource with the IWB to encourage and support students to brainstorm words to use with their writing.

Ensure that you have software to open a compressed zip file

⭐What People have said about this writing resource⭐

✅What a great resource! Thank so much.

✅My students found this fun while we were online.

✅A great follow-on activity from reading Window by Jeanie Baker.

⭐The best part?
This resource requires NO PREP and is easy to use.


⭐If you like this writing pack, you may also like to look at the following ⭐

Related Products
• Animal Pictures for Persuasive l Opinion Writing l Middle grades
• Christmas Writing Templates with stimulus pictures-Portrait
• GOOGLE DRIVE Fantasy Writing with templates
• GOOGLE DRIVE Quirky Pictures for Writing with templates
• Halloween Narrative writing l 3D Template l templates and scaffolds
• Halloween Writing with Video Stimulus

⭐I'm so glad you stopped by my store and checked out this resource! Follow my store to be updated about new products and sales. Don't forget to leave feedback to earn credits toward future purchase by heading to MY PURCHASES in your Teachers Pay Teachers account. 
Connect with me!
❤️ Nikki Tester @Oceanviewresources
After purchasing this product, you must then review in order to earn your credit.
Positive feedback is always welcome, and if you are having any problems with the product please reach out to me via the Questions page or send me an email before posting negative feedback.
☀Remember: For every $1 you spend on TPT, you can earn 1 credit. Every 20 credits earned equals $1 you can apply to future TPT purchases. After purchasing this product, you must then review in order to earn your credit.
⭐Resource Suggestions, Technical Issues and Updates
Your feedback is valuable to me and helps me to determine how useful my products are and what I can do to improve and create better ones in the future. If the feedback is a request to edit a resource, an issue that may need rectifying or a suggestion to create a resource, please let me know via my "Ask a Question". I review resources periodically and update them as needed. :)
☀This is for use by one teacher in one classroom. If you would like to share with your colleagues, PLEASE purchase a multiple license. Thank you :)
Report this resource to TPT