Writing Centers 1st and 2nd Grade Yearlong Bundle | Valentine's Day Printables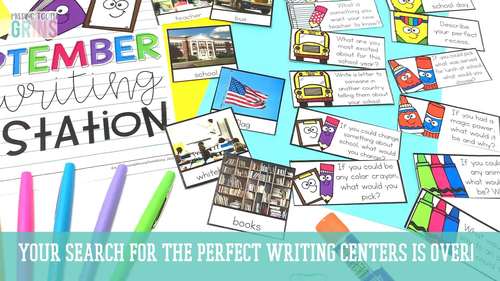 ;
What educators are saying
Absolutely LOVE this resource! It has made my writing station SO much more manageable AND the kids are so excited to use this! Never before has my writing station been so popular! Thank you SO much!
Students LOVE finding out about the new ideas in the monthly writing centres. I love the range of writing topics this has and it's really easy to accommodate students who should write more or less.
Products in this Bundle (9)
showing 1-5 of 9 products
Description
Plan your writing centers for the entire school year! Having meaningful and engaging centers is important and essential while teaching reading small groups/guided reading and holding reading rotations. Each month includes the same 8 types of writing, but with fun new themes, prompts, story starters, etc. Through the variety of activities, first and second grade students build confidence in their writing. 
Headers to make a choice board or bulletin board display are included. I always made example pages to hang up so that students could refer to them just in case they weren't sure what to do. Students love to pick out the writing they get to do that day. Because the types of writing remain consistent month to month, there's no more explaining directions on what students will be writing about! They will know since it doesn't change every month.
Here's what is included each month:
Vocabulary picture cards
Writing prompts
Book review
Lists
Opinion writing
Illustrative writing
How to stories
KWL Charts & informative writing stories
Story Starters
Narrative writing
Primary and intermediate writing paper
I used this writing center as a rotation during my guided reading groups. I held my reading small group, while the rest of my class were working in their reading centers. This writing center was particularly great to have in class because I always felt like I was running out of time to effectively teach writing. This center was a an effective way to have my students work on their writing, especially when we ran out of time during our writer's workshop.
Your students will love choosing their writing for the day. You, the teacher, will love that the writing pages include a self-check at the bottom! After writing, students check to make sure they included proper capitalization, punctuation, inventive spelling, and finger spaces. Continued use of this writing station and using these pages will teach students to check their work. 
Teachers like you said…
"This is one of the most useful purchases I have made on TPT. There is so much in this bundle. And so many writing activities. My students love this. I used this in my writing center. Since the activities are the same and the topic changes throughout the year, you just explain how to do the activities at the beginning of the year and then after that, they can do the activities independently. Thank you so much for this resource!" -Tracy G.
"This resource has so many options to use! They look beautiful on my writing center board. My students get excited to see each month! There is so much information I still have not even seen it all. I am excited to use this writing center!" -Jennifer E.
These writing centers are aligned to the Common Core State Standards. Students can continue to practice their writing skills in this center and are still practicing the standards as well. They are continuously exposed and reintroduced to these types of writing pieces.
You May Also Like:
Copyright © Missing Tooth Grins
All rights reserved by author.
Permission to copy for single classroom use only.
Make sure to follow me so that you are notified of when new resources are posted! Brand new resources are always on sale the first 24 hours!
Report this resource to TPT
Standards
to see state-specific standards (only available in the US).
Write opinion pieces in which they introduce the topic or name the book they are writing about, state an opinion, supply a reason for the opinion, and provide some sense of closure.
Write informative/explanatory texts in which they name a topic, supply some facts about the topic, and provide some sense of closure.
Write narratives in which they recount two or more appropriately sequenced events, include some details regarding what happened, use temporal words to signal event order, and provide some sense of closure.
Write arguments to support claims in an analysis of substantive topics or texts, using valid reasoning and relevant and sufficient evidence.
Write informative/explanatory texts to examine and convey complex ideas and information clearly and accurately through the effective selection, organization, and analysis of content.