Writing Checklists | Text Features | Structures, Rubrics, Editing, Assessment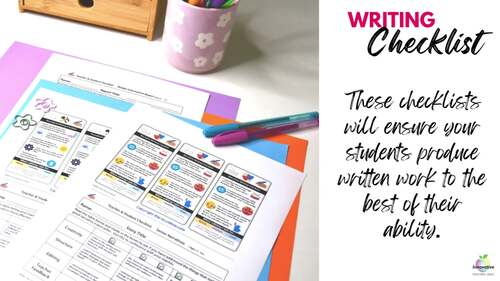 ;
What educators are saying
A fantastic resource that is helping my students to improve their writing and editing skills. Thank you.
This resources has been a great addition to my multi-grade classroom! It is easy to use and relevant!
Description
Simplify the WRITING and EDITING PROCESS and promote INDEPENDENT LEARNING with this HUGE collection of WRITING CHECKLISTS, SCAFFOLDS, ANCHOR CHARTS and RUBRICS for ALL TEXT TYPES.
The NO-PREP SELF ASSESSMENT TOOL for 2023❤️ FOR ALL TEXT TYPES and ❤️ALL ABILITY LEVELS
COVERING THESE GENRES / WRITING STYLES
☀️ Narratives
☀️ Explanation Texts
☀️ Recounts / Personal Narratives
☀️ Information Reports
☀️ Procedural Texts
☀️ Discussion / Argumentative Essay
☀️ Procedural Writing
☀️Lot's more to come - all future updates for FREE... Even as the price increases with other writing genres added.
This practical resource helps your students develop into strong writers with fundamental writing skills and knowledge.
YOU ARE GETTING
⭐ Self Assessment CHECKLISTS
⭐ SCAFFOLDS
⭐ ANCHOR CHARTS
⭐ RUBRICS
Each handout contains a student checklist for an independent assessment and a student/teacher rubric for conferencing. With six lists to a page, you can quickly print and distribute them as they are or edit them to suit your specific needs.
It covers three age levels: Junior (ages 5-7), Middle (ages 7-11), and Senior (ages 11-15). Additionally, we stylized and worded each level to appeal to each age group.
You are Getting THREE VERSIONS for each writing genre to ensure your ⭐ beginning, ⭐⭐ intermediate and ⭐⭐⭐ advanced writers can correctly assess their writing skills and techniques. Nobody gets left behind!
You can distribute these digitally to your students or print and laminate them to use as an evergreen writing self-assessment tool.
It comes in ⭐BOTH NO PREP PDF format and EDITABLE PowerPoint Formats
TEACHERS LIKE YOU SAID THIS...
⭐⭐⭐⭐⭐ Linda C. says... "These resources were fantastic to use across a complex multi-age class. They made supporting student understanding of how to structure texts and check for their progress easily. Lots of self-directed action happening and the laminated bookmarks were fantastic to use as wipe-off checklists. :)"
⭐⭐⭐⭐⭐ Liz O'Sullivan says, "This is a very practical resource for students to use. They were able to keep the checklists in their desks and refer to them when writing. A great hands on way to self edit! A great reference point for students and teachers. It also helped with feedback/assessment.!"
⭐⭐⭐⭐⭐ Vikki R. says, "This bundle is super! Covers all grades 1 - 6, and all genres! Easy to use checklists plus scaffolds and anchor charts! ."
Perfectly integrates with Google Classroom, Office 365, SeeSaw or other digital platforms.
⭐These checklists are compatible with online platforms such as
YOU MIGHT ALSO❤️VE THESE ENGLISH RESOURCES
❤️ Year-Long Visual Writing Prompts Collection
❤️ News and Media Literacy Bundle
❤️ 125 Guided Reading Activities for ANY BOOK
❤️ 101 Digital Graphic Organizers
⭐LET'S CONNECT
Innovative Teaching Ideas on YouTube
Innovative Teaching Ideas on Facebook
TERMS
Copyright © Innovative Teaching Ideas. All rights reserved by the author. This product is to be used by the original downloader only. Copying for more than one teacher, classroom, department, school, or school system is prohibited. This product may not be distributed or displayed digitally for public view. Failure to comply is a copyright infringement and a violation of the Digital Millennium Copyright Act (DMCA). Clipart and elements found in this PDF are copyrighted and cannot be extracted and used outside this file without permission or license. Intended for classroom and personal use ONLY. See the product file for clip art and font credits.
CUSTOMER TIPS:
How to get TPT credit to use on future purchases:
• Please go to your My Purchases page (you may need to
login). Beside each purchase, you'll see a Provide Feedback button. Simply click it, and you will be taken to a page where you can give a quick rating and leave a short comment on the product. Each time you give feedback, TPT gives you feedback credits to lower the cost of your future purchases. I value your feedback greatly as it helps me determine which products are most valuable for your classroom to create more for you. ☺
Teaching Duration
Lifelong tool
Report this resource to TPT
Standards
to see state-specific standards (only available in the US).
With guidance and support from adults and peers, focus on a topic and strengthen writing as needed by revising and editing.
With guidance and support from adults, produce writing in which the development and organization are appropriate to task and purpose.
With guidance and support from peers and adults, develop and strengthen writing as needed by planning, revising, and editing.
With guidance and support from peers and adults, develop and strengthen writing as needed by planning, revising, and editing.
With guidance and support from peers and adults, develop and strengthen writing as needed by planning, revising, editing, rewriting, or trying a new approach.