Writing Curriculum, Narrative, Explanatory, Argumentative, Research BUNDLE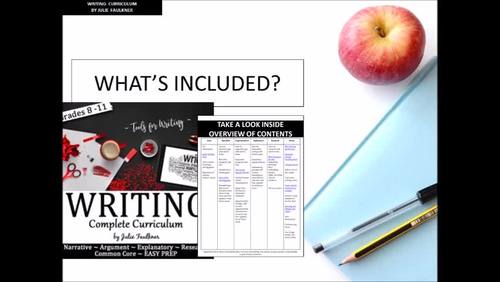 ;
Zip

Google Apps™
Includes Google Apps™
This bundle contains one or more resources with Google apps (e.g. docs, slides, etc.).
What educators are saying
I used this as the basis of a 12th-grade writing class and was thrilled with the result. I added a few things, but, overall, this was a very complete and comprehensive bundle.
Products in this Bundle (57)
showing 1-5 of 57 products
Bonus
Pacing Guide, Pre/Post Assessments, Bonus FREEBIES
Description
Set up your essay writing curriculum in a snap with these materials for narrative, explanatory, argumentative, and research writing.
What is it? It's not only a bundle of my best-selling, classroom-tested units and resources for writing, but with this set of resources, you will have a full year's worth of materials for teaching writing in every mode from narrative, to argumentative, to explanatory, to research. Many items are new and have been designed just for this curriculum.
Why do you need it? If you are looking for a program and a process that will make teaching and learning writing simple and effective, this resource is for you. Whether you are a new teacher or veteran teacher, the materials included here are fundamental enough to get you started and novel enough to fit into today's classroom.
What if I'm not looking for an entire program, but just a few great pieces?T his curriculum is structured for you as a yearly program – as if it were my classroom, where years of student writers have grown and achieved success. So, you can pick it up from day one and work all the way through it. However, the beauty of teaching writing with a set of materials like this is that you can also pick and choose what you need from each unit: teach basic writing skills, to memoirs, to arguing a text, to counterclaims, to painting artful sentences, to researching and presenting.
What's included? You'll have pacing guides, essential questions, and a first thirty days calendar – and it's all in one easy download. You'll have tools for getting kids started, tools for writing vocabulary, tools for each mode, tools for sample papers, tools for prompts, tools for assessment and evaluation, and tools to build your students' confidence. Your students will have tools for managing their own progress and success, too!
Overview of Units:
- Pre-teaching: Writing Unit (Writing Basics) includes lecture with sketch notes and guided practice
- UNIT 1: Narrative Writing Unit includes an introduction to the mode ppt with sketch notes, unit vocabulary and quiz, descriptive writing game, creating great hooks matching game, memoir mini unit, three personal narrative prompts with examples, and an imaginative narrative with example
- UNIT 2: Argumentative Writing Unit includes introduction to the mode ppt with sketch notes, persuasive appeals lesson and activities, counterclaim lesson, and five prompts
- UNIT 3: Explanatory Writing Unit includes introduction to the mode with sketch notes, two prompts and more will be added this year
- UNIT 4: Research Writing Unit includes introduction to the mode with sketch notes, MLA 8th edition teaching pack, incorporating evidence teaching pack, embedding quotes teaching pack, website credibility teaching pack, three research presentation prompts
Plus other tools to mix and match!
- Writing traits mini workshops, model analysis paper task cards, sentence variety teaching pack, pre and post assessments, classroom posters, editable writing rubrics for each mode, graphic organizers, conference guides, revising and editing task cards, self-evaluation forms for each mode
- Full year pacing guide/curriculum map, editable
- Beautiful, age-appropriate design on every page to draw your students into reading, writing, analyzing, discussing, and learning!
-Download the preview for a complete list of the contents and . If you are ready to make a change to see some amazing results in your writing program, I hope you'll give this a try.
-Of course, you'll get FREE updates for life on all my future prompt packs, traits teaching packs, writing workshops, and writing assessments!!
-AND, I'm not going to leave you out in the wilderness of teaching writing all alone. With this purchase, you will receive free access to an online community of support for teaching writing. Hope to see you there!
Learn more about how I teach writing before you give it a try:
Classroom success stories from other teachers who have tried these resources:
♥ on my Counterclaims Teaching Pack: "Great product. Nice use of mentor text examples for students to model."
♥ on my Persuasive Appeals Bundle: "Fantastic! Includes a pop quiz, helps with checking for accountability ... offers me the choice of summative or formative assessment."
♥ on my MLA Citations Teaching Pack: "I don't know that I can say enough about this lesson. My junior and senior classes understand mla citations now. Everything was presented clearly and effectively. They really enjoyed the citation game. They were spread all over the room figuring it out. They were excited when they created the right citation, so much so that the groups who finished were eager to help struggling groups. The review activities and quiz are a great way to wrap up the lesson. When polled, 95% of my kids say they now understand and feel comfortable using citations."
♥ on my Model Essay Analysis Task Cards: ""Great for evaluating a published author or for evaluating a peer's writing. I intend to use in a writing center."
Get my other ready-to-go curriculum bundles, too!
Be the first to know about my new discounts, freebies and product launches. Look for the green star next to my store logo and click it to FOLLOW ME. Voila! You will now receive email updates about my store.
Join me for more bright ideas:
Julie's Classroom Stories on Instagram
Julie's Classroom Stories on Facebook
Teaching Middle and High School English Facebook Group
Yearbook and Journalism Facebook Group
Created by Julie Faulkner, updated 2019; Cover Design A Little Peace of Africa
Terms of Use: Please, one classroom use only. Additional licenses are sold at checkout. This license is nontransferable. Not eligible for online environments unless password protected. Posting openly online is prohibited. No part of this resource can be used for commercial purposes, altered, or resold. This work is my original work, and taking portions of it to create something else for resale is prohibited.
Teaching Duration
1 Semester
Report this resource to TPT
Standards
to see state-specific standards (only available in the US).
Write arguments to support claims in an analysis of substantive topics or texts, using valid reasoning and relevant and sufficient evidence.
Write informative/explanatory texts to examine and convey complex ideas and information clearly and accurately through the effective selection, organization, and analysis of content.
Write narratives to develop real or imagined experiences or events using effective technique, well-chosen details, and well-structured event sequences.
Produce clear and coherent writing in which the development, organization, and style are appropriate to task, purpose, and audience.
Develop and strengthen writing as needed by planning, revising, editing, rewriting, or trying a new approach.