Writing Prompts, Journals & Posters w/ End of the Year Writing Center Activities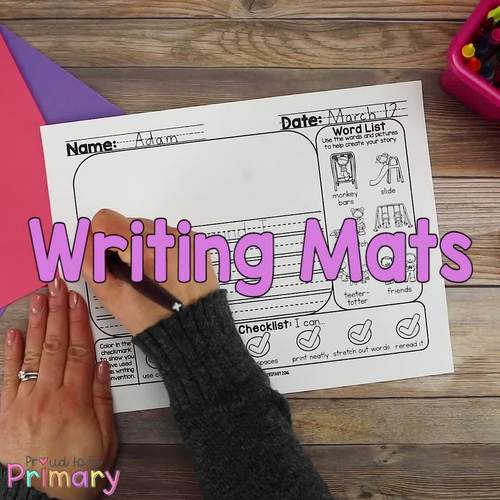 ;
Zip

Google Apps™
200 printable pages + Google Slides + Images + Posters
Includes Google Apps™
This bundle contains one or more resources with Google apps (e.g. docs, slides, etc.).
Products in this Bundle (11)
showing 1-5 of 11 products
Bonus
Writing Conventions Checklist Posters & Student Strip Cards
Description
Daily writing practice for the Whole Year has 20 different printable writing mats for 10 months (that's 200 writing prompts) plus writing conventions posters to support writing instruction! Create a simple, easy-to prep writing center in your classroom with the perfect writing materials!
Buy the bundle and SAVE $20 (4 packs for FREE), plus get FREE Writing Conventions posters as a bonus (for bundle owners only)! This BUNDLE is a collection of 10 sets of monthly Writing Mat resources.
View the previews and products included BELOW! Watch the video preview to see Writing Mats in action!
4 RESOURCES IN 1:
PDF or PPT - Just open the PDF or PPT file and print!
Writing Conversions Posters - New Bonus for BUNDLE owners!
GOOGLE SLIDES / GOOGLE DRAWINGS - Assign each writing prompt in Google Slides, which includes an interactive writing checklist.
SEESAW - Add an activity to Seesaw with the included images!
These are great for independent writing time, creative and story journal writing, writer's workshop, writing centers, small group instruction, homework, and morning work. All 200 of the writing mats cover a variety of seasonal and general topics. There are fiction and non-fiction writing topics included.
They build writing fluency through repeated writing frequently throughout the month. The large variety of engaging topics will keep your students interested and excited about writing!
These printable writing activities include 3 variations for each topic. These are great for differentiation during your writing block!
interlines with a sentence starter that needs to be traced.
interlines without a sentence starter.
regular lines with a topic/title given.
a blank page is included for drawing and writing with a title.
Students are given a picture-word list on each writing mat with related clip art to match the story starter and topic. There is a space to draw a picture with each story as well and the word list provides support in spelling.
There is a writing checklist at the bottom of each mat to help students remember what they need to include in their writing passage. They can review the items before writing, refer to it during, and color in the check marks after to show they have used the writing conventions. The digital version of this for Google Slides includes moveable checklist objects that kids can use to interact with the list after their writing is complete.
This bonus poster set is for bundle owners ONLY! Posters are included for each item on the writing conventions checklist. Print half-size to make a set of cards for your writing center or use full-sized posters for your classroom wall. Student strips are also provided to use as needed. Posters are provided in color and black & white for each printing.
The writing mats are perfect for first grade, but could also be used for advanced writers in Kindergarten and for extra practice, as review, or independent work for second grade.
Look at the DETAILED PREVIEW for a look at the table of contents and the topics included, as well as a breakdown of what a Writing Mat looks like and how it can be used. The video preview shows examples of other Writing Mats in action.
**An additional set of Writing Mats are provided for Canadian users, which include Canadian spelling and content (if necessary).
6 ways to use Writing Mats in your classroom!
1. Print Writing Mats on card stock, laminate, and use with whiteboard markers in your literacy center!
2. Print Writing Mats and include them in your writing center for many choices!
3. Copy Writing Mats back to back with the cover page to create a daily writing journal!
4. Copy and put it into a folder. Use for morning work or fast finishers!
5. Use with Seesaw by uploading the image files included in this resource and assigning it to your class (instructions provided).
6. Use with your class in Google Classroom (instructions provided).
TEACHERS LIKE YOU SAID...
⭐️⭐️⭐️⭐️⭐️ Gillian M. says, "I LOVE how there is a product for every month! They all look the same and even have a checklist on the bottom to help students remember! These are the perfect activities to have as a writing center or as an early finisher activity! Thank you for these!"
⭐️⭐️⭐️⭐️⭐️ Julie M. says, "I love how easy it is to differinate with these mats. The subjects are highly engaging and encourage students to be independant with thier writing. I also love that it has a rubric at the bottom to help the stdents edit their work in a 1st grade friendly way."
⭐️⭐️⭐️⭐️⭐️ Lori S. says, "We have been using these daily for writing practice and they have been a life saver. I love the self checking points at the bottom of the page and also the option to have a sentence starter if needed. My daughter struggles with where to begin when writing so these have really helped."
Upon purchase, you will be able to instantly download a ZIP file for each month that includes a printable PDF, PPT files, details for using with Google, and images/instructions on how to use in Seesaw.
Looking for an easy-to-use, effective Writing Center resource? Check out the All-In-One Writing Center & our Monthly Writing Center BUNDLE with 40+ themes to set-up a classroom space your students will LOVE!
Related Products
Try the SEL program that is needed in ALL classrooms!
mind+heart Social Emotional Learning curriculum for K-2
mind+heart Social Emotional Learning curriculum for 3-5
Popular Bundles by Proud to be Primary:
Word Families Short Vowels Activities
Stay connected with Proud to be Primary
♥Click HERE to follow our store and receive notifications of new product releases, sales, and freebies.
♥Join our email list and get weekly teacher tip emails and access to our FREE resource library.
♥Visit our website at Proud to be Primary for tons of engaging ideas for teaching kids in the classroom!
♥Join our Facebook group and connect with thousands PROUD primary teachers like yourself.
Questions, suggestions, and feedback are always welcome.
Just use the "Product Q&A" tab and I will get back to you as fast as I can!
Please ask all questions before purchasing or email me at elyse@proudtobeprimary.com.
Terms of Use: This product is licensed for personal classroom use ONLY unless multiple licenses are purchased. Your purchase grants you a license to use in a secure, password-protected online platform (such as Google Classroom) with your students only. You may not transfer or share with another teacher or use for commercial purposes (Outschool, etc.).
©2013 to Present - Proud to be Primary - Elyse Rycroft
Total Pages
200 printable pages + Google Slides + Images + Posters
Report this resource to TPT
Standards
to see state-specific standards (only available in the US).
Use a combination of drawing, dictating, and writing to compose opinion pieces in which they tell a reader the topic or the name of the book they are writing about and state an opinion or preference about the topic or book (e.g., My favorite book is...).
Use a combination of drawing, dictating, and writing to compose informative/explanatory texts in which they name what they are writing about and supply some information about the topic.
Use a combination of drawing, dictating, and writing to narrate a single event or several loosely linked events, tell about the events in the order in which they occurred, and provide a reaction to what happened.
With guidance and support from adults, respond to questions and suggestions from peers and add details to strengthen writing as needed.
With guidance and support from adults, explore a variety of digital tools to produce and publish writing, including in collaboration with peers.