Year Long Push-In Speech Therapy Lesson Plans by Seasonal Themes #1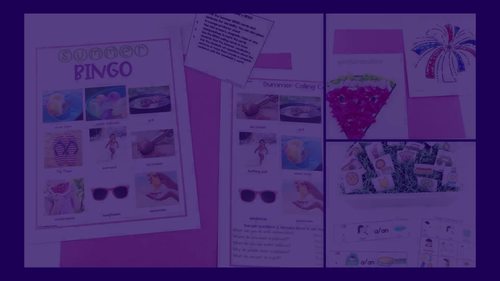 ;
What educators are saying
This resource is lengthy to put together but worth it and can be used again and again. Students are engaged. It's a great buy.
Love using this resource for my push in preschool and kindergarten groups. My students are engaged and I am organized.
Products in this Bundle (14)
showing 1-5 of 14 products
Description
If you are a school-based SLP wanting to reduce stress by creating push-in speech therapy lesson plans for your Prek-2nd grade caseload, you need to invest in this themed therapy push-in speech therapy lesson plans that target a LOT of language skills.
Lily wanted lesson plan speech therapy activities that were engaging and easy to adapt for small groups, whole class, or individual sessions, "These lessons are comprehensive and engaging. They are perfect for both classroom push-in lessons and individualized therapy."
You won't dread sessions because these themed language lessons keep kids engaged.
Stephanie said, "This resource is completely comprehensive! The difficult part is to decide which theme to start with because each one is engaging to my students! The activities are fantastic and kids enthusiastically participate while learning their target goals!"
With these ❤️comprehensive themed speech therapy lesson plans for preschool to second grade❤️ , you will save brain energy on what to plan week after week.
And, you will build your confidence with providing push-in services because this resource includes cheat sheets and tips for how to structure your whole class lessons.
Heather said, "The push-in lessons and activities have been life-saving, I've never felt confident with push-in and this has made me look like I know what I'm doing! The google slides have been particularly helpful this year, even with in-person students because I can project onto a screen. I like that there are many activities to choose from. Even if I wasn't using this as push-in to a whole class, I would still use it with small groups or even individually."
The language activities in this bundle include tips and tricks for push-in speech therapy. There is also a cheat sheet guide with recommended books (links include YouTube videos or amazon) for each themed lesson. The cheat sheet lesson plan guide links to the common core standards the activities are targeting.

Each push-in lesson activity set includes links to themed movement videos and 3-5 extension activities to do at small group workstations.

Included in all of the push-in lessons are Google Slides™ Speech Therapy Activities to use on a Smartboard, laptop, or iPad. The Google Slide presentation includes language extension activities to work on wh-questions, vocabulary, and grammar concepts.

Each push-in lesson plan has a weekly parent newsletter with activity ideas, book recommendations & helpful videos that parents can use at home with their child to reinforce the vocabulary learned during the themed activities.

Not able to push-in therapy, but love using themed language activities? SLPs can still use these PUSH-IN BUNDLE #1 in their small group sessions!

Right now when you purchase the bundle you receive the following PUSH-IN language sets at 10% off:

• Apple Themed Push-In Language Lesson Plan Guide
• Fall/Autumn PUSH-IN Language Lesson Plan Guide for SLPs
• Squirrel PUSH-IN Language Lesson Plan Guide
• Pumpkin PUSH-IN Language Lesson Plan Guide
• Camping Push-In Language Lesson Guide
• Gingerbread Man PUSH-IN Language Lesson Plan Guides
• Ice Cream Themed Push-In Language Lesson Plan Guide
• Pirate Themed PUSH-IN Language Lesson Plan Guides For SLPs
• Snowman Themed PUSH-IN Language Lesson Plan Guide
• Spring Themed PUSH-IN Language Lesson Plan Guide
• Squirrel PUSH-IN Language Lesson Plan Guides
• Summer Beach Push-In Language Lesson Plan Guides
• Summer Themed PUSH-IN Language Lesson Plan Guides
• Winter Themed PUSH-IN Language Lesson Plan Guides
• Back To School Push-In Language Lesson Plan Guide
Included in this resource:
⭐How to use these lessons in the classroom and in a small group.
⭐Tips and tricks for doing push-in speech & language support in the classroom.
⭐Blank lesson plan template (2 versions) to fill out before the push-in the lesson. Fill out with the teacher if you have collaboration time. A digital copy is included on google slides to edit and share with the teacher.
⭐Letter home to parents/guardians about additional language activities to support the weekly theme.
⭐Push-In Lesson Cheat Sheet for all the themes – A digital version is included in the google slides (fonts: KG Primary Penmanship).
⭐Cheatsheet instructions for instructional aides and teachers for all of the language extension activities.
⭐3-5 language extension activities to do in small groups or to break up over 2-3 weeks of whole-class instruction. Each themed set has slightly varied activities. Please see the individual postings to see specific information about the language activities.
⭐Google slides: Included in this lesson plan is a digital google slide that works on answering wh-questions, targeted vocabulary, and building the students' understanding and use of grammar concepts.
Need more themed vocabulary and language activities? Here are some more themes that will help you save time planning:
• Seasonal Grammar & Vocabulary Set MONEY SAVING BUNDLE
• Vocabulary Wallet Foldable Books Craftivity

Here is a FREE graphic organizer to work on comparing/contrasting vocabulary by attributes:

• Compare & Contrast Vocabulary Graphic Organizer - FREE
**************Stay Connected With Me***********************
★BLOG ★NEWSLETTER ★FACEBOOK ★INSTAGRAM ★PINTEREST
If you have any questions, please email me at feliceclark@thedabblingspeechie.com
Report this resource to TPT