Year Long Writing Prompts and Activities Bundle | Narrative Informative Opinion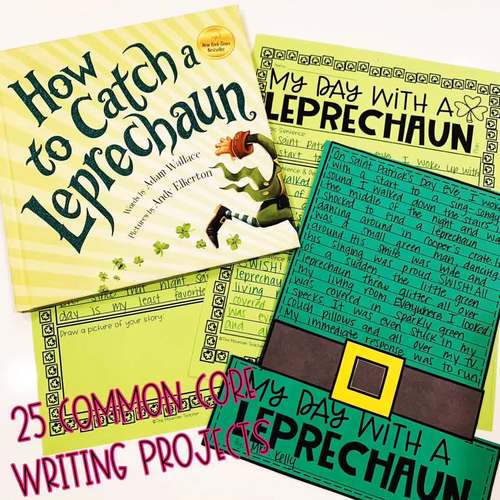 ;
What educators are saying
My students love your writing projects. I just had to buy the entire bundle so I would have them all for my students. Thank you!
Products in this Bundle (25)
showing 1-5 of 25 products
Bonus
Year Long Writing Plan, Benchmarks & User Guide
Description
Do you want to spice up your writing prompts with fun activities? This resource includes 25 units of writing covering informative, narrative, opinion and how to writing. Students will love the seasonal prompts, fun themes and exciting projects inside.
This writing bundle is common core aligned and provides opportunities for differentiation for both higher achieving students and struggling students. This resource is both rigorous and enjoyable for students. It is teacher and student friendly and provides a consistent model for student writing throughout the year.
Weekly Set Up: Each week, students will pre-write, draft, edit, revise, self-assess and use rubrics to be graded on their writing. They will also complete a hands-on project to share with classmates and family members, which make GREAT conversations for home-school connections. These projects also make wonderful bulletin boards each week.
This resource was designed for second graders, but the differentiated pages can make it easy to align to first or third grade standards as well.
Includes:
A Teaching Guide
Student Planning/Brainstorming Page(s)
Differentiated Planning Pages (2-3 different versions, per resource)
Common Core Aligned Rubrics (1-2 per resource)
Easy & Cute Publishing Crafts or Book
Photo Examples
Timing: Most units are designed to be 5 days long, but are easily adjusted to be anywhere between one-five days in length. There are two longer units that can also be easily adjusted but are designed to take one month each. These are the animal habitat project (informative) and the cumulative magazine passion project (covers all writing genres, great EOY project).
The year long bundle also includes:
Benchmark Writing Assessments for Each Genre
Year Long Pacing Guide
Suggested Book List
3 Pages of Tips & Tricks for Using This Resource in Your Classroom
Photo Examples for the Year
Please open the preview file before purchasing this resource.
Looking For Other Writing Resources to Make Life Easier?
You can also connect with me for first access to my resources, giveaways and FREEBIES via: Email | Website | Instagram | Facebook | Teachers Pay Teachers
Enjoy! Don't forget to leave feedback on all paid purchases for future credit toward free resources.
Report this resource to TPT
Standards
to see state-specific standards (only available in the US).
Write opinion pieces in which they introduce the topic or book they are writing about, state an opinion, supply reasons that support the opinion, use linking words (e.g., because, and, also) to connect opinion and reasons, and provide a concluding statement or section.
Write informative/explanatory texts in which they introduce a topic, use facts and definitions to develop points, and provide a concluding statement or section.
Write narratives in which they recount a well-elaborated event or short sequence of events, include details to describe actions, thoughts, and feelings, use temporal words to signal event order, and provide a sense of closure.
With guidance and support from adults and peers, focus on a topic and strengthen writing as needed by revising and editing.
With guidance and support from adults, use a variety of digital tools to produce and publish writing, including in collaboration with peers.