Yearbook Curriculum BUNDLE+ for Student Journalism Publications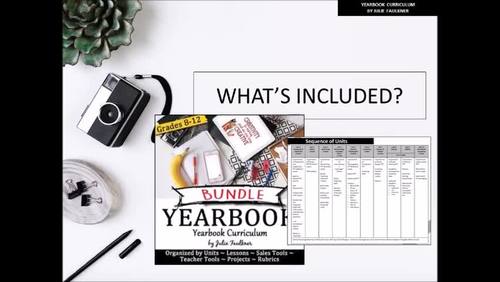 ;
8

th

- 12

th
,
Higher Education
Zip

Google Apps™
Includes Google Apps™
This bundle contains one or more resources with Google apps (e.g. docs, slides, etc.).
What educators are saying
I am a first year yearbook teacher. I really love this resource! It has helped me start off the year on the right foot. My students are enjoying the activities, especially the bell ringers.
As a new advisor, this made my year so much easier. I still go back and pull from the resources on a regular basis because there are so many good things in this bundle.
Products in this Bundle (52)
showing 1-5 of 52 products
Bonus
Bonus+: Tools to Complete the Curriculum and Teacher Files
Description
In this yearbook bundle, you'll have everything you need to plan, prepare, market, design, and create your student publication with this one-stop resource for your yearbook program. This yearbook curriculum includes all of my best-selling tools for creating a yearbook and conducting a yearbook and/or journalism class, plus some NEW tools (only in this bundle) to make a full, cohesive curriculum for yearbook/journalism advisers.
*DOWNLOAD THE PREVIEW FOR FULL LIST OF CONTENTS*
-Units include the following: Teamwork, Theme, Advertising, Interviewing, Coverage, Ethics, Photography, Vocabulary, Layout/Design, Writing, Editing, Real World Journalism
--Also included are bell ringers, posters, yearbook adviser tools, distribution tools, and many more extras!
--This pack includes everything you need to work through completing your yearbook, which in my case with a spring delivery book is 27 weeks (3 9-week periods).
-- Plus, I've included a full-year pacing guide to making planning and working through the units a snap!!
Also, you will receive exclusive FREE membership to an online support community for advising yearbook/journalism with this purchase. Being a yearbook adviser can be difficult, and we can help. Included in your download is an invitation to an online yearbook/journalism adviser group for private discussions, help, and encouragement.
**Note about downloads:
1) BUNDLE: The items linked and listed above are sold separately in my store. Those will download as a zipped file. The files are in order by units, so you can sort and arrange them easily on your computer.
2) BUNDLE+: The bundle bonus material is not sold separately in my store; therefore, you are getting these items FREE as part of the bundle+ bonus material. These files include unit intro ppts with notes, midterm/final exam assessments, and a few other unique activities. This zipped file contains files named based on the unit delineated in the scope and sequence.
3) After you get the files completely extracted from both the main bundle and the bonus bundle, the files will align with the unit once sorted by name if you put them all in one folder. This is my attempt to use TpT's bundling feature, but also provide you an organized and seamless downloading and sorting system.
**Watch this video for more explanation of the organization and how to unpack the materials.
Classroom success stories from other advisers who have used this curriculum:
♥ "Holy Moly! THANK YOU THANK YOU THANK YOU. I have been struggling to run a cohesive and productive yearbook staff. We faced HUGE set backs last year and I have myself to blame. This bundle is completely worth the $. I have only gone through 3 folders so far and already feel better about this coming year. This is a GREAT resource. I cannot thank you enough."
♥ "I decided to invest. I'm glad I did. It's more than the sum of its parts. The mapping of the units and organization has made this a good purchase in my book. This coming year will be my fourth as yearbook adviser but only second with the luxury of having a class. The past two years I have had a club and this year, I feel ready to teach all of those concepts I was trying to push into during our monthly meeting. Yearbook is enough work...I know this bundle will save me!"
♥ "This resource has really helped me through my first year as a Yearbook adviser. I look forward to building my own resources using these as references next year!"
♥ "Wow! What a complete and thorough resource for any new yearbook adviser (or anyone who needs more resources)."
♥ "This has been a life-saver for me! I teach English, but was asked to take over two sections of Publications 1. There is no curriculum, and my colleague who taught it in the past didn't have much to help me. I downloaded this bundle, as well as the journal starters, and I absolutely love the lessons! Everything is Common Core supported, and is super creative and fun! Thank you!!"
♥ "This packet is amazing. It really is a full curriculum, with a lot of detail on a day-to-day planner, handouts, great looking "promo" posters, bell ringers, etc. With the amount of work that has been put into this packet, I honestly feel it's a bit under-priced. This is a huge time saver-- a life saver. Thank you for the work and for putting it on here!"
Get my other ready-to-go curriculum bundles, too!
Be the first to know about my new discounts, freebies and product launches. Look for the green star next to my store logo and click it to FOLLOW ME. Voila! You will now receive email updates about my store.
For more ideas and inspiration:
Julie's Classroom Stories on Instagram
Julie's Classroom Stories on Facebook
Teaching Middle and High School English Facebook Group
Yearbook and Journalism Facebook Group
Email List for English and Yearbook Teachers
Terms of Use: Created by Julie Faulkner 2013, updated 2020. Please, one classroom use only. Additional licenses are sold at checkout. This license is non-transferable. Not eligible for online environments unless password protected. Posting openly online is prohibited. No part of this resource can be used for commercial purposes, altered, or resold. This work is my original work, and taking portions of it to create something else for resale is prohibited. Art credited in file.
Answer Key
Included with rubric
Report this resource to TPT
Standards
to see state-specific standards (only available in the US).
Read closely to determine what the text says explicitly and to make logical inferences from it; cite specific textual evidence when writing or speaking to support conclusions drawn from the text.
Determine central ideas or themes of a text and analyze their development; summarize the key supporting details and ideas.
Integrate and evaluate content presented in diverse media and formats, including visually and quantitatively, as well as in words.
Write informative/explanatory texts to examine and convey complex ideas and information clearly and accurately through the effective selection, organization, and analysis of content.
Produce clear and coherent writing in which the development, organization, and style are appropriate to task, purpose, and audience.