Yes or No: Answering questions Autism | Speech & Language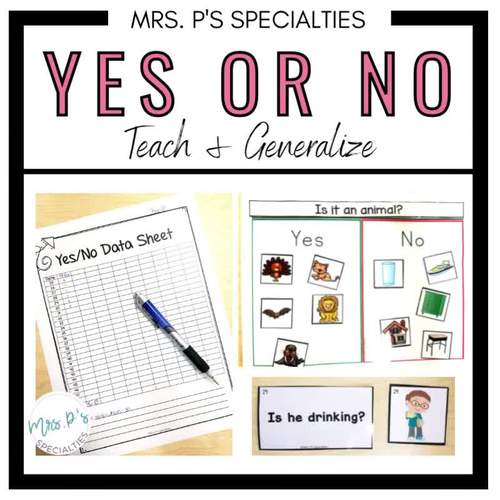 ;
What educators are saying
Great one to work on yes/no responses. I like the variety of questions as well - so I don't have to come up with different ones all the time.
My students are learning how to answer yes and no questions. This resource is easy to prep and assign them sheets for small group instruction.
Description
This set will help you systematically teach, assess and target generalizing the ability to correctly answer yes or no questions with students. Students will learn to answer yes or no questions and will have a variety of ways to demonstrate and practice their skills.
This life skills and communication-based set is already differentiated for you.
The tasks and visuals in this set are varied to help your students practice in different ways and learn to generalize their skills.
WHO IS IT FOR?
Students who need direct instruction
Classrooms that need visual supports
Can be used with students of any age
Students who need a high level of repetition and practice in order to learn and retain skills
FEATURES
Question cards with and without visuals
Task cards in a variety of levels
2 Interactive books
Digital task cards
Yes/no visuals for classroom and students
WHAT'S INCLUDED:
• Blank data sheet for recording progress on yes or no questions.
• 66 yes or no question cards. Topics include personal information, body parts, clothing, the student's day, etc.
• 74 yes or no question cards with visuals. Students will be shown a picture card and asked a related yes or no question. Numbered data sheets are included, too.
• 154 yes or no clip cards. Topics include animals, common items, actions, letters and numbers.
• 40 Task cards. These cards don't have visuals, students write their answers in.
• Yes or no sorting mat with 8 interchangeable questions. For each question, there are 12 sorting cards.
• 2 Interactive Books
• 3 Digital task card decks. Hosted on Boom Learning.
Other items you may be interested in:
Connect with me:
Newsletter • Instagram • Facebook • Blog
Don't miss out on discounts, freebies, and new products! Simply click the green star under my store name to follow my store.
Don't miss out on discounts, freebies, and new products! Simply click the green star under my store name to follow my store.
This product by Pamela Petralia is copyrighted for single classroom or caseload use only. This product may not be resold and can be copied for personal use within a classroom only. If you have questions, please email pamela@mrspspecialties.com  ©Pamela Petralia
More about BOOM Learning…
To use Boom Cards, you must be connected to the Internet. Boom Cards play on modern browsers (Chrome, Safari, Firefox, and Edge). Apps are available for Android, iPads, iPhones, and Kindle Fires. For security and privacy, adults must have a Boom Learning account to use and assign Boom Cards. You will be able to assign the Boom Cards you are buying with "Fast Pins," (play provides instant feedback for self-grading Boom Cards). Fast Play is always a free way for students to engage with Boom Cards decks. For additional assignment options, you'll need a premium account. If you are new to Boom Learning, you will be offered a free trial of our premium account.
Report this resource to TPT