Your Fantastic Elastic Brain Activities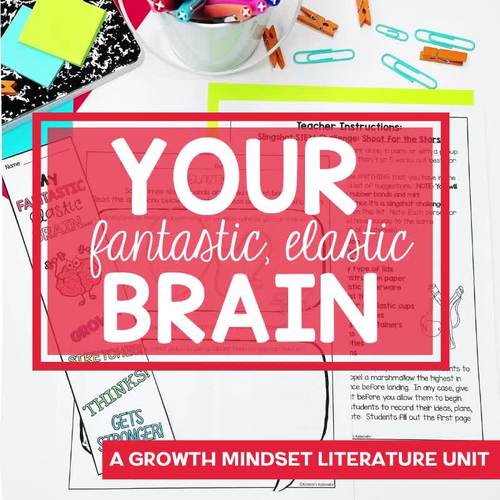 ;
PDF

Google Apps™
Includes Google Apps™
The Teacher-Author indicated this resource includes assets from Google Workspace (e.g. docs, slides, etc.).
What educators are saying
Great read aloud for the first week of school. Goes great with POsitivity Project, if your school is doing that.
This was a great back-to-school activity to get students thinking about the importance of a growth mindset.
Also included in
Growth Mindset Activities: Read Aloud Literature Units for Growth Mindset BooksThese growth mindset picture books, Your Fantastic Elastic Brain by JoAnn Deak, The Girl Who Never Made Mistakes by Mark Pett and Gary Rubinstein, Beautiful Oops by Barney Saltzberg, and The Dot by Peter Reynolds are perf

Price $12.80

Original Price $18.15

Save $5.35

Growth Mindset Picture Book Literature Unit Activities MEGA BUNDLE:This GROWTH MINDSET MEGA BOOK BUNDLE includes the following titles:Your Fantastic Elastic Brain by JoAnn Deak (lower grade version)Your Fantastic Elastic Brain by JoAnn Deak (upper grade version)The Girl Who Never Made Mistakes by Ma

Price $40.00

Original Price $63.65

Save $23.65

Growth Mindset Activities Multi-Level MEGA BUNDLE: OVER 1700 PAGESThis growth mindset multi-level bundle includes my four largest GROWTH MINDSET BUNDLES for 1st-6th grade. If you teach multi-level classes, this the best value (you get a 20% discount off the original cost of the individual products

Price $119.96

Original Price $227.25

Save $107.29
Description
These literature unit activities for Your Fantastic Elastic Brain by JoAnn Deak now have a digital distance learning option in Google Slides™. Please refer to the final 7 pages of the file for the link and instructions.
Are you teaching your students about growth mindset? Your Fantastic Elastic Brain by JoAnn Deak is a perfect segue for teaching your students the power of growth mindset. Conceptually, these ideas are perfect for any level, but this literature unit was created for 3rd-6th graders in mind.
I recommend starting the school year (or your growth mindset instruction) with material that teaches students about the brain. This provides students with a solid foundation for building subsequent growth mindset instruction.
PLEASE NOTE: There is a unit created for 1st-2nd grade as well and can be found here: YOUR FANTASTIC ELASTIC BRAIN (LOWER GRADE VERSION)
Infused with reflections, challenges (including a STEM challenge for creating slingshots using rubber bands), and opportunities to identify and clarify growth mindset vs fixed mindset, your students are sure to learn and have a great deal of fun!
Your Fantastic Elastic Brain activities included:
Brainstorming ways to use elastics
Comparing and contrasting using a Venn diagram
Fixed Mindset vs. Growth Mindset
Prompts for student reflections
A rubber band challenge
Identifying parts of the brain and their purpose
Fantastic Elastic Brain bookmarks (in full color and black and white)
Slingshot STEM challenge
Growth Mindset Posters (5 posters in full color and in black and white)
Answer Keys where deemed appropriate
NOTE: THIS FILE NOW INCLUDES A DIGITAL DISTANCE LEARNING OPTION!
As of 7/29/20, this product includes a digital option (as well as the no prep printable option). The instructions for utilizing the digital portion appear at the end of the packet.
Technology Requirements:
A Google Drive account
If sharing with students, a Drive account that is linked to student Google accounts
Can be shared/delivered on Google Classroom
Only need access to Google Drive--no outside links to worry about!
These file can be used with iPads, chrome books, laptops, and desktops as long as your students have access to Google Drive or Classroom on a device. The digital portion of this product is on Google Slides™.
WAIT! This literature companion is part of a Growth Mindset Literature Unit (MONEY-SAVING) BUNDLE!:
GROWTH MINDSET PICTURE BOOK BUNDLE
THE BUNDLE INCLUDES THE FOLLOWING GROWTH MINDSET PICTURE BOOKS:
YOUR FANTASTIC ELASTIC BRAIN (UPPER GRADE VERSION)
THE GIRL WHO NEVER MADE MISTAKES
BEAUTIFUL OOPS BY BARNEY SALTZBERG
Do you want DAILY Growth Mindset Bell Ringers for ANY GRADE LEVEL? Choose your grade here:
GROWTH MINDSET ACTIVITIES: Daily Warm-Ups for Kinder-1st Grade
GROWTH MINDSET ACTIVITIES: Daily Warm-Ups for 2ND-3RD Grade
GROWTH MINDSET ACTIVITIES: Daily Warm-Ups for 4th Grade and Up
You may also be interested in the following GROWTH MINDSET products:
GROWTH MINDSET AFFIRMATIONS POSTERS (with cursive)
GROWTH MINDSET AFFIRMATIONS POSTERS (NO cursive)
GROWTH MINDSET PRIVACY FOLDER OFFICES
GROWTH MINDSET ACTIVITY BUNDLE:
GROWTH MINDSET BUNDLE: AFFIRMATION POSTERS, FLIP BOOKS, AND PRIVACY FOLDER
GROWTH MINDSET QUOTES BUNDLE:
CHARACTER TRAITS QUOTES BUNDLE (with GROWTH MINDSET)
Kirsten Tulsian has 18 years of experience in elementary education. She has been a homeroom teacher for first grade, third grade, and fourth grade, as well as ESL. She has also been a school counselor for grades PK-6, an ESL pullout teacher for K-6, and a Reading Recovery Teacher. She received her Bachelor's degree in elementary education and psychology from The University of Iowa and a Master's of Education in school counseling from Sam Houston State University. She believes that students make the most progress when they are engaged in their hearts as well as their minds. Her resources offer relevant, rigorous, engaging content that nurtures the whole child.
IMPORTANT NOTICE:
Copyright © Kirsten's Kaboodle. All Rights Reserved.
• Purchasing this product gives the purchaser ONE LICENSE to this product. This allows the purchaser the right to reproduce this product for HIS/HER class ONLY.
• Duplication for an entire team, school, or school district is strictly forbidden.
• If other teachers would like copies of this product, please direct them to my store.
• You may not reproduce, redistribute, or post this item on a blog or website for download (free or paid).
• Copying any part of this product (even for a classroom website) is also in violation of the Digital Millennium Copyright Act.
• You may not modify, copy, or alter this product in any way.
• Please feel free to spread the word about this product via social media or blog post. A link to the product (or my store) is much appreciated.
Report this resource to TPT