Zootopia Fun Spanish Movie Scenes Electronic Game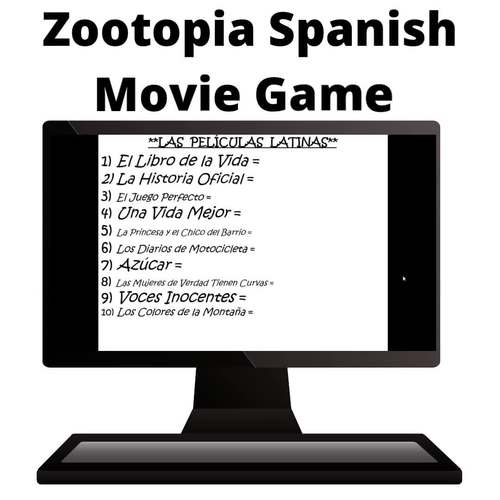 ;
9

th

- 12

th
,
Higher Education
,
Adult Education
,
Homeschool
Description
This Spanish "Zootopia" Movie Scenes electronic game has four rounds and two activities! This game is EDITABLE and requires no prep for the teacher. Download and play today for a warm-up or bell ringer, as a fun brain break or to go along with an animals or environment unit!!
First, students have 3-5 minutes to translate 10 popular movie titles to English. Then, everyone watches one of three hilarious scenes from Zootopia in Spanish (3 different trailers included with Youtube links). After carefully watching each Zootopia scene, the students answer questions to earn points for their teams! This game is a great way to incorporate listening and speaking in your Spanish 2, Spanish 3, and AP Spanish classes!
This entire game is in the Power Point presentation! The video links for the movie trailers, the questions, the answers, and the movie titles slides with and without the answers are all embedded in the presentation so this game is super easy to play!
This packet includes:
~ A 17 slide power point game in Spanish
~ 10 movie titles in Spanish for students to guess their titles in English
~ Game instructions for the teacher in English
~ Word document that includes all of the movie scene questions and answers for the teacher to use as a guide
~ A movie fill-in sheet for the students' guesses for the Spanish movie titles
***There are additional movie trailers and movie clips GAMES in our sparkenthusiasm store. Check out the games for Finding Dory, Tangled, Shrek, Inside Out, Captain America, Angry Birds, The Jungle Book, The Fox and the Hound, Finding Nemo, Iron Man, The Avengers, The Secret Life of Pets (2 completely different games and trailers) as well as several $ saving bundles, and a full game of 20+ movie title games and scenes!
Spanish Movie Titles and Trailers Warm-Up Game
Click here for ALL MOVIE SCENES GAMES AND BUNDLES!
See all of our most popular and best seller games!
Visit our Spanish-speaking countries, holidays, and culture section on our website! –
Los Días Festivos
Spark Enthusiasm Spanish and Hispanic Culture and Holidays!
Click below for AWESOME grammar, vocabulary and AP Spanish resources!
Spark Enthusiasm Spanish Grammar, Vocabulary and AP Spanish resources
ALL of our movie packets with tons of resources are here!
ALL sparkenthusiasm movie guides
Follow us on Pinterest for excellent ideas and resources!
Visit our Spark Enthusiasm Spanish Store for additional high quality ideas and products for your Spanish classes.
For high quality Back to School resources, please visit BACK TO SCHOOL
To see ALL of our sparkenthusiasm best seller products, please visit
Report this resource to TPT