iPad Rules | iPromise iPad Poster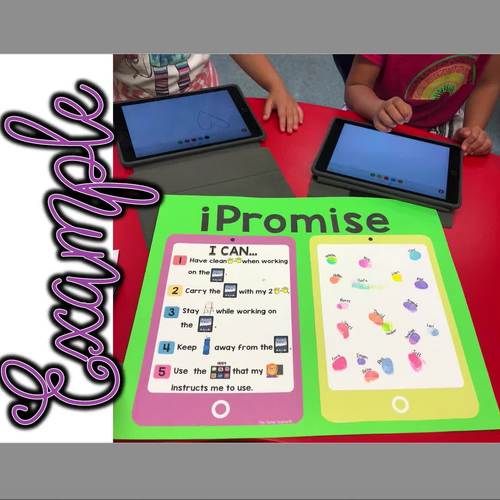 ;
What educators are saying
I used this at the beginning of the year to reinforce rules for our ipad usage. It hangs on the side of our charging cart - so perfect!
A great visual reminder for my students on iPad expectations. Thank you for such a wonderful resource!
Also included in
This technology rules poster bundle includes all of the posters for iPads, Chromebooks, laptops and desktop computers. These posters are a great way to establish expectations for using technology in the classroom. Description of iPromise iPad Poster:This resource is intended to be printed and turned

Price $8.00

Original Price $11.25

Save $3.25
Description
This resource is intended to be printed and turned into an iPromise iPad Poster to help set the tone for the year for using iPads in the classroom. Two iPads are to be printed: 1. An iPad that states the reminders/rules for the classroom 2. A blank iPad. After reviewing the 5 reminders students will make their promise by signing the blank iPad with either their signature or thumbprint. This resource is editable.
Check out THIS blog post for more details!
Two different rules posters are included:

I CAN Statements (images substitute some of the words):
I can have clean hands when working on the iPad.
I can carry the iPad with my two hands.
I can stay seated while working on the iPad.
I can keep water/liquids away from the iPad.
I can use the apps that my teacher instructs me to use.

5 iPad Reminders:
Make sure your hands are clean before using the iPad.
Always carry the iPad with two hands.
Stay seated while using the iPad.
Do not hit or bang the iPad.
No liquids around the iPad.
I will only use apps and programs my teacher has instructed me to use.

I purchased colored poster board and printed the title "iPromise" and iPads on white cardstock before gluing down. Students can "sign" the blank iPad with their signature or thumbprint. They LOVE my multicolored ink pad that you can find on Amazon.
I have included a couple of different colored iPad options as well as a check list of some of the iPad features I go over when working with K/1 students.
Check out the preview to see all of the pages that come in this PDF.
Related Products
• LAPTOP AND COMPUTER RULES POSTER
• MAC KEYBOARD PRINTABLE PRACTICE SHEETS
• PC KEYBOARD PRINTABLE PRACTICE SHEETS
• iPAD KEYBOARD PRINTABLE PRACTICE SHEETS
• CHROMEBOOK KEYBOARD PRINTABLE PRACTICE SHEETS
***************************************************************************
Follow Me so you can be notified about my latest resources! (Click the star near The Techie Teacher icon)
You can also follow me on:
Report this resource to TPT