TEACHING EXPERIENCE
Welcome to HOWYWOOD... (my last name is Howard and I have a Hollywood theme going on- ha)! :)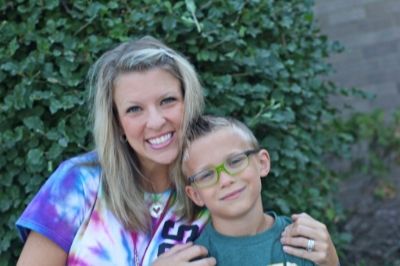 I have 16 years of experience teaching 1st grade and Kindergarten in Texas & Minnesota. I've always been passionate about sharing awesome ideas... and TPT is the perfect place for me to get to do that! Come on in and look around! Thanks for stopping by my store!
MY TEACHING STYLE
I love making learning FUN and I believe relationships are KEY! Children don't care how much you know until they know how much you care, right? They may forget things we teach them, forget what we said, but kids will always remember how their teacher made them feel. :)
HONORS/AWARDS/SHINING TEACHER MOMENT
District Teacher of the Month/ Teacher of the Year from my school! Radio Station Teacher of the Week!
MY OWN EDUCATIONAL HISTORY
Master's and Bachelor's Degree in Elementary Education from Bethel University in St. Paul, Minnesota
ADDITIONAL BIOGRAPHICAL INFORMATION
A little more about me... I grew up as the oldest of 4 sisters who all look so much alike that we're hard to tell apart (and 3 of us create products on TPT!). I've been married to my high school sweetheart for 14 crazy, awesome years and we've been blessed with 3 beautiful babies I love being momma to. Life is good!
GRADES
PreK, Kindergarten, 1st, 2nd, 3rd, 4th, 5th, 6th, 7th, 8th, 9th, 10th, 11th, 12th, Higher Education, Adult Education, Homeschool, Staff
SUBJECTS
English Language Arts, Creative Writing, Writing-Expository, Reading, Spelling, Vocabulary, Specialty, Math, Applied Math, Basic Operations, Numbers, Other (Math), Science, Earth Sciences, Social Studies - History, Elections - Voting, U.S. History, World Language, Spanish, Chinese, Arts & Music, Visual Arts, Graphic Arts, Other (Arts), Music, Health, Other (Specialty), Other (ELA), Life Skills, For All Subject Areas, Literature, Classroom Management, Character Education, Word Problems, General Science, Writing, Asian Studies, Oral Communication, Reading Strategies, Writing-Essays, Holidays/Seasonal, Back to School, Thanksgiving, Christmas/ Chanukah/ Kwanzaa, Mental Math, Winter, The New Year, Valentine's Day, Martin Luther King Day, Presidents' Day, St. Patrick's Day, Spring, Earth Day, For All Subjects, Summer, Informational Text, Occupational Therapy, Coaching, End of Year, Phonics, Classroom Community