TEACHING EXPERIENCE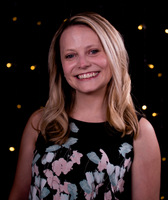 My name is Kristina Scully. I have taught over 10 years as a Special Education teacher. At the middle school level, I ran an alternative specialized program for kids with social, emotional, and behavioral needs. I also provided direction instruction in reading, writing, math, social skills, and science. I've also spent time teaching general education at the elementary level, along with many years of summer school for students in elementary through high school. I am currently a full-time curriculum designer creating resources for social emotional learning, behavior management, executive functioning skills, autism, coping strategies, and more.
MY TEACHING STYLE
The most important part of my teaching style is my connection to my students. Kids need to know that we are their support and advocate so that we can help guide them to their individual potential. I also feel it is critical to teach students the skills to succeed on their own. Building independence is key! I have a passion for teaching executive functioning skills, active reading strategies, and social skills to students in need.
HONORS/AWARDS/SHINING TEACHER MOMENT
Graduated summa cum laude from the University of Hartford.
MY OWN EDUCATIONAL HISTORY
Bachelors Degree in Elementary Education and Special Education from the University of Hartford; Masters Degree in Special Education and Specialization in Autism from the University of Saint Joseph.
ADDITIONAL BIOGRAPHICAL INFORMATION
Follow me on { TpT } { Pinterest } { Facebook } { Twitter } { Instagram } { My Blog }
GRADES
PreK, Kindergarten, 1st, 2nd, 3rd, 4th, 5th, 6th, 7th, 8th, 9th, 10th, 11th, 12th, Homeschool, Staff, Not Grade Specific
SUBJECTS
English Language Arts, Reading, Grammar, Vocabulary, Specialty, Math, Algebra, Basic Operations, Fractions, Social Studies - History, World Language, Special Education, Other, Life Skills, Critical Thinking, For All Subject Areas, Classroom Management, Professional Development, School Counseling, Character Education, Word Problems, Study Skills, Problem Solving, Writing, en Français, Reading Strategies, Holidays/Seasonal, Back to School, Thanksgiving, Christmas/ Chanukah/ Kwanzaa, Autumn, Halloween, Speech Therapy, Winter, Decimals, Spring, Tools for Common Core, For All Subjects, Summer, Informational Text, Early Intervention, School Psychology, End of Year, Phonics, Classroom Community, Social Emotional Learning