Fact and Opinion Unit | Perspective & Bias | Task Cards | Digital + Print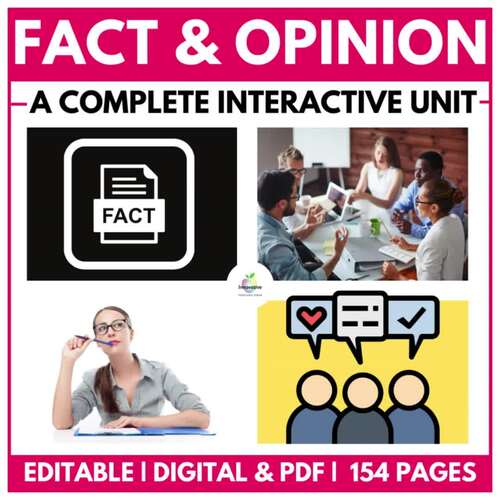 ;
Zip

Google Apps™
Includes Google Apps™
The Teacher-Author indicated this resource includes assets from Google Workspace (e.g. docs, slides, etc.).
What educators are saying
I am very grateful for finding this on TPT. It was a life saver for my lessons and really helped my students.
This was the perfect source to use in my classroom to help my students use critical thinking skills to distinguish between fact and opinion. I highly recommend it.
Also included in
This collection brings together 4 of our MOST POPULAR and valuable resources at a DISCOUNTED RATE, providing students with CRITICAL THINKING SKILLS in LITERACY from various perspectives.Be sure to take a look at each in detail to learn about each and READ THE GLOWING REVIEWS for yourself. You will

Price $29.95

Original Price $42.00

Save $12.05

This bundle brings together three of our super popular research skills resources to ensure your students can ask the right questions, seek the correct answers, verify the integrity of what they are researching and report it back in their own words using the correct citation protocols.Be sure to read

Price $14.95

Original Price $27.50

Save $12.55

Buy an extensive collection of our most popular reading resources in a bundle for a HEAVILY DISCOUNTED rate to master essential reading skills, such as FLUENCY, COMPREHENSION, VOCABULARY BUILDING and MUCH MORE.Click on the individual resources to read reviews and descriptors for complete details.Mo

Price $49.95

Original Price $95.90

Save $45.95

We have bundled together FIVE of our MOST POPULAR MEDIA LITERACY resources to ensure your students can CONSUME all forms of NEWS as CRITICAL THINKERS and CREATE their own news reports and MEDIA PUBLICATIONS by using correct literacy protocols and PROVEN TEACHING STRATEGIES.This is a MUST-HAVE in 202

Price $24.95

Original Price $42.40

Save $17.45

Teach your students how to plan, research, write, edit and present any essay like a boss with this bundle of incredible resources. Available in a bundle at a heavily discounted rate.Please read the product descriptions and the hundreds of glowing reviews for further details on individual products t

Price $49.95

Original Price $71.40

Save $21.45
Description
This 153 PAGE UNIT provides ENGAGING TASKS, TASK CARDS, LESSONS and RESOURCES to teach students the difference between FACT and OPINION as READERS and WRITERS through proven teaching strategies fostering CRITICAL THINKING and RESEARCH SKILLS.
⭐ AN ESSENTIAL MEDIA LITERACY SKILL FOR THE "MISINFORMATION" ERA
Fact & Opinion Mini-Lesson and overview
Link to Google Slides Version for independent/interactive use
16 Fact and Opinion Discovery Task cards (Digital + Print)
16 Fact & Opinion Statements
Video Resources
5 x Convert Facts to Opinions Writing Tasks
10 x Unique Fact & Opinion Digital Print Graphic Organizer Tools
Fact and Opinion Visual Writing Prompt Tasks
12 x Bias, Perspective, Facts, Opinions Essay Writing Tasks
Interactive Digital Quiz for the whole class
Self Assessment Tools
Huge Collection of Printables
Fact & Opinion Classroom Posters
ALL COMPLETELY EDITABLE, IN DIGITAL AND PRINT FORMATS
This HUGE EDITABLE resource combines four fact and opinion activities you can do as a WHOLE GROUP or INDEPENDENTLY in both DIGITAL and PRINT format. NO PREP REQUIRED.
TEACHERS LIKE YOU SAID THIS...
⭐⭐⭐⭐⭐ Heather A. Says... "Lots of different options - slides with descriptions, text examples and samples to practice and identify the facts & opinions. I used a few of each different option in each lesson, and the students seemed to enjoy it. Still have lots of parts left to use; there are so many! Very happy with it as a resource. "
⭐⭐⭐⭐⭐ Merissa V. says, "I am very grateful for finding this on TPT. It was a lifesaver for my lessons and really helped my students."
⭐⭐⭐⭐⭐ Stephanie Christopher. says, "I loved the variety of options here. I mainly used the digital content with all my class but I can see the printables being useful in literacy rotations also.."
YOU MIGHT ALSO❤️VE THESE ENGLISH RESOURCES
❤️ Year-Long Visual Writing Prompts Collection
❤️ News and Media Literacy Bundle
❤️ 125 Guided Reading Activities for ANY BOOK
❤️ 101 Digital Graphic Organizers
⭐LET'S CONNECT
Innovative Teaching Ideas on YouTube
Innovative Teaching Ideas on Facebook
TERMS
Copyright © Innovative Teaching Ideas. All rights reserved by the author. This product is to be used by the original downloader only. Copying for more than one teacher, classroom, department, school, or school system is prohibited. This product may not be distributed or displayed digitally for public view. Failure to comply is a copyright infringement and a violation of the Digital Millennium Copyright Act (DMCA). Clipart and elements found in this PDF are copyrighted and cannot be extracted and used outside this file without permission or license. Intended for classroom and personal use ONLY. See the product file for clip art and font credits.
CUSTOMER TIPS:
How to get TPT credit to use on future purchases:
• Please go to your My Purchases page (you may need to
login). Beside each purchase, you'll see a Provide Feedback button. Simply click it, and you will be taken to a page where you can give a quick rating and leave a short comment on the product. Each time you give feedback, TPT gives you feedback credits to lower the cost of your future purchases. I value your feedback greatly as it helps me determine which products are most valuable for your classroom to create more for you. ☺
Teaching Duration
Lifelong tool
Report this resource to TPT
Standards
to see state-specific standards (only available in the US).
Write opinion pieces on topics or texts, supporting a point of view with reasons.
Write opinion pieces on topics or texts, supporting a point of view with reasons and information.
Write opinion pieces on topics or texts, supporting a point of view with reasons and information.
Introduce a topic or text clearly, state an opinion, and create an organizational structure in which ideas are logically grouped to support the writer's purpose.
Provide logically ordered reasons that are supported by facts and details.