Movie Response Unit | Film Analysis & Review | Media Literacy | Digital & Print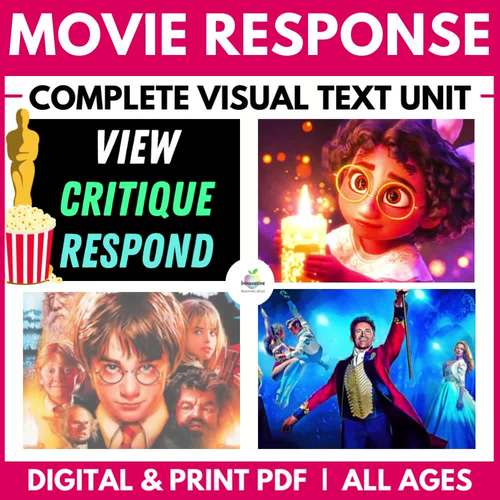 ;
PPTX

Google Apps™
Includes Google Apps™
The Teacher-Author indicated this resource includes assets from Google Workspace (e.g. docs, slides, etc.).
What educators are saying
I used this as a part of my Dr Suess book week study and the kids loved it. It was a fun way to follow up watching the movie.
Easy to implement, clicks all the buttons for matching the movie with the novel! I will continue to use...
Description
⭐ Make MOVIES and VISUAL TEXTS A MEANINGFUL learning opportunity in 2023 with this UPDATED and engaging collection of FILM STUDY graphic organizers, activities and tools your students will love. ⭐ All the hard work is done for you with NO PREPARATION REQUIRED for this DIGITAL and PRINT MEDIA LITERACY resource.
This collection of 27 INDEPENDENT TASKS and GRAPHIC ORGANIZERS takes students beyond the hype, special effects and trailers to look at visual literacy from several perspectives offering DEEP LEARNING OPPORTUNITIES by watching a SERIES, DOCUMENTARY, FILM, and even VIDEO GAMES.
The NETFLIX GENERATION requires the SKILLS and INSIGHT to THINK CRITICALLY about VISUAL TEXTS and understand narratives exist beyond books, so start teaching them today.
This EDITABLE unit is packed with EXAMPLE to make your teaching much more accessible and ensure students have a clear outline and expectation of what they are doing.
Students will explore the following aspects of visual texts.
✅ IDENTIFYING THE CONFLICT & RESOLUTION WITHIN YOUR FILM
✅ STORYBOARDING AND VISUALIZING YOUR FILM
✅ BREAKING DOWN VOCABULARY AND JARGON FROM YOUR FILM
✅ WHAT ROLE DOES SOUND PLAY IN YOUR FILM?
✅ UNLOCK THE BACKGROUND OF YOUR FILM AT IMDB
✅ WRITING A CONSIDERED MOVIE REVIEW WITHOUT SPOILERS
✅ WHAT DOES THE CAMERA PORTRAY IN THIS FILM?
✅ WHAT CONNECTIONS CAN I MAKE TO THIS FILM?
✅ BREAKING DOWN MY FAVOURITE SCENE
✅ COMPARE AND CONTRAST BOOKS AND FILMS
✅ DISCOVER AND CREATE TAGLINES FOR YOUR FILM
✅ WRITING AN ALTERNATE ENDING TO YOUR FILM
✅ KEY PROPS AND OBJECTS FROM THE FILM
✅ IDENTIFYING THE FILM'S CLIMAX AND LOWS
✅ ACTOR BIOGRAPHY
✅ "AND THE AWARD GOES TO..."
✅ CREATING A WORTHY TRAILER
✅ CREATING AN EFFECTIVE MOVIE POSTER
✅ WRITE YOUR OWN MOVIE QUIZ
✅ DOCUMENTARY ANALYSIS
✅ 5 ESSAY TOPICS THAT CAN BE APPLIED TO ANY FILM STUDY
✅ AND MUCH MORE
⭐ Following the ❤️ DIGITAL GRAPHIC ORGANIZERS' success, BUNDLE ❤️ comes the ultimate movie response tool for Digital teachers, 1:1 and BYOD Classrooms.
TEACHERS LIKE YOU SAID THIS...
⭐⭐⭐⭐⭐ Rebecca F. says... "I loved your graphics and the fact that it was in a ready-to-use digital format. I actually revised it a bit for my own movie trailer planner assignment, and the students were engaged and responded well. I am looking forward to using it again this year, but this time in the way you originally intended. Great product! "
⭐⭐⭐⭐⭐ Meggan B. says, "My students enjoyed this activity. I used it after we read the book and watched the movie. I usually do a writing review, but in this case, I wanted to try something different. The students were able to connect the book and the movie along with connecting it to their own world. "
⭐⭐⭐⭐⭐ Kara L. says "Great as a culminating task in our visual literacy unit. The scaffolds were fun for students and easy to follow. Using it as a digital option would be even better, and will probably do that next year. Highly recommended."
Perfectly integrates with Google Classroom, Office 365, SeeSaw or other digital platforms.
*Please note:  This Resource is compatible with online/remote / DISTANCE LEARNING platforms such as .  Students can confidently WORK INDEPENDENTLY on these, or you can EDIT this unit of work to best suit your needs and share it with your CLASSROOM.
YOU MIGHT ALSO❤️VE THESE ENGLISH RESOURCES
❤️ Year-Long Visual Writing Prompts Collection
❤️ News and Media Literacy Bundle
❤️ 125 Guided Reading Activities for ANY BOOK
❤️ 101 Digital Graphic Organizers
⭐LET'S CONNECT
Innovative Teaching Ideas on YouTube
Innovative Teaching Ideas on Facebook
TERMS
Copyright © Innovative Teaching Ideas. All rights reserved by the author. This product is to be used by the original downloader only. Copying for more than one teacher, classroom, department, school, or school system is prohibited. This product may not be distributed or displayed digitally for public view. Failure to comply is a copyright infringement and a violation of the Digital Millennium Copyright Act (DMCA). Clipart and elements found in this PDF are copyrighted and cannot be extracted and used outside this file without permission or license. Intended for classroom and personal use ONLY. See the product file for clip art and font credits.
CUSTOMER TIPS:
How to get TPT credit to use on future purchases:
• Please go to your My Purchases page (you may need to
login). Beside each purchase, you'll see a Provide Feedback button. Simply click it, and you will be taken to a page where you can give a quick rating and leave a short comment on the product. Each time you give feedback, TPT gives you feedback credits to lower the cost of your future purchases. I value your feedback greatly as it helps me determine which products are most valuable for your classroom to create more for you. ☺
Teaching Duration
3 Weeks
Report this resource to TPT
Standards
to see state-specific standards (only available in the US).
Compare and contrast two or more characters, settings, or events in a story or drama, drawing on specific details in the text (e.g., how characters interact).
Determine a theme or central idea of a text and how it is conveyed through particular details; provide a summary of the text distinct from personal opinions or judgments.
Describe how a particular story's or drama's plot unfolds in a series of episodes as well as how the characters respond or change as the plot moves toward a resolution.
Compare and contrast texts in different forms or genres (e.g., stories and poems; historical novels and fantasy stories) in terms of their approaches to similar themes and topics.
Determine a theme or central idea of a text and analyze its development over the course of the text; provide an objective summary of the text.