Poetry Unit | Elements of Poetry | 19 Poem Types | Digital PDF | Writing Reading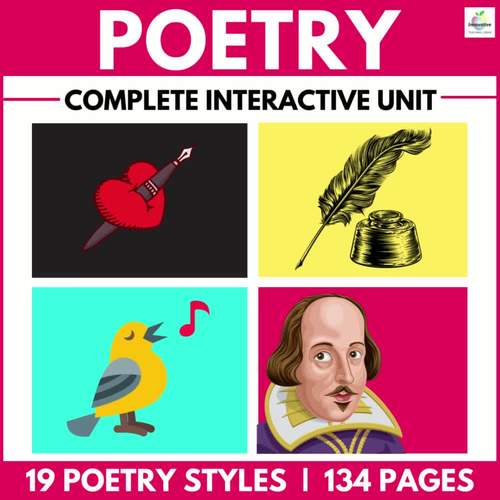 ;
Zip

Google Apps™
Includes Google Apps™
The Teacher-Author indicated this resource includes assets from Google Workspace (e.g. docs, slides, etc.).
What educators are saying
This resource is colorful and engaging. My students looked forward to learning the basic poetry styles. I liked the varying formats and PPT as well. Thank you!
FUN! They loved it! This was organized, helpful, and engaging for my special ed students. They had a great time completing the tasks independently and together. THANK YOU!
Also included in
This poetry bundle brings together our two best-selling poetry units at a heavily discounted price. You are getting:⭐ Our super-popular POETRY WRITING UNIT packed 134 PAGES of incredible content to teach your students how to WRITE POETRY.⭐ Our all-new POETRY ANALYSIS UNIT consists of over 72 PAGES

Price $14.95

Original Price $22.50

Save $7.55

This bundle contains our top 10 English, Reading, and Writing resources for grades 5 and 6 students. Packed with 1000+ pages over ten complete work units with hundreds of 5-star reviews at a heavily discounted rate.If you are a first-time grade 5 or 6 teacher, or a seasoned veteran, these resources

Price $89.95

Original Price $135.95

Save $46.00
Description
This poetry unit makes poetry FUN, ENGAGING, AND RELEVANT in 2023! It provides a COMPLETE SOLUTION for teaching your students the skills to write 19 TYPES OF POEMS with confidence. ❤️ NO PREP REQUIRED all lessons, resources and tools provided. ❤️ Just download and start teaching.
Discover the ❤️ELEMENTS OF POETRY that make poetry FUN and engaging with our teacher instructions, slide decks, digital templates and PDF printable resources for students. Everything is EDITABLE and ready to roll for well over a MONTH of amazing LESSONS and ACTIVITIES.
Complete lessons for these styles of poetry:
✍ Acrostic Poems ✍ Ballads ✍ Clerihew Poetry ✍ Diamante poems ✍ Epitaph ✍ Free Verse ✍ Haiku ✍ Irish Limericks ✍ Monody ✍ Monorhyme ✍ The Ode ✍ Palindromes ✍ Pantoum ✍ Quatrains ✍ Shape Poetry ✍ Concrete Poetry ✍ Sonnets and Villanelle.
For each style of poetry, you will find:
❤️ Visually bright, informative teaching guides designed to appeal to kids
❤️ Excellent advice and examples for a teacher to model with their class.
❤️ Annotated poetry samples narrated by a professional voice actor
❤️ A complete guide to the Elements of Poetry
❤️ Paper and Digital Poetry Templates
❤️ Quality external learning links and resources
❤️ Individual templates to download and print in both grayscale and colour
❤️ Poetry Assessment tools and Rubric for students and teachers.
❤️ Curriculum links, including Common Core
❤️ Poetry Posters and Task Cards
❤️ Poetry Wordsearch and Quiz
❤️ Useful Curriculum links
DIGITAL and PRINT VERSIONS INCLUDED FOR ALL DEVICES AND PLATFORMS - AND COMPLETELY REVISED and UPGRADED JULY 2022.
TEACHERS LIKE YOU SAID THIS...
⭐⭐⭐⭐⭐ Heidi B. says... "This resource gave me all I needed to excite my students and get them involved in writing poetry. It covered the many different types of poetry and worked well with distance learning."
⭐⭐⭐⭐⭐ Jessica Nieves says... "FUN! They loved it! This was organized, helpful, and engaging for my special ed students. They had a great time completing the tasks independently and together. THANK YOU!"
⭐⭐⭐⭐⭐ Jill S. says... "This resource was excellent for teaching my students about poetry through distance learning. It was easy to pace the students and they liked how everything was laid out. The templates were great to help them complete their poems."
This resource will work perfectly in class with a group or online as an independent learning task your students can easily follow. Either way, I can assure you this product will significantly improve your student's capacity to read and write excellent poetry.
YOU MIGHT ALSO❤️VE THESE ENGLISH RESOURCES
❤️ Year-Long Visual Writing Prompts Collection
❤️ News and Media Literacy Bundle
❤️ 125 Guided Reading Activities for ANY BOOK
❤️ 101 Digital Graphic Organizers
⭐LET'S CONNECT
Innovative Teaching Ideas on YouTube
Innovative Teaching Ideas on Facebook
TERMS
Copyright © Innovative Teaching Ideas. All rights reserved by the author. This product is to be used by the original downloader only. Copying for more than one teacher, classroom, department, school, or school system is prohibited. This product may not be distributed or displayed digitally for public view. Failure to comply is a copyright infringement and a violation of the Digital Millennium Copyright Act (DMCA). Clipart and elements found in this PDF are copyrighted and cannot be extracted and used outside this file without permission or license. Intended for classroom and personal use ONLY. See the product file for clip art and font credits.
CUSTOMER TIPS:
How to get TPT credit to use on future purchases:
• Please go to your My Purchases page (you may need to
login). Beside each purchase, you'll see a Provide Feedback button. Simply click it, and you will be taken to a page where you can give a quick rating and leave a short comment on the product. Each time you give feedback, TPT gives you feedback credits to lower the cost of your future purchases. I value your feedback greatly as it helps me determine which products are most valuable for your classroom to create more for you. ☺
Answer Key
Included with rubric
Teaching Duration
1 month
Report this resource to TPT
Standards
to see state-specific standards (only available in the US).
Ask and answer questions to demonstrate understanding of a text, referring explicitly to the text as the basis for the answers.
Refer to parts of stories, dramas, and poems when writing or speaking about a text, using terms such as chapter, scene, and stanza; describe how each successive part builds on earlier sections.
By the end of the year, read and comprehend literature, including stories, dramas, and poetry, at the high end of the grades 2–3 text complexity band independently and proficiently.
Refer to details and examples in a text when explaining what the text says explicitly and when drawing inferences from the text.
Explain major differences between poems, drama, and prose, and refer to the structural elements of poems (e.g., verse, rhythm, meter) and drama (e.g., casts of characters, settings, descriptions, dialogue, stage directions) when writing or speaking about a text.