Procedural Text Writing Unit | Organizers | Prompts | Lessons | Digital & Print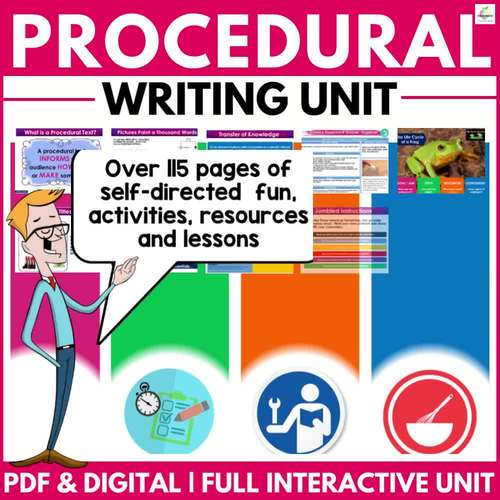 ;
4

th

- 6

th
,
Adult Education
,
Homeschool
Zip

Google Apps™
Includes Google Apps™
The Teacher-Author indicated this resource includes assets from Google Workspace (e.g. docs, slides, etc.).
What educators are saying
Awesome resource with many engaging activities. Activities made links with modern procedural writing texts. Students loved creating a tutorial based on what they learnt from this resource
Extremely satisfied with this product! It is high quality, engaging and an effective learning tool. Thanks!
Also included in
Get our TOP RATED writing guides at a HEAVILY DISCOUNTED rate FOR A LIMITED TIME. These products have sold thousands of copies and are some of the most popular products in their category on TpT. These PROVEN resources are excellent for teaching all aspects of writing in 2023, with most resources

Price $179.95

Original Price $223.34

Save $43.39

Teach and learn like a Boss in 2023 on your Chromebook, iPad, laptop or device of choice with this vast collection of purpose-built DIGITAL WRITING RESOURCES with HUNDREDS OF GLOWING REVIEWS. These interactive units are packed full of resources, interactive graphic organizers, multimedia and cutting

Price $44.95

Original Price $87.00

Save $42.05

This collection brings together our MOST POPULAR nonfiction resources at a BARGAIN PRICE THIS JANUARY ONLY and is a must-have for your improving your students writing skills in 2023.Be sure to click on an individual product to READ THE HUNDREDS OF GLOWING REVIEWS. You will not be disappointed with

Price $44.95

Original Price $79.99

Save $35.04

This bundle contains our top 10 English, Reading, and Writing resources for grades 5 and 6 students. Packed with 1000+ pages over ten complete work units with hundreds of 5-star reviews at a heavily discounted rate.If you are a first-time grade 5 or 6 teacher, or a seasoned veteran, these resources

Price $89.95

Original Price $135.95

Save $46.00
Description
Teach your students to write procedures, instructions, manuals, recipes, and science experiments with the correct structure, vocabulary skills, structure and language features.⭐"HOW TO" WRITING⭐is as easy as 1-2-3 in 2023 With our PERFECT PROCEDURAL WRITING UNIT.
THIS ENGAGING 115-PAGE UNIT COVERS:
✅ Recipes
✅ Instructions for games 
✅ Directions
✅ Science Experiments
✅ Walk-Throughs
✅ Tutorials - Including videos
✅ Life Hack's 
✅ Self-Help Guides
⭐ And much more NO PREP REQUIRED.
This HUGE UNIT offers a mix of EDITABLE hands-on, printable, and digital media resources. Upon completion, your students will be able to READ, COMPREHEND and WRITE their own with a high level of STRUCTURE, INSIGHT, AND KNOWLEDGE.
INCLUDING:
❤️ A concise teaching guide to be taught to a class or self-directed by students.
❤️ Understanding the four pillars of all procedures
❤️ Structure and Features of effective procedures
❤️ Over 20 Procedural Writing Activities. (Both independent and group tasks)
❤️ Multiple Templates and Graphic Organizers
❤️ Numerous exemplary procedural samples 
❤️ Video and Visual Procedural writing prompts
❤️ Procedural Writing Checklists
❤️ Assessment Rubrics
❤️ Procedural Classroom Posters
❤️ PLUS MUCH MORE.
Perfect for all digital platforms such as Google Classroom, Office 365, and SeeSaw.
The entire collection is provided to you in EDITABLE PowerPoint and as a printable PDF eBook. Each lesson is a complete plan that eliminates your preparation time, but if you need to modify the content to suit a particular class, you can easily do so. 
TEACHERS LIKE YOU SAID THIS...
⭐⭐⭐⭐⭐ Amelia H. says... "Awesome resource with many engaging activities. Activities made links with modern procedural writing texts. Students loved creating a tutorial based on what they learnt from this resource."
⭐⭐⭐⭐⭐ Susan K. says, "Lots of great writing prompts, visuals and organizers, making distance teaching more accessible and interesting for students. The recipes were especially successful! Thank you!"
⭐⭐⭐⭐⭐ Miss MIddle Years. says "This was the perfect step-by-step resource to teach procedure writing. My students were extremely engaged and showed a strong understanding after using this resource. I would totally recommend it."
This TpT Top Seller will not disappoint when it comes to providing a nice balance of direct instruction and freedom to let students personalize their learning due to the range and diversity of resources and lesson content.
YOU MIGHT ALSO❤️VE THESE ENGLISH RESOURCES
❤️ Year-Long Visual Writing Prompts Collection
❤️ News and Media Literacy Bundle
❤️ 125 Guided Reading Activities for ANY BOOK
❤️ 101 Digital Graphic Organizers
⭐LET'S CONNECT
Innovative Teaching Ideas on YouTube
Innovative Teaching Ideas on Facebook
TERMS
Copyright © Innovative Teaching Ideas. All rights reserved by the author. This product is to be used by the original downloader only. Copying for more than one teacher, classroom, department, school, or school system is prohibited. This product may not be distributed or displayed digitally for public view. Failure to comply is a copyright infringement and a violation of the Digital Millennium Copyright Act (DMCA). Clipart and elements found in this PDF are copyrighted and cannot be extracted and used outside this file without permission or license. Intended for classroom and personal use ONLY. See the product file for clip art and font credits.
CUSTOMER TIPS:
How to get TPT credit to use on future purchases:
• Please go to your My Purchases page (you may need to
login). Beside each purchase, you'll see a Provide Feedback button. Simply click it, and you will be taken to a page where you can give a quick rating and leave a short comment on the product. Each time you give feedback, TPT gives you feedback credits to lower the cost of your future purchases. I value your feedback greatly as it helps me determine which products are most valuable for your classroom to create more for you. ☺
Answer Key
Included with rubric
Teaching Duration
3 Weeks
Report this resource to TPT
Standards
to see state-specific standards (only available in the US).
Know and use various text features (e.g., captions, bold print, subheadings, glossaries, indexes, electronic menus, icons) to locate key facts or information in a text efficiently.
Identify the main purpose of a text, including what the author wants to answer, explain, or describe.
Explain how specific images (e.g., a diagram showing how a machine works) contribute to and clarify a text.
By the end of year, read and comprehend informational texts, including history/social studies, science, and technical texts, in the grades 2–3 text complexity band proficiently, with scaffolding as needed at the high end of the range.
Use text features and search tools (e.g., key words, sidebars, hyperlinks) to locate information relevant to a given topic efficiently.