4th Grade Math Review Test Prep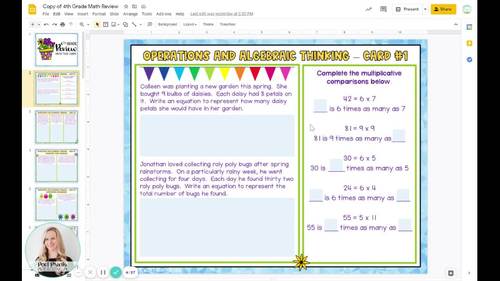 ;
Zip

Google Apps™
Includes Google Apps™
The Teacher-Author indicated this resource includes assets from Google Workspace (e.g. docs, slides, etc.).
What educators are saying
This was great for state standardized testing review/prep. Very comprehensive resource. I can always count on TWAMV for great resources!
Great resources to use as a review. My students were engaged, communicating, and working during the whole class period. Great resource.
Also included in
This is a BUNDLE of all 3rd, 4th, and 5th grade Math Review Test Prep packs. These rigorous review activities are FUN for students and an engaging way to review standards and concepts learned in class.Each Math Review Test Prep packet covers ALL math standards for the grade and includes:1 printabl

Price $13.99

Original Price $17.97

Save $3.98
Description
Are you looking for a way to review ALL FOURTH GRADE MATH STANDARDS? This rigorous review activity pack is fun for students and an engaging way to review standards and concepts learned in class.
What's included in this packet?
27 half-page task cards with MULTIPLE questions on each card (170+ questions in total over all 27 cards)
TWO versions of the cards (with and without CCSS printed on the top of the cards)
A DIGITAL, GOOGLE SLIDES version with movable and interactive pieces! (30 slides of practice!)
Recording Sheet & Answer Key
ALL 4th Grade Standards are covered in these task cards, which have multiple activities and prompts on each card. There are math problems in total.
How can I use these 4th Grade Math Review Activity Cards in my classroom?
Use them as test prep review (or before standardized testing)
For homework (I send home 1-2 per students)
As enrichment
For differentiated practice and review
In math centers
ALL 4th grade math standards are covered in these task cards - these are the perfect test prep activity!
What are teachers saying about 4th Grade Math Review?
"This is great! I am using them as a review for MCA Math testing. I am working with small groups. They are organized perfectly with a separate answer sheet for each standard. My students liked them, too. I would buy this again." - Gail J.
"Love this! Great review of 4th grade math standards! I bought this with the 3rd grade one for differentiation of my multi-age classroom and it went really well! Thank you!" - Ashley Z.
"Great for small groups at the end of the year. Kids were engaged" - Devon J.
"These were great for targeting specific standards in our test prep time!!" - Sherri G.
Report this resource to TPT
Standards
to see state-specific standards (only available in the US).
Know relative sizes of measurement units within one system of units including km, m, cm; kg, g; lb, oz.; l, ml; hr, min, sec. Within a single system of measurement, express measurements in a larger unit in terms of a smaller unit. Record measurement equivalents in a two-column table. For example, know that 1 ft is 12 times as long as 1 in. Express the length of a 4 ft snake as 48 in. Generate a conversion table for feet and inches listing the number pairs (1, 12), (2, 24), (3, 36),...
Use the four operations to solve word problems involving distances, intervals of time, liquid volumes, masses of objects, and money, including problems involving simple fractions or decimals, and problems that require expressing measurements given in a larger unit in terms of a smaller unit. Represent measurement quantities using diagrams such as number line diagrams that feature a measurement scale.
Apply the area and perimeter formulas for rectangles in real world and mathematical problems. For example, find the width of a rectangular room given the area of the flooring and the length, by viewing the area formula as a multiplication equation with an unknown factor.
Make a line plot to display a data set of measurements in fractions of a unit (1/2, 1/4, 1/8). Solve problems involving addition and subtraction of fractions by using information presented in line plots. For example, from a line plot find and interpret the difference in length between the longest and shortest specimens in an insect collection.
Recognize angles as geometric shapes that are formed wherever two rays share a common endpoint, and understand concepts of angle measurement: