7th Grade Math Guided Notes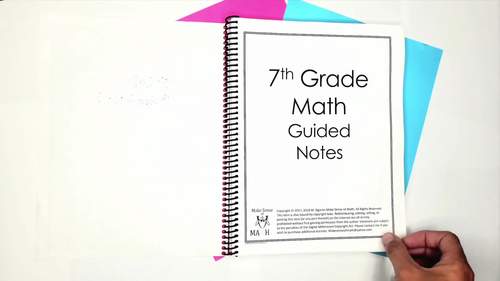 ;
What educators are saying
This has been a great resource for my students. They have really liked how the guided notes are focused and easy to use with their activities.
Studying/sorting/arranging notes in modules to have ready to use in units throughout the year. Will be a time saver for sure!
Products in this Bundle (15)
showing 1-5 of 15 products
Bonus
7th Grade Math Guided Notes Student Book, Teacher Book, and Teaching Tips
Also included in
Looking to save time, money and sanity? Then this 7th grade math curriculum and activities bundle is for you! This curriculum is aligned to the 7th grade common core math standards. Each unit includes: guided notes, assessments/worksheets and activities such as: task cards, stations, mystery pictur

Price $250.00

Original Price $403.00

Save $153.00
Description
Save your time, money and sanity with this 7th grade math guided notes bundle. These math notes are aligned to the common core math standards and work great as an introduction, reinforcement or review of the material. These 7th grade math notes are very thorough and require no prep.
✔️ Also includes an ink saving version (white side bar)
✔️ In the classroom: Print packets and teach
✔️ Distance Learning: Print packets (or have students print packets) and teach online following them.
✔️ Easy to follow along because they are very thorough! Students can easily go back and review a topic if needed.
BONUS FILE AT NO EXTRA COST: Compiled student and teacher book with table of contents - completely formatted to print out as a book and be ready for the entire year.
15 sections of thorough 7th grade math guided notes

Unit rates
Proportional relationships
Integer operations
Rational number operations
Simplifying expressions with rational numbers
Solving equations with rational numbers
Solving inequalities with rational numbers
Proportions and real-world percents
Scale drawings
Angles and equations
Triangles
Circles
Composite area, surface area, and volume of prisms
Probability
Random Sampling & Comparing Populations
View the Preview for the Table of Contents and Sample Pages
1 title page
In-depth guided notes. (4 - 12 pages)
Additional practice problems
Lined pages for extra notes
Complete answer key
In-depth
️ Quality problems throughout the notes
️ Additional practice problems at the end of each section
️ Room for extra notes
️ Page numbers and topics on edges for easy reference
️ Included all number lines and coordinate planes for graphing
️ Focus on discovery over algorithms
️ Focus on making sense of math
Formatted for back-to-back printing with page numbers. They work great in a 3-ring binder or spiral-bound. Teachers have also enjoyed using them in interactive notebooks.
"I wish I would have bought sooner!" - Eleni L.
"This bundle is saving me a ton of time and energy while I lesson plan for next year." - Nicole M.
"These are amazing guided notes. They are thorough and move through the material in a way that makes sense to the students. " - Allison L.
Easy for students to follow along
Doesn't do all the work for them
Great to refer back to when needed
Keeps students organized
Promotes inclusion
Promote equal access to material
★ FOLLOW ME for more great products to make sense of math!
Remember that leaving feedback earns you points toward FREE TPT purchases!
Please feel free to contact me with any questions!
Michelle,
Make Sense of Math
michelle@makesenseofmath.com
Report this resource to TPT
Standards
to see state-specific standards (only available in the US).
Solve problems involving scale drawings of geometric figures, including computing actual lengths and areas from a scale drawing and reproducing a scale drawing at a different scale.
Draw (freehand, with ruler and protractor, and with technology) geometric shapes with given conditions. Focus on constructing triangles from three measures of angles or sides, noticing when the conditions determine a unique triangle, more than one triangle, or no triangle.
Describe the two-dimensional figures that result from slicing three-dimensional figures, as in plane sections of right rectangular prisms and right rectangular pyramids.
Know the formulas for the area and circumference of a circle and use them to solve problems; give an informal derivation of the relationship between the circumference and area of a circle.
Use facts about supplementary, complementary, vertical, and adjacent angles in a multi-step problem to write and solve simple equations for an unknown angle in a figure.