Christmas Santa Writing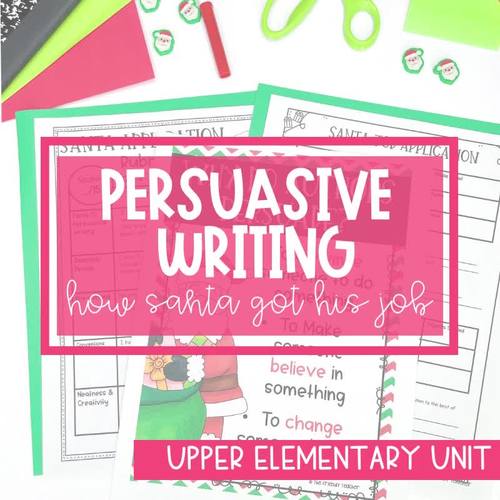 ;
Also included in
Do you want your students to learn to become better writers? This bundle of lessons teaches informational, narrative, persuasive, and opinion writing pieces through high interest mentor texts and writing processes. There are also writing lessons for each type of writing to keep your teaching in writ

Price $32.79

Original Price $70.99

Save $38.20
Description
A Christmas writing project where students will complete the full writing process to practice persuasive writing. Students till complete a job application to relate this project to their real life! Students will be convincing others why they should be Santa or work at the north pole.
This project is a mentor text writing project with the story "How Santa Got His Job" by Stephan Kerensky!
Why will these activities help your students grow and make you happy?
- The students will LOVE applying to be Santa. They will get really creative and enjoy the writing process.
Students will get to fill out a real job application. They get to see what an application looks like and the kinds of things they would have to fill out.
- All you have to do is print and go!
What's Included?
In this unit:
-Persuasive Writing Anchor Charts
-Anchor Charts for their Notebooks
-Persuasive Writing Interactive Lesson
-"How Santa Got His Job" reflection questions for after reading
-Santa Job Application
-Pre-Writing Sheet
-Rough Draft Sheet
-Final Copy Writing Sheet
-Student Checklist
-Rubric
-Classbook Cover
NOW ADDED: A choice to have them apply for any position in the North Pole instead of just Santa!
What are others saying?!
Amanda- My students loved this activity, and they even forgot they had to write because they were so engaged with trying to persuade Santa. Great writing activity that I will be using again!
Kelli- This was a fun Christmas activity that encouraged creativity with writing. I loved that it connected the real life experience of applications.
The Disneyfied Teacher- This was the PERFECT way to end our semester!! Thank you so much for the step-by-step help my kids so desperately need. This was AMAZING!
>>>Find Writing with Mentor Texts for the Whole Year Here<<<
I wanted something that related to the holiday season, but still focused on writing qualities and related to my student's real life! This application is so fun for me because I get to show students what a real application looks like! Also, I love hearing what reasons they come up with as to why they should be santa!
Much Love,
Hannah
The Friendly Teacher
Answer Key
Included with rubric
Report this resource to TPT
Standards
to see state-specific standards (only available in the US).
Write opinion pieces on topics or texts, supporting a point of view with reasons.
With guidance and support from adults, produce writing in which the development and organization are appropriate to task and purpose.
With guidance and support from peers and adults, develop and strengthen writing as needed by planning, revising, and editing.
With guidance and support from adults, use technology to produce and publish writing (using keyboarding skills) as well as to interact and collaborate with others.
Write routinely over extended time frames (time for research, reflection, and revision) and shorter time frames (a single sitting or a day or two) for a range of discipline-specific tasks, purposes, and audiences.