Energy and Simple Machines Interactive Science Notebook - Distance Learning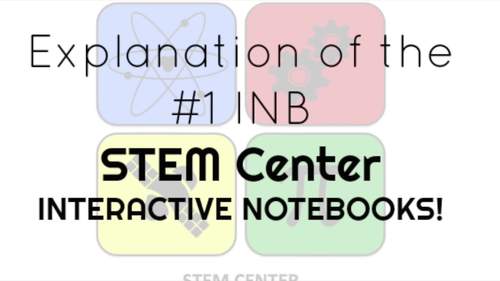 ;
Also included in
This is the Ultimate Middle School Science Interactive Notebook!Includes:Animal DiversityBody SystemsChange Over TimeChemistryClimateEarth's Changing SurfaceEcosystemsElectricityEnergy & Simple MachinesForce & MotionGenetics & HeredityLife StructureMicrobialMoonPhotosynthesisPlantsPlate

Price $85.05

Original Price $111.00

Save $25.95

This Physical Science Interactive Science Bundle is a INB complete set. The package includes Chemistry INB, Electricity INB, Simple Machines & Energy INB, Force & Motion INB, Waves INB, and the Scientific Method INB.Please click on the sections listed to see previews!YOU MAY ALSO BE INTERES

Price $23.49

Original Price $29.00

Save $5.51

This Energy Escape Room & Energy - Simple Machines Interactive Notebook is a totally immersive package of activities that will allow your students to have fun and learn at the same time! We have developed a comprehensive, 5 tiered, Energy themed, Escape Room & INB. The Escape Room centers ar

Price $9.12

Original Price $11.25

Save $2.13

Energy and Simple Machines Interactive Science Notebook, Power Point, Reading Article, Notes: A perfect combination of materials & activities! Energy & Simple Machines Interactive Notebook Section has a lot (42 PAGES) to offer! Before using Interactive Science Notebooks, students got lost i

Price $8.71

Original Price $10.75

Save $2.04

This Energy & Simple Machines BIG UNIT Bundle is a great package of activities focusing on the topic of energy and Simple machines!The Big Unit Bundle includes:Interactive NotebookTrivia Board GameTic-Tac-TriviaWord WallBeat the Clock #1Beat the Clock #2Card SortESCAPE ROOM!Exit TicketsPower Poi

Price $32.18

Original Price $39.73

Save $7.55

This Energy Distance Learning Bundle is a combination of our resources that can be used for Long Distance Learning. The advantage of purchasing this bundle is that you save money.What you receive: Narrated Power Point MP4 VideoCard SortPower PointNotesTrivia Board GameSEE LIST OF RESOURCES BELOWAS W

Price $16.60

Original Price $20.49

Save $3.89
Description
Energy and Simple Machines Interactive Science Notebook: Energy & Simple Machines Interactive Notebook Section has a lot (42 PAGES) to offer! Before using Interactive Science Notebooks, students got lost in writing and not comprehending the science. The INBs allow the students to keep a neat, interactive, functional, and yes; a fun notebook.
* If you are sending this home as a packet, this will definitely keep the student ENGAGED! - STUDENTS MUST HAVE GLUE AND SCISSORS!
- 40 Flip-Fold Vocabulary words & definitions
o Steps of The Scientific Method
o Metric Prefixes
o SI Units
• Unlike other Interactive Notebooks, this INB has typed definitions.
• This is important for students (Modifications & 504) who require written copies of Notes.
- Kinetic Vs. Potential Venn Diagram
- Answer Keys
- What is Energy Notes
- Energy Transfer – Fill in the Blank Notes (FBN)
- Where did it come from? –FBN
- Law of Conservation of Energy Notes
- Energy Transfer Foldable
- Radiation FBN
- Conduction FBN
- Convection FBN
- %'s of Energy Transfer Foldable
- Multiple Choice Questions
- BCR
- Nonrenewable Mineral & Energy Resources FBN
- Greenhouse Gases & Global Warming Notes
- Greenhouse Gas Sketch, Cut & Paste Foldable
- Renewable Resources Notes
- Inexhaustible Resources
o Photovoltaic Cells
- Wind Power
- Energy Resources Concept Mapping
- Energy Forms/Resources Concept Map
- Converting Celsius, Fahrenheit, & Kelvin
- F=W/D Foldable
- Levers & Mechanical Output Foldable
- Pulleys Foldable
- Teacher's Copies of FBNs
YOU MAY ALSO BE INTERESTED IN:
Terms of Use
Connect with the STEM Center©
Be sure to follow my TpT store by clicking on the Green 'Follow Me' Star next to the STEM Center © icon to receive notifications of new products and upcoming sales.
BLOG for more great activities and freebies.
Follow me on Twitter
Great info and freebies on Facebook

***************************************************************************
Customer Tips:
How to get TPT credit to use on future purchases:
• Please go to your My Purchases page (you may need to log in). Beside each purchase you'll see a Provide Feedback button. Simply click it and you will be taken to a page where you can give a quick rating and leave a short comment for the product. Each time you give feedback, TPT gives you feedback credits that you use to lower the cost of your future purchases. I really appreciate your feedback, as it helps me to design resources that meet the needs of my customers!
Be the first to know about my new discounts, freebies and product launches:
• Look for the green star next to my store logo and click it to become a follower.
• New products are discounted for the first 48 hours!
***************************************************************************
Copyright © The STEM Center. All rights reserved by author. This product is to be used by the original downloader only. Copying for more than one teacher, classroom, department, school, or school system is prohibited. This product may not be distributed or displayed digitally for public view. Failure to comply is a copyright infringement and a violation of the Digital Millennium Copyright Act (DMCA). Clipart and elements found in this PDF are copyrighted and cannot be extracted and used outside of this file without permission or license. Intended for classroom and personal use ONLY.
Report this resource to TPT