Error Analysis Math Tasks {4th Grade} With Google Slides™ for Distance Learning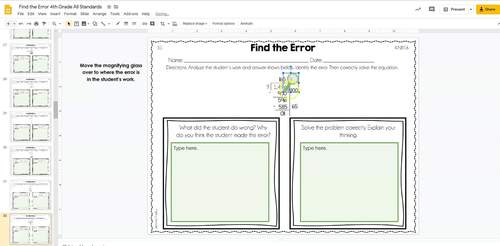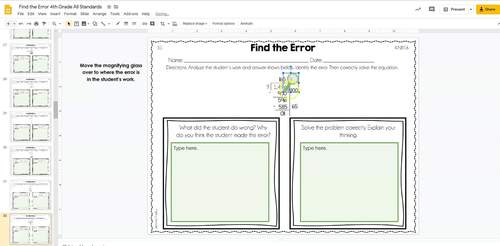 Created By
Jennifer Findley
File Type
PDF
(
1 MB
|
156 (78 Tasks and 78 Keys)
)
Also included in:
Do you want your math stations and guided math centers done for the year? This 4th grade guided math bundle is the only resource you will need to have your math centers done for the year!NOTE: I have added a GROWING set of Digital Math Google Forms to this resource. The price will increase to $95 by
Product Description
This resource includes 78 Error Analysis Tasks for the 4th Grade Common Core Math Standards. Each standard has at least two tasks for you to use with your students.
NOTE: This resource now has a Google Classroom™ version, making it ideal for digital distance learning and remote teaching! Please see the 3rd page of the PDF for details and the link!
Need another grade level?
Click here to see the 3rd Grade Error Analysis Math Tasks.
Click here to see the 5th Grade Error Analysis Math Tasks.
Each Error Analysis Task includes a question or equation to solve and then student work incorrectly solving or answering the task.
The student is asked to determine the error and explain why they think the student made that error. Then the student has to solve the equation or answer the question correctly.
These tasks can be used for independent work, math centers, homework, test prep, RTI, or even as a means of assessment.
Make sure you grab the FREE Launching Math Centers Starter Pack with review centers to help you launch your centers. You can grab it by clicking here.
You may also like:
Interactive Math Notebook: Word Problems {4th Grade: Common Core Aligned}
Total Pages
156 (78 Tasks and 78 Keys)
Report this Resource to TpT