Informational Text Structure Activity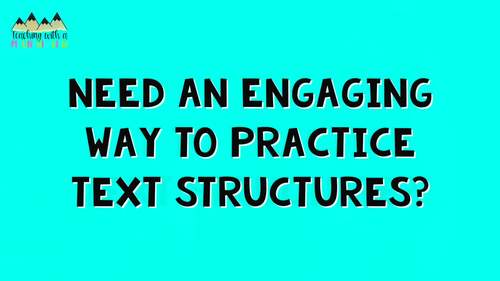 ;
Zip

Google Apps™
Includes Google Apps™
The Teacher-Author indicated this resource includes assets from Google Workspace (e.g. docs, slides, etc.).
What educators are saying
My students really enjoyed this resource to help the, practice text structures. They enjoyed learning about new places and several said they now want to go visit the location they picked.
As always, Mary's products do not disappoint! Students are always engaged and learning the standards. I never question myself when purchasing items from TeachingwithaMountainView!!
Also included in
Are you looking for the ULTIMATE resource to teach informational text structures in 3rd, 4th, and 5th grades? You've found it! This bundle is jam packed with engaging and rigorous ideas to teach students all about informational text structures.  Each activity uses high-interest topics to ensure that

Price $16.79

Original Price $27.75

Save $10.96
Description
Are you looking for a fun and engaging way to teach text structures in upper elementary? THIS is the activity that you need! Engage your students in practicing the five text structures with a brochure activity that is fun and rigorous for them and SO easy to prep for you!
The Activity: Your students will become the newest "employees" of the coolest brochure designer in town. After reading informational text passages (two per location) about one of five locations, they will create a new brochure for each location using their super text structure skills! Students will be given a guided brochure template with specific questions pertaining to the passages and informational text structures. They can simply create the brochure using the template, or they can create a brochure from scratch and fill it out using the info on the template!
Please see the preview for a closer look at this resource. 
This text structures brochure activity resource includes:
5 Location Pages (10 passages total)
10 Guided Brochures (1 Per Passage)
Digital Access via Google Slides
Answer Key
Locations included:
Tanzania
Yellowstone
Hawaii
Grand Cayman
Tokyo and Hong Kong
Text Structures Included:
Problem & Solution
Cause & Effect
Compare & Contrast
Sequence
Description
Printing and Prep: This resource is super low-prep! There are two options for printing the passages: one totally black and white version or a full-color version to print and laminate and use year after year.
Digital Note: I have taken the digital version of this resource to a new level! Students will create "WEBSITES" for each location using the digital version. Even if you are in person teaching, I encourage you to have students create one "website" to give them the experience! Don't worry! The websites are templates to fill in -- no coding skills necessary. 
Report this resource to TPT
Standards
to see state-specific standards (only available in the US).
Describe the logical connection between particular sentences and paragraphs in a text (e.g., comparison, cause/effect, first/second/third in a sequence).
Compare and contrast the most important points and key details presented in two texts on the same topic.
Refer to details and examples in a text when explaining what the text says explicitly and when drawing inferences from the text.
Explain events, procedures, ideas, or concepts in a historical, scientific, or technical text, including what happened and why, based on specific information in the text.
Describe the overall structure (e.g., chronology, comparison, cause/effect, problem/solution) of events, ideas, concepts, or information in a text or part of a text.