KinderBookKlub Close Read Bundle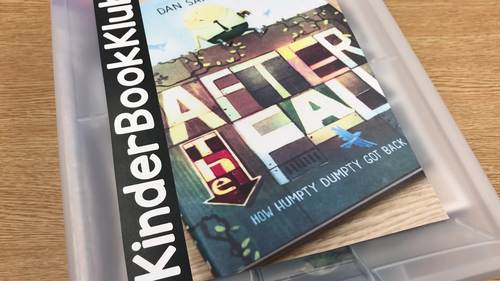 ;
What educators are saying
I LOVE this resource! Although I sprinkle these throughout the year, they would be excellent for sub plans!
This is a fabulous resource! The kids loved the book and each activity that went with them. Very well put together and tons of resources available.
Description
This bundle is designed for the kindergarten classroom easily adapted to fit a guardian-led homeschool setting! If inquiring about this bundle for a homeschool setting, feel free to email me directly with any questions at tara@littlemindsatwork.org!

KinderBookKlub is DISCOUNTED!

KinderBookKlub has been much anticipated and it's FINALLY here! Engage your kiddos in fun + rigorous lessons each month with 10 of my most favorite tradebooks! Due to the long wait for this bundle... I have a special deal for you below!

Each book is sold separate for $10 x 10 books = $100

**BUNDLE DISCOUNT** Snag the KinderBookKlub for $50!

What is the Monthly KinderBookKlub?
Thanks so much for showing interest in my monthly KinderBookKlub! The KinderBookKlub is designed with kindergarten teachers in mind. The KinderBookKlub offers a week of engaging and hands-on material. However, the material can easily be expanded over a longer academic period. The idea of the monthly KinderBookKlub is for one week of the month you can completely transform your teaching with FUN and engaging, yet still rigorous, lessons. The KinderBookKlub is completely comprehensive, so the only thing you'll need to add in is the mentor text! Here is a quick breakdown of what you get for each book:

Detailed close read lesson plans
Essential question focus wall poster
"I can" statement focus wall poster
Vocabulary cards (3 sizes)
Poem (Retell card, blackline and retell strips)
Emergent poem reader
Skill posters (comprehension and story elements)
Retell cards (3 sizes included)
Assessment and data tracker
Thematic craft
Daily printables
Journal prompt
Home connection
Engaging science lesson
Hands-on math lesson
Leveled guided readers (fiction and non-fiction) and lesson plans
Five literacy centers
Five math centers

Can I SEE more about KinderBookKlub?

I have videos that show the KinderBookKlub! Check out the videos below!

What makes the Monthly KinderBookKlub so unique?

You will quickly notice a similarity between KinderBookKlub and my other engaging packets like KinderLiteracy and Thematic Hands-On Centers! That similarity is part of the design! The idea is that you can easily slip in your once-a- month KinderBookKlub lessons, and the kiddos will not skip a beat in their learning. This similarity in design is also great because you will not have to reteach the procedures or concepts since it will already be familiar to the students. What are you waiting for? Join in the only 'kool klub' for kindergarten teachers...the monthly KinderBookKlub!
What books are included in the KinderBookKlub?

The actual tradebooks are not included! You can pick those up on Amazon, etc!

August: After the Fall by Dan Santat *INCLUDED NOW*

September: Duck and Goose by Tad Hills *INCLUDED NOW*
October: Room on the Broom by Julia Donaldson *INCLUDED NOW*
November: Gruffalo by Julia Donaldson *INCLUDED NOW*

December: Stick Man by Julia Donaldson *INCLUDED NOW*

January: Sneezy the Snowman by Maureen Wright *INCLUDED NOW*

February: Be Kind by Pat Zietlow Miller *INCLUDED NOW*

March: Click, Clack, Peep! by Doreen Cronin *INCLUDED NOW*
April: Mother Bruce by Ryan Higgins *INCLUDED NOW*
May: The Watermelon Seed by Greg Pizzoli *INCLUDED NOW*


Please view the attached preview and video HERE to learn more about the KinderBookKlub!
Questions?
Please email me at littlemindsatworkllc@gmail.com
Would you like to receive notifications for my newly released packets and upcoming sale? Be sure to FOLLOW ME here on TPT!
**Join my private Facebook Group to join fellow Pre-K, Kindergarten, First Grade and Second Grade teachers that use my curriculum! Collaborate, chat and share ideas with like-minded teachers! Join the private Facebook group H E R E!
Visit my blog Little Minds at Work
Follow me on Facebook
Report this resource to TPT
Standards
to see state-specific standards (only available in the US).
With prompting and support, ask and answer questions about key details in a text.
With prompting and support, retell familiar stories, including key details.
With prompting and support, identify characters, settings, and major events in a story.
Ask and answer questions about unknown words in a text.
With prompting and support, compare and contrast the adventures and experiences of characters in familiar stories.