Making Inferences Task Cards | Inferencing Activities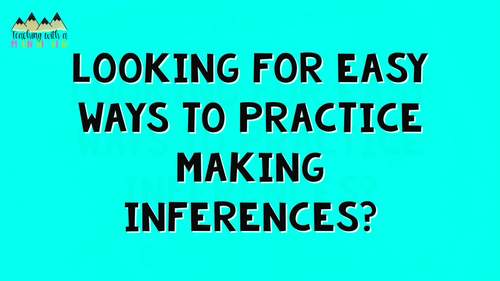 ;
Zip

Google Apps™
Includes Google Apps™
The Teacher-Author indicated this resource includes assets from Google Workspace (e.g. docs, slides, etc.).
What educators are saying
I love this resource. It was so helpful when learning the difference between observations and inferences. Students have such a hard time with this concept.
I used this with third graders. It kept them engaged and they really enjoyed it while practicing the skill. They had fun while learning.
Also included in
An absolute must-have, MASSIVE digital and printable reading skills task card bundle. There are over 1,000 Reading Skills Task Cards in this huge discounted bundle of all my bundles (PLUS three free sets!) Many cards have multiple passages per card, including paired passages. This bundle of readin

Price $75.99

Original Price $126.15

Save $50.16

A HUGE set of over 350 of my Reading Skills Task Cards all bundled into one nice, discounted package. These reading skill task cards are digital AND printable. You will receive the following cards:Author's Purpose: 44 CardsMain Idea: 52 Cards Compare and Contrast : 32 Cards Cause and Effect : 32

Price $15.99

Original Price $26.82

Save $10.83

Are you looking for the BEST way to teach your students all about making inferences? Do you want it to be engaging, rigorous, and fun? This is the ultimate set of resources and activities for teaching students in 3rd, 4th, and 5th grades how to make inferences.  Activities are easy to prep, engaging

Price $17.59

Original Price $29.96

Save $12.37

This is the absolute must-have, MASSIVE bundle of all inference resources. These highly-rated inference activities are perfect for 3rd, 4th, and 5th grade teachers, and are a HIT in any classroom. Which bundles are included in this ULTIMATE bundle?Making Inferences Activity Bundle'The Case of the Mi

Price $47.19

Original Price $81.83

Save $34.64
Description
Inferencing is such a challenging skill to master! Use these two sets of 40 task cards (80 cards total) that help students practice making inferences and inferencing. The first 20 cards have pictures that students make inferences from. The next 20 cards have short stories that students make inferences from.
There are TWO kinds of task cards included:
20 Picture Task Cards (Make an inference from a picture)
20 Story Task Cards (Make an inference from a story)
The following different versions of this resource are included:
Original Differentiated Task Card Format
Half-page printable format for writing in student answers
DIGITAL access via Google Slides
You can also purchase these task cards in SPANISH!
This activity is differentiated!
The sets are differentiated to meet the needs of your students! The two sets use the same stories and pictures but range in guidance. The first set of 40 asks questions to lead to inferences (See Preview) and the second set of 40 is open-ended.
This is engaging practice for your students. Perfect for mini-lessons, whole-class instruction, cooperative learning, intervention groups, and literacy centers.
You can also buy this set of task cards as part of my HUGE Reading Skill Task Card Bundle!
Are your looking for even MORE Inference Task Cards? Check out my Inference Task Card Bundle with 8 Additional Sets. CLICK HERE! (Note: These task cards are NOT included in the bundle)
**I also have an INFERENCE READING PROJECT!**
More to See:
Literal Vs. Inferential Comprehension Questions Task Cards
Check out my Bundled Holiday Reading Skills Task Cards!
Other Reading Task Cards you might enjoy!
Report this resource to TPT