Math Task Cards for 1st Grade- BUNDLE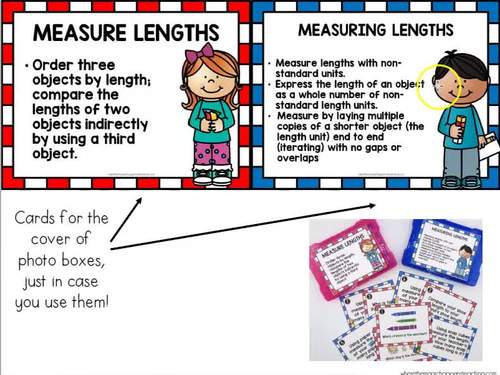 ;
Products in this Bundle (18)
showing 1-5 of 18 products
Description
This is a Math task cards for 1st grade bundle with differentiated and editable math task cards for every single standard to be taught in 1st grade.
All the task cards in this task card bundle could be used for math centers, small groups, play seat scoot, and even whole group.
In this Math Task Cards for 1st Grade bundle, you will find 18 different sets of task cards that could be a perfect supplement to your BUILD math centers.
Each set of task cards is differentiated and editable (to add your own state standard).
Please review the contents and the release of the upcoming task cards:
Fact Families Scoot 1.OA.C.6 Students review and practice the relationship between addition and subtraction
Telling Time to the Hour and Half Hour Scoot 1.MD.B.3 Students review and practice telling time to the hour and half hour using digital and analog clocks.
Missing Number in Addition and Subtraction Scoot 1.OA.D.8 Students review and practice solving addition and subtraction situations with an unknown number.
Ten More and Ten Less Scoot 1.NBT.C.5 Students review and practice adding 1 and ten, subtracting 1 and ten.
Word Problems to 20 Scoot 1.OA.A.1 Students review and practice the following word problems: Add to/Take from-Change Unknown, Put together/Take Apart-Addend Unknown,Compare-Difference Unknown.
Word problems with adding 3 numbers 1.OA.A.2 Students review and practice word problems that call for addition of 3 whole numbers.
Properties of Addition 1.OA.B.3 Students review and problems to use the commutative and associative properties as strategies.
Addition and Subtraction Strategies 1.OA.C.6 Students build fluency and automaticity through number sense and operations strategies.
Understanding the equal sign 1.OA.D.7 Students build understanding of the equal sign and determine if addition and subtraction situations are true or false.
Analyzing and interpreting data 1.MD.C.4 Students Organize, represent, and interpret data with up to three categories.
Counting to 120 Task Cards 1.NBT.A.1 Students, read, write, count and represent numbers to 120
Place Value to 100 Task Cards 1.NBT.B.2 Students unitize, model, and demonstrate understanding of tens and ones to 100.
Comparing two 2-digit numbers 1.NBT.B.3 Students compare two two-digit numbers based on the value of the tens and ones digits, recording the results of comparisons with the symbols >, =, and <
Adding Two-digit Numbers and a multiple of 10 1.NBT.C.4 Students use concrete models or drawings, strategies based on place value, properties of operations, and explaining the reasoning used, add, within 100, in the following situations: ** A two-digit number and a one-digit number ** A two-digit number and a multiple of 10
Measuring Lengths with Non-Standard Units Task Cards 1.MD.A.1-2 Students will practice measuring lengths with non-standard units. They will also practice ordering three objects by length; comparing the lengths of two objects indirectly by using a third object.
Identifying and naming coins task cards: Students identify the value, and name quarters, dimes, nickels, and pennies. They also relate coin values to pennies.
Geometry task cards: Students identify, name, draw, and crate composite shapes.
Fractions task cards: Students practice partitioning shapes, and identifying different fraction.
The price of this growing bundle will increase as I add to the task cards set.
Thank you so much for your purchase!
Laura G.♥
Copyright © Where the Magic Happens Teaching, LLC.
All rights reserved by author.
Permission to copy for single classroom use only.
Electronic distribution limited to single classroom use only.
Not for public display.
☻☻☻☻☻☻☻☻☻☻☻☻☻☻☻☻☻☻☻☻☻☻☻☻☻☻☻☻☻☻☻☻☻☻☻
Let's Connect!!
The Magical Teachers Bulletin (You will receive a freebie when you sign up!)
If you have any questions about this resource, please contact me at laura@wherethemagichappensteaching.com
Report this resource to TPT
Standards
to see state-specific standards (only available in the US).
Order three objects by length; compare the lengths of two objects indirectly by using a third object.
Express the length of an object as a whole number of length units, by laying multiple copies of a shorter object (the length unit) end to end; understand that the length measurement of an object is the number of same-size length units that span it with no gaps or overlaps.
Tell and write time in hours and half-hours using analog and digital clocks.
Organize, represent, and interpret data with up to three categories; ask and answer questions about the total number of data points, how many in each category, and how many more or less are in one category than in another.
Count to 120, starting at any number less than 120. In this range, read and write numerals and represent a number of objects with a written numeral.