October Pattern Blocks | Shapes Puzzles For Math Centers | 2d Shape Mats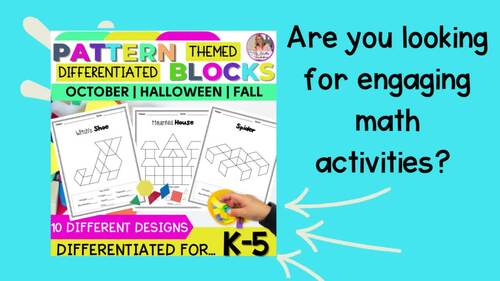 ;
Also included in
Keep students engaged with these FUN shape puzzles all year long! Students will compare and combine shapes to create a holiday themed tangram. Help your students explore and investigate mathematical concepts and shapes with these pattern block puzzles. These are great for morning buckets, math rot

Price $29.57

Original Price $42.25

Save $12.68

Help your students practice important k-2 skills with this fun bundle! This bundle provides tons of hands-on and interactive learning for online or in the classroom. Your students will enjoy these FUN and engaging activities.This set includes:Google Slides Math GameGoogle Slides ELA GameScrambled Se

Price $12.95

Original Price $18.50

Save $5.55

Help your students practice important 1st grade skills with this fun bundle! This bundle provides tons of hands-on and interactive learning for first grade. Your students will enjoy these FUN and engaging activities.These resources are both print and Digital (Google Slides). ****THIS RESOURCE IS NOW

Price $170.28

Original Price $229.00

Save $58.72
Description
Keep students engaged with these FUN shape puzzles that are Halloween themed. Students will compare and combine shapes to create a holiday themed tangram. Help your students explore and investigate mathematical concepts and shapes with these pattern block puzzles.
Each tangram is differentiated to meet all students needs. Each pattern includes six options* which allows you to adjust difficulty level; color mat, miniature card, outlined with shape words, outlined with shape outline, solid white with shape words, and solid white with shape outline.
These are great for morning buckets, math rotations, math centers, small group, whole group, developing fine motor skills, and so much more!
****Please note: Print in "actual size"***
Related Products
☀️ Addition Facts to 20 Hunt Game Google Slides Game
☀️ ELA Google Slides Game Literacy Activity April Themed
☀️ K-2 Addition and Subtraction Math Google Slides Game April Themed
☀️ March ELA Google Slides Game Literacy Activity
☀️ L, S, & R Blends Game on Google Slides™ Phonics Activities
☀️ Math and ELA Games on Google Slides™ March Themed
☀️ Subtraction Facts to 20 Game Google Slides Game


Pattern Block Puzzle Related Products
⭐ August Pattern Block Puzzles
⭐ December Pattern Block Puzzles
⭐ Earth Day Pattern Block Puzzles
⭐ February Pattern Block Puzzles
⭐ January Pattern Block Puzzles
⭐ Monthly Pattern Block Puzzles BUNDLE
⭐ November Pattern Block Puzzles
⭐ October Pattern Block Puzzles
⭐ September Pattern Block Puzzles

❤️ Follow me! ❤️
Look for the green star next to my TpT store logo and click it to become a follower. This will let you know about my sales, discounts, freebies and new products!
Do you need this resource for more than one teacher or classroom?
Sharing and collaborating makes teaching so much easier! In order to make this easy and legal for you to share with your team, you may buy additional licenses at a discount. How? Go to your My Purchases page on TpT and find the resource. Then, click Buy Additional Licenses. This is the best way to buy for your team or grade level without violating copyright. Thank you for respecting my work!
How can I earn credits to apply towards future purchases?
Go to your My Purchases page. Beside each purchase you'll see a Provide Feedback button. Click Provide Feedback and it will take you to a page where you can give a quick rating and leave a short comment for the product. Each time you give feedback, TPT gives you feedback credits.. You can use these credits to have a discount on future purchases.
⭐⭐⭐⭐⭐Feedback and ratings are greatly appreciated.⭐⭐⭐⭐⭐
Terms Of Use:
All rights reserved. Purchase of this unit entitles the purchaser a limited license for single person use only. You may utilize this resource for each of your students. Duplication for an entire school, an entire school system or commercial purposes is strictly forbidden without written permission from the publisher. The Google Slides templates included in this resource may not be used to create something new, and or, distributed in anyway without written consent from the author, Heather Vanderboom.
Copying any part of this product and placing it on the Internet in any form (even a personal/classroom website) is strictly forbidden and is a violation of the Digital Millennium Copyright Act (DMCA). These items can be picked up in a google search and then shared worldwide for free.
Copyright © Heather Vanderboom, LLC All rights reserved by the author. This product is to be used by the original purchaser and is a single classroom license. It may not be posted on a public website where others have access to download it and it may not be translated into another language and then posted for free or for sale.
Report this resource to TPT
Standards
to see state-specific standards (only available in the US).
Describe objects in the environment using names of shapes, and describe the relative positions of these objects using terms such as above, below, beside, in front of, behind, and next to.
Correctly name shapes regardless of their orientations or overall size.
Compose simple shapes to form larger shapes. For example, "Can you join these two triangles with full sides touching to make a rectangle?"
Distinguish between defining attributes (e.g., triangles are closed and three-sided) versus non-defining attributes (e.g., color, orientation, overall size); build and draw shapes to possess defining attributes.
Compose two-dimensional shapes (rectangles, squares, trapezoids, triangles, half-circles, and quarter-circles) or three-dimensional shapes (cubes, right rectangular prisms, right circular cones, and right circular cylinders) to create a composite shape, and compose new shapes from the composite shape.