Science Fair Project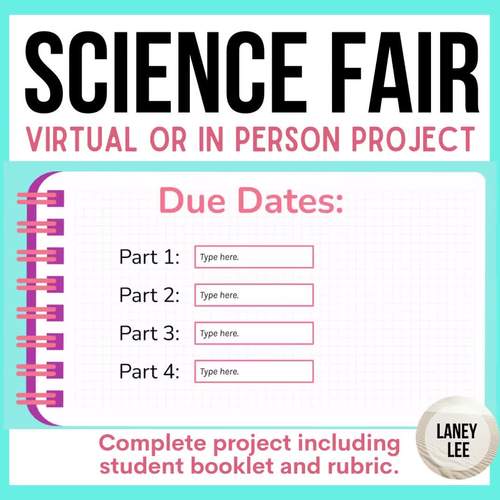 ;
PDF

Google Apps™
Includes Google Apps™
The Teacher-Author indicated this resource includes assets from Google Workspace (e.g. docs, slides, etc.).
Also included in
Is lesson planning just too much on top of teaching on top of grading on top of classroom management on top of *ahem* living your life?  Get all the guidance you need to teach a comprehensive, no-prep inquiry unit either in person, hybrid, or virtual with my all inclusive unit bundle!  This unit wil

Price $32.00

Original Price $59.50

Save $27.50

Is lesson planning just too much on top of teaching on top of grading on top of classroom management on top of *ahem* living your life?  Get all the resources you need to teach the scientific method either in person, hybrid, or virtual with this great value-for-money bundle! These resources will sav

Price $16.00

Original Price $27.50

Save $11.50
Description
Looking for a perfect way to check for student comprehension while also reinforcing the key parts of the scientific method? If so, look no further!
Welcome to the Science Fair!
Skills reinforced by this project:
Designing and planning an investigation
Identifying independent & dependent variables, controls groups, constants
Creating data tables & graphs
Drawing conclusions from data
Writing a lab report
This project is broken into four parts that can be completed over about 3 weeks:
Part 1: Plan
Students will determine the question they will investigate and write a hypothesis. They will plan procedures and required materials as well as identifying independent variables, dependent variables, control group, and constants. Students will also predict possible sources of bias and experimental error.
Part 2: Execute
Students will complete their investigation. They will collect data and observations.
Part 3: Conclusions
Students will determine an answer to their question and defend their claim in a CER style response. They will also reflect on ways their experimental procedure could be improved.
Part 4: Report
Students are given the option (or you can choose one for them) to either write a lab report or create a visual display that details all the parts of their investigation. Samples of each are included along with a rubric.
Who is this resource for?
This resource can be used by classroom teachers, tutors, and parents of students in grades 6-9.
This project is compatible with virtual, in person, or hybrid learning styles.
How Can I Use this Project?
Formative or Summative assessment 
An independent work station in a set of stations
Differentiation – Assign this project as an alternative assignment 
Homework 
Extension activity for early finishers or for students who show a special interest in the topic
Use as a square on a Choice Board
What's Included?
43 page digital Student Booklet (divided into 4 parts) File type: Google Slides
Teacher Tips & Instructions including tips for differentiation and a student checklist
Sample Student Booklet, Lab Report, & Visual Project
Rubric
Purchase includes a printable PDF file in color with answer key. On page 2 of this resource you will find a link to a student friendly Google Slide version of this file. You will be able to copy this file and use it with Google Classroom or any other paperless initiative.
Please take a look at the preview file to see more of this resource.
More questions?
Check out our or email me at laneyleeteaches@gmail.com.
----------------------------------------------------------------------------------------------------------------------------
More on the Scientific Method:
----------------------------------------------------------------------------------------------------------------------------
To stay updated on sales and new products, please follow my store:
Connect and chat with me!
Report this resource to TPT