Sight Word Mini Books Bundle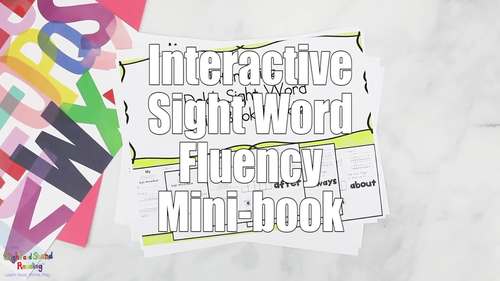 ;
What educators are saying
I love that students are able to do multiple activities while focusing on one sight word each time. Engaging and helpful!
We loved having our own book. Of course, it would be great to have a parent volunteer to help cut them.
Products in this Bundle (6)
showing 1-5 of 6 products
Also included in
Are you looking for the ultimate yearlong literacy resource for your preschool or kindergarten class? This membership contains everything you need to teach literacy in preschool or kindergarten for an entire school year!  All the resources are easy to download and all in one place for easy access.

Price $375.97

Original Price $417.74

Save $41.77
Description
Help your students practice and build fluency and increase memory of sight words with 220 fun, interactive Dolch Sight Word Mini-book sets. Each sight word mini-book is a ONE PAGE print-out that students practice writing, coloring, tracing, building and cut/pasting the sight words into a 7 page mini-book of the sight word. You can also just leave this as a worksheet activity if you don't wish to make the mini-book.
This big bundle includes easy prep activities:
40 Dolch Pre-Primer Mini-book sets (a, and, away, big, blue, can, come, down, find, for, funny, go, help, here, I, in, is, it, jump, little, look, make, me, my, not, one, play, red, run, said, see, the, three, to, two, up, we, where, yellow, you)
52 Dolch Primer Mini-book sets (all, am, are, at, ate, be, black, brown, but, came, did, do, eat, four, get, good, have, he, into, like, must, new, no, now, on, our, out, please, pretty, ran, ride, saw, say, she, so, soon, that, there, they, this, ,under, want ,was, well, went, what, white, who, will, with, yes, yellow, you)
41 Dolch Level 1 Mini-book sets (after, again, an, any, ask, as, by, could, every, fly, from, give, going, had, has, her, him, his, how, just, know, let, live, may, of, old, once, open, over, put, round, some, stop, take, thank, them, then, think, walk, were, when)
46 Dolch Level 2 Mini-book sets (always, around, because, been, before, best, both, buy, call, cold, does, don't, fast, first, five, found, gave, goes, green, its, made, many, off, or, pull read, right, sing, sit, sleep, tell, their, these, those, upon, us, use, very, wash, which, why, wish, work, would, write, your)
41 Dolch Level 3 Mini-book sets (about, better, bring, carry, clean, cut, done, draw, drink, eight, fall, far, full, got, grow, hold, hot, hurt, if, keep, kind, laugh, light, long, much, myself, never, only, own, pick, seven, shall, show, six, small, start, ten, today, together, try, warm)
This big bundle has these sets included:
Dolch Pre-Primer Sight Word Mini Book
Dolch Primer Sight Word Mini Book
Dolch Level 1 Sight Word Mini Book
Dolch Level 2 Sight Word Mini Book
Dolch Level 3 Sight Word Mini Book
Don't forget to FOLLOW my TPT store! Click Here
Thank you!
Teaching Reading Made Easy
Report this resource to TPT
Standards
to see state-specific standards (only available in the US).
Read common high-frequency words by sight (e.g., the, of, to, you, she, my, is, are, do, does).