Summer Reading Comprehension Passages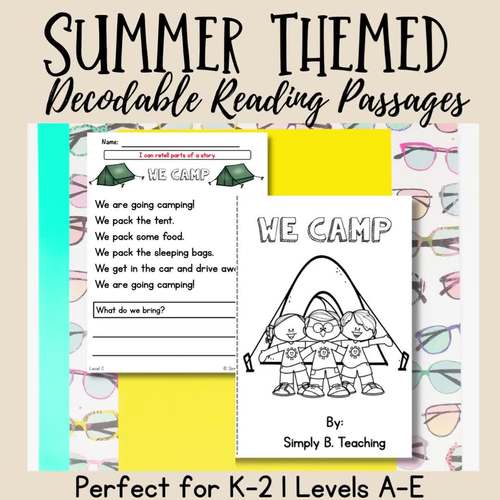 ;
Description
These summer reading comprehension passages are the best end of year activity for the K-2 classroom! Featuring 5 passages with fun summer themed stories and comprehension questions, (with 5 versions of each leveled A-E), you can engage your whole class with the same story while still meeting individual needs. With a total of 25 unique passages, each reading passage features level appropriate sight word and phonics skills for its assigned level. Optional picture words are included for passages that have phonics skills not yet explicitly taught. Simply print and fold to create a grab and go fun summer book or use the guided reading passages to focus on comprehension. Use the included digital version for an independent center or at home learning!
Your students will be engaged with these summer reading passages with the following topics: camping, playing with water, going on a trip, the beach and more!. With 25 total reading passages, you'll be able to use these summer reading comprehension passages year after year!
⌛︎Pressed for time? Click here to learn how to make your small group instruction more efficient! ⌛︎
Use these Summer Reading Comprehension Passages in a variety of ways!
✅1:1 Supports
✅Small Group
✅Whole Group
✅Home Schooling
✅Distance Learning
✅Hybrid
Looking for even more ways to use these summer reading passages? Read all about the best way to use decodable readers here!
Features :
☞ 25 Unique Stories
☞ Leveled for Reading Ability
☞ Single Page or Book Version
☞ Reading Comprehension Activity
☞ Digital Google Slides version
☞ Fun, engaging summer content knowledge
….and more!
✏️ Use these editable Digraph Activities for First Grade to improve your students writing with digraphs✏️
You need your TPT products to work smarter, not harder.
Did you know that students are 66% more likely to participate during small group instruction? Increased participation means increased effective instruction and student success! It took me years to master small group instruction in my classroom. Long nights awake reading, weeks practicing different techniques. You name it, I tried it.
Now, I'm excited to share with you 7 Tips for Effective Small Group Instruction! This FREE resources allows you to take any activity and use it as a small group to level your instruction and meet the needs of your student
Distance Learning? Check These Out!
Digital Short Vowel Lesson Plans
Report this resource to TPT
Standards
to see state-specific standards (only available in the US).
Isolate and pronounce the initial, medial vowel, and final sounds (phonemes) in three-phoneme (consonant-vowel-consonant, or CVC) words. (This does not include CVCs ending with /l/, /r/, or /x/.)
Know and apply grade-level phonics and word analysis skills in decoding words.
Demonstrate understanding of the organization and basic features of print.
Segment spoken single-syllable words into their complete sequence of individual sounds (phonemes).
Know and apply grade-level phonics and word analysis skills in decoding words.