Third Grade Geometry Math Unit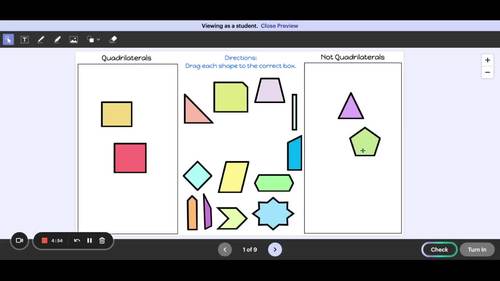 ;
Easel Activity Included
This resource includes a ready-to-use interactive activity students can complete on any device. 
Easel by TPT is free to use!
Learn more
.
Description
This is a Common Core Geometry Standards-based supplemental unit. This geometry lesson plan unit is designed to stand alone and can be taught at any time during the year, and can be combined with any curriculum. It is full of geometry lessons, classifying shapes, and comparing/ contrasting activities to help your students develop critical thinking skills while learning Common Core geometry content. Each activity is written so that it could stand alone, and many of them could also be used to challenge 2nd graders or support 4th or 5th graders. It contains 6 days of geometry lessons, activities, games, and assessments that will lead your students to mastery of Common Core geometry standard 3.G.A.1.
NEW! This geometry math unit now includes interactive digital activities!! Many of the printable activities have been converted to digital Easel pages. The activities are self-checking where appropriate. They can be edited, adapted, and assigned to students via a link.
Content taught in this geometry unit:
-concept of geometric attributes
-attributes of quadrilaterals
-attributes of quadrilateral subcategories, including: rectangle, rhombus, parallelogram, and square
-classifying quadrilaterals
-comparing/ contrasting quadrilaterals
Included in this geometry unit:
-geometry unit overview/ table of contents
-complete, clear geometry lesson plans for 6 days/ 15 activities
-all necessary printables, worksheets, and slides
-differentiation ideas embedded in the lessons
-geometry vocabulary cards
-assessment checklist so you can easily track student progress
-end of unit assessment, answer key, and scoring guide
-optional seasonal ideas for each month- great for bulletin boards!
Click here to purchase this product as part of a third grade math mega bundle.
Other Common Core math products you may like:
Common Core Geometric Attributes Lesson Plan Unit for 4th Grade
Common Core Fraction Lesson Plan Unit for 3rd Grade
Assessments/ Proof of Mastery/ Portfolio Pages for Third Grade
Common Core Measurement and Line Plot Lesson Plan Unit for 3rd Grade
Common Core Measurement Centers for 3rd Grade
Common Core Summer Packet for 3rd Grade
FREE Common Core Editable Math Standards Checklists for 3rd Grade
***************************************************************************
Christine Cadalzo
Copyright 2012-2022
All Rights Reserved.
Report this resource to TPT
Standards
to see state-specific standards (only available in the US).
Understand that shapes in different categories (e.g., rhombuses, rectangles, and others) may share attributes (e.g., having four sides), and that the shared attributes can define a larger category (e.g., quadrilaterals). Recognize rhombuses, rectangles, and squares as examples of quadrilaterals, and draw examples of quadrilaterals that do not belong to any of these subcategories.